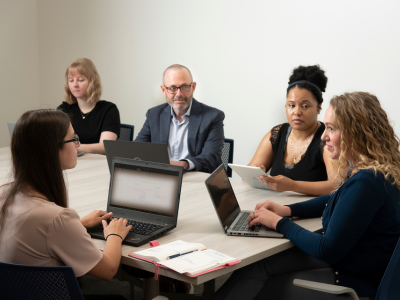 Researchers in the Department of Psychiatry and & Behavioral Sciences at Duke have a long history of conducting cutting-edge research on the causes and consequences of tobacco and cannabis use. 
Duke Center for Addiction Science and Technology (CfAST) 
Led by Joseph McClernon, PhD, CfAST is dedicated to increasing our understanding of tobacco use, developing novel interventions to help those most in need, and informing regulators and policy makers. CfAST researchers are evaluating the effects of flavors in e-cigarettes on the use of combusted cigarettes and how environmental contexts influence smoking behavior and relapse.
CfAST is also part of the national Center for the Evaluation of Nicotine in Cigarettes, which is evaluating the effects of reducing nicotine in cigarettes on smokers' use of less harmful, non-combusted tobacco products. 
Maggie Sweitzer, PhD, leads a program of research examining neurobehavioral mechanisms linking nicotine use with other risk factors including childhood adversity and chronic pain.
Access to Behavioral Health for All Lab
The Access to Behavioral Health for All (ABHA) Lab (pronounced "abba") is directed by Roger Vilardaga, PhD. The focus of the lab is to ideate, develop, and test digital behavioral health interventions to increase access to behavioral health care among high-priority populations, such as patients with tobacco use disorder and chronic health conditions. A new emphasis of the lab is the study of digital health equity, in particular among racial and ethnic minority populations.
Drs. Joseph McClernon, Paolo Mannelli, Sarah Wilson, James Davis (Department of Medicine), and Nada Husseini (Department of Neurology) collaborate on several projects within the program.
Neurobehavioral Research Lab
Researchers at the Neurobehavioral Research Lab, led by Ed Levin, PhD, aim to increase understanding basic neural interactions underlying cognitive function and addiction and to apply this knowledge to better understand cognitive dysfunction and addiction disorders and to develop novel therapeutic treatments. 
The lab has documented the basic effects of nicotine on learning, memory, and attention as well as nicotine self-administration. Mechanistic studies in rat models use selective lesions, local infusions and neurotransmitter interaction studies.
VA Healthcare System Smoking Cessation and Cannabis Research Program 
This program is dedicated to evaluating personalized smoking cessation interventions for vulnerable VA populations, including those with co-morbid psychiatric and physical disorders. Drs. Jean Beckham, Daniel Blalock, Patrick Calhoun, Eric Dedert, Nathan Kimbrel, Sarah Wilson and Jonathan Young collaborate on multiple projects within the program, including: 
Evaluating a national smoking cessation texting program for veterans
Investigating whether individuals with PTSD who smoke cannabis heavily reduce their cannabis use whether their functional and psychiatric symptoms will improve
Other Cannabis Studies
Researchers are studying the effects of cannabis use on epigenetic changes in male sperm and the effects of paternal cannabis use on birth outcomes and infant health outcomes.
Another team of researchers is using fetal MRI scans to study the effects of prenatal cannabis exposure on the developing brain. This research will shed light on the safety of cannabis use during pregnancy, testing whether this prenatal exposure negatively affects children's mental health.
Faculty:
Click on a faculty member's name to view their profile, including their grants and publications.