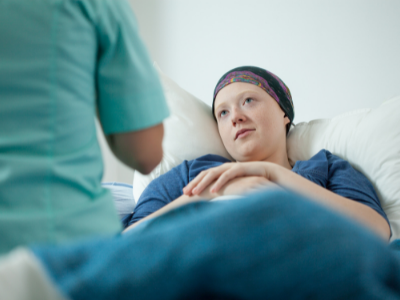 The Cancer Symptom Management & Support Program focuses on conducting clinical research and providing behavioral medicine services to address the psychological, social, behavioral and symptom management needs of cancer patients and their families. This program is a division of the Duke Pain Prevention & Treatment Research program and collaborates closely with Duke Cancer Institute's Supportive Care and Survivorship Program Center.
Program faculty have expertise in developing and evaluating interventions focused on emotional distress, pain and symptom management, adherence, sexual health and comorbid chronic health conditions. We have a number of faculty members funded with research awards through the National Institutes of Health (NIH) and other funding agencies. A range of modalities for delivering interventions are being evaluated, including in person, telephone and mobile health technology-based strategies.
Representative Studies
Randomized controlled trial for a mobile health behavioral pain intervention protocol for breast cancer patients with pain in medically underserved communities
Randomized clinical trial of targeted pain coping skills training for persistent post-mastectomy pain
Randomized pilot trial of meaning-centered pain coping skills training for patients with advanced cancer and pain
mHealth symptom management intervention for colorectal cancer patients
Development and pilot testing of a behavioral symptom management intervention for survivors of young adult cancer
Clinical Services
Oncology behavioral medicine services are provided through the Duke Cancer Patient Support Program. These services are available for patients, their families and caregivers in the outpatient clinics of the Duke Cancer Center, Duke Women's Cancer Care Raleigh and the Duke Adult Blood and Marrow Transplant Program. 
Clinical Training
Training, focused on behavioral medicine in the oncology setting, is provided for clinical psychology trainees completing post-doctoral training, pre-doctoral internship and practicum rotations as part of doctoral training. This program is based on a scientist-practitioner model of training.
Clinical experiences include:
CBT-based psychotherapy

Manualized behavioral interventions for symptom management

Health behavior interventions

Psychological assessment
Experiences aim to provide trainees with knowledge and skills for treating psychological, social, behavioral and symptom management issues that occur during the cancer experience. 
Faculty
Click on a faculty member's name to view their profile, including their grants and publications.
Postdoctoral Fellows
Kelly Hyland, PhD

Juliann Stalls, PhD