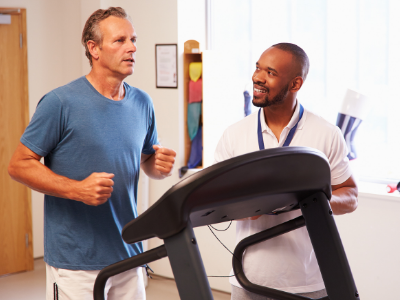 Behavioral medicine is an interdisciplinary field focused on the integration of behavioral, psychosocial and biomedical science in an effort to understand, prevent and treat disease. Changes in behavior and lifestyle can improve health, prevent disease and reduce symptoms of illness, including cardiovascular diseases, pain syndromes, diabetes and gastrointestinal disorders. 
Behavioral medicine faculty in the Department of Psychiatry & Behavioral Sciences develop and implement innovative behavioral interventions that combine research, cutting-edge technology and the best clinical practices to promote healthy lifestyles, prevent disease and reduce the impact of chronic illnesses. 
Behavioral Medicine Research Center
The Behavioral Medicine Research Center (BMRC) was founded in 1986 when an anonymous gift established the BMRC endowment. The endowment has since grown to more than $20 million and supports the research, clinical and training missions of the center. 
With unrestricted research support, BMRC investigators from various departments and disciplines have undertaken pilot studies, enhanced ongoing studies and provided support to promising trainees. This seed money has played an important role in BMRC investigators' success in obtaining more than $100M in NIH grant support.
BMRC investigators' research programs cover the spectrum of behavioral medicine. Studies range from the use of molecular and genetic techniques to investigate how psychosocial and behavioral factors affect the development and course of medical disorders to developing and evaluating innovative behavioral treatments and preventive interventions for a broad range of medical disorders.