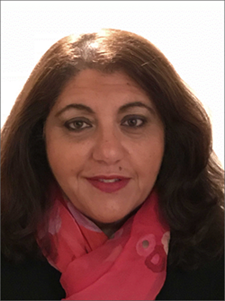 Rima Kaddurah-Daouk, PhD, leads large initiatives that bring the power of big data in metabolomics and lipidomics to provide a precision medicine approach for the study and the treatment of neurodegenerative and psychiatric disorders. With more than 40 grants funded over the past decade, along with 120 scientists in more than 50 academic institutions, she leads three consortia (listed below).
It has become increasingly clear that multiple factors influence an individual's health and their unique response to treatments. An individual's genome, gut microbiome composition, diet, lifestyle, socioeconomic status and a lifetime of environmental exposures all affect an individual's metabolic state and contribute to brain health and disease. Our research encompasses three large international consortia with the ultimate goal of establishing technologies and tools for enabling a precision medicine approach for the study and treatment of neuropsychiatric disorders.
Alzheimer's Disease Metabolomics Consortium (ADMC)
Our ADMC, part of the Accelerating Medicines Partnership for Alzheimer's Disease (AMP-AD) and in partnership with Alzheimer's Disease Neuroimaging Initiative (ADNI), applies state-of-the-art metabolomics and lipidomics technologies combined with genomic and imaging data to map metabolic failures across the trajectory of the disease. We have created the first molecular atlas for AD, in which global data is used to connect genome, metabolome and AD clinical phenotypes (AD Atlas).
Alzheimer's Gut Microbiome Project (AGMP)
In partnership with ten AD Research Centers (ADRCs) and multiple diet and lifestyle intervention studies (POINTER, MIND, BEAT-AD, BEAM, TDAD, NACC, NCRAD and SAGE), we aim to define the influences of gut microbiome and the gut-brain axis in AD and its neuropsychiatric symptoms, adding influences of the diet as a component of the exposome.
Mood Disorders Precision Medicine Consortium (MDPMC)
Comprised of leading experts in the fields of genetics, metabolomics, neuroimaging, bioinformatics and clinical trials, the MDPMC's mission is to achieve a precision medicine approach to individualizing treatment for mood disorder patients based on an integrated biological understanding of their illnesses and variation in response to treatments.
Faculty
Staff
Alexandra Kueider-Paisley, PhD, Research Scientist
Siamak Mahmoudiandehkordi, PhD, Biostatistician
Leyla Schimmel, PhD, Senior Research Associate
Gregory Louie, MS, Research Associate
Colette Blach, MS, Sr. Data Manager
Robin French, MS, Data Manager
Lisa Howerton, Staff Specialist