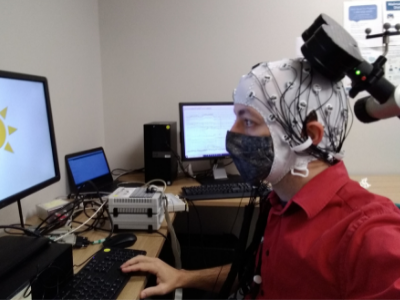 Core research facilities serve as a resource for the entire Duke community, offering investigators a range of tools and methods for studying behavior and mental health. These core facilities can help researchers develop and administer novel studies using translational methods including preclinical, or animal, models, neuroendocrine assays and neuromodulation, such as transcranial magnetic stimulation (TMS) and transcranial electrical stimulation (tDCS and tACS).  
Core research facilities reflect Duke's commitment to bringing together investigators from across the university to foster collaborative and interdisciplinary approaches to the medical sciences.
Brain Stimulation Research Center
The Brain Stimulation Research Center (BSRC) is a shared resource in the Duke University School of Medicine that provides equipment and technical services to carry out noninvasive neuromodulatory research studies using Transcranial Magnetic Stimulation (TMS) and Transcranial Electrical Stimulation (tDCS and tACS). The BSRC also provides training and certification of users so that they can operate our equipment, and we host a quarterly research working group were members of the Duke, UNC, Wake Forest and surrounding community can share ideas and discuss research.
---
Mouse Behavioral & Neuroendocrine Core Facility
The study of mouse genetic and neuroendocrine contributions to behavior provides critical insights into neuropsychiatric illness and the underlying mechanisms of brain function. The Mouse Behavioral & Neuroendocrine Analysis Core Facility is an intellectual and technical resource for the Duke community and collaborators at other institutions.
In addition to state-of-the art equipment and software, we provide assistance with experimental design, data collection, statistical analyses and interpretation of results, as well as preparing manuscripts for publication and grant writing.