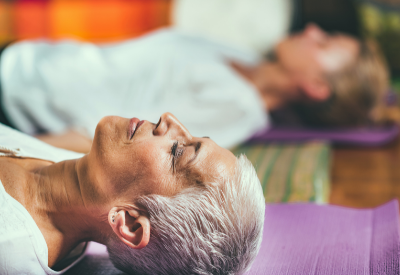 The overall goal of pain prevention and treatment research in Duke Psychiatry & Behavioral Sciences is to develop, implement and evaluate novel approaches to assess and treat persistent pain and pain-related symptoms (e.g., fatigue, nausea), as well as physical and psychological demands associated with chronic medical illnesses (e.g., cancer, arthritis). Our faculty are involved in developing an array of psychosocial and pharmacological interventions to help patients and their families cope with these challenges.
Our faculty have expertise in cognitive-behavioral interventions (e.g., pain coping skills training), emotional disclosure protocols, virtual reality interventions, mind-body interventions (e.g., yoga, mindfulness) and couple-based interventions, as well as telephone-based and e-Health interventions using videoconferencing and web-based delivery.
Representative Studies
Investigation of corresponding blood biomarkers of risk, resilience and therapeutic response through randomized, double-blind, placebo-controlled treatment intervention studies

Investigation of biomarker candidates and conducting pharmacological intervention trials for pain disorders

Coping skills training interventions to improve medication adherence, symptom management and physical activity among patients with breast cancer and those receiving stem cell transplant 

Couples communication skills training for patients with advanced cancer and their spouses/intimate partners
Learn more about our cancer support research.
Faculty
Click on a faculty member's name to view their profile, including their grants and publications.