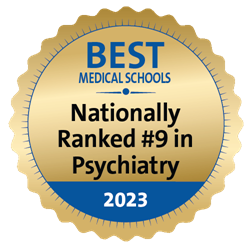 We offer two residency programs: Psychiatry (four years) and Internal Medicine-Psychiatry (five years).
Psychiatry Residency
Residents complete their acute care requirements in the first two years and can delve deeper into their specific areas of interest through a broad range of electives in the third and fourth years of the program.
Internal Medicine-Psychiatry Residency
The Med-Psych training program prepares physicians for comprehensive and integrated care of patients, particularly complex patients with overlapping medical and psychiatric problems. In addition to providing optimal care for their patients, many of our graduates become leaders in various aspects of designing and implementing innovative healthcare systems.
Why Train at Duke?