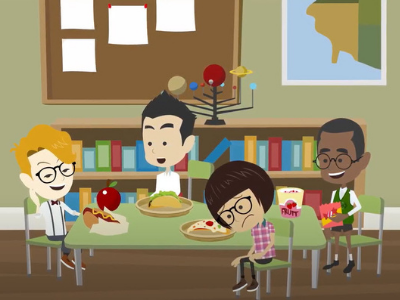 Individuals who experience eating disorder symptoms or who are diagnosed with an eating disorder
May have an adversarial and/or distrusting relationship with their body.
 

May weaponize food—for example, using the avoidance of food or extra consumption as a form of self-punishment, escape from trauma, attempt to experience a form of control or a myriad other, personalized maintaining factors.


 

May engage in dangerous, potentially life-threatening weight loss behaviors.
Researchers within the Duke Department of Psychiatry & Behavioral Sciences, including members of the Duke Center for Eating Disorders (DCED), are studying ways to better understand, prevent and treat eating disorders. 
Representative Studies
Researchers have developed and tested treatments that intervene early on vulnerable children, such as those with recurrent abdominal pain, to help them learn to trust in their bodies and themselves.
 
We are trying to better understand severe food avoidance in five- to nine-year old children, using advanced machine learning techniques as applied to videos of the children trying new foods to try to learn the barriers that impede food approach and food enjoyment.
 
Our researchers have developed and are testing a three-week online intervention to help individuals engage with social media in a way that helps them feel connected to others, not diminished by comparison. (Contact savannah.erwin@duke.edu for more information.)
 
A clinical trial funded by the National Institutes of Health teaches five- to nine-year old children with severe food avoidance or restriction that they have sensory superpowers as a way to help them approach not only a variety of food, but also to be brave and curious investigators of life's challenges in general. (Contact chompions@duke.edu for more information.)
 
Perfectionism in general, and a fear of mistakes in particular, is associated with eating disorders and various other forms of psychopathology. Our researchers are studying how individuals with elevated fear of mistakes learn—and the factors that interfere with optimal learning—to inform new treatment development. (Contact alannah.rivera.cancel@duke.edu for more information.)
Expanding Reach with an Online Community
Nancy Zucker, PhD, director of the Duke Center for Eating Disorders, shares insights about eating disorders and how the center is supporting children and families around the world through an online community that offers seminars, support groups and more.
Faculty
Click on a faculty member's name to view their profile, including their grants and publications.
Research Assistants
Julia Gianneschi 
Jalisa Jackson
Alannah Rivera-Cancel 
Graduate Students
Savannah Erwin
Lindsay Ives 
Samuel Marsan