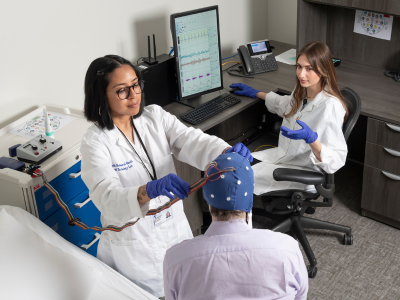 Brain imaging is a critical tool in psychiatric research as it provides a lens into the living brain, allowing scientists to study how the brain functions, how it is wired and how it changes over the course of the lifespan from the fetal period through childhood, adolescence and adulthood. 
Scientists in Duke Psychiatry & Behavioral Sciences are using advanced brain imaging techniques including functional magnetic resonance imaging (fMRI), diffusion tensor imaging (DTI), and positron emission tomography (PET) to study a range of conditions such as depression, anxiety disorders, attention-deficit/hyperactivity disorder (ADHD), autism spectrum disorder, post-traumatic stress disorder (PTSD) and substance use disorders.  
Researchers at Duke have been at the cutting edge of neuroscience using brain imaging to understand:
How the brain can learn and adapt with real time feedback

How to measure connections across different parts of the brain

The influence of drug exposures on brain receptors

The importance of trauma, stress and family interactions on brain development

How interventions such as mindfulness and cognitive therapies can be improved through insights gained from imaging their effects 
Faculty
Click on a faculty member's name to view their profile, including their grants and publications.