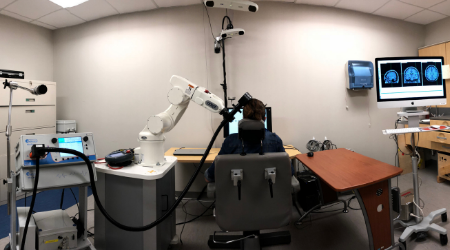 The Brain Stimulation Research Center (BSRC) is a shared resource in the Duke University School of Medicine that provides equipment and technical services to carry out noninvasive neuromodulatory research studies using Transcranial Magnetic Stimulation (TMS) and Transcranial Electrical Stimulation (tDCS and tACS). The BSRC also provides training and certification of users so that they can operate our equipment.
Equipment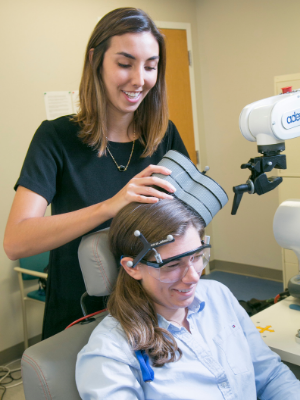 State-of-the-art neurostimulation, electrophysiological, neuronavigation and targeting technology includes:
Magnetic Stimulation
Two Magventure stimulators: a MagPro X100 with MagOption, and two MagPro R30 MR-compatible systems; associated coils including a B70, a Cool-B65, two Cool-B65 A/P for that provides both active and electrical sham stimulation, and an MRI-compatible B91 Air cooled coil for TMS-fMRI studies.

One MagStim stimulator: Rapid2 associated active and sham coils 
Electrical Stimulation
Soterix 1x1 CT tDCS stimulator
Two Halo Neuroscience Headsets
Electrophysiological 
Two 64-channel Brain Products Acti64Champ systems, configured with Arduino communication for simultaneous TMS-EEG studies.
One 128-channel TMS-Compatible Brain Products DC BrainAmp system
Targeting
Three Brainsight Stereotactic Neuronavigation Systems
---
TMS Training & Clinical Research Workshops
TMS Training
The BSRC offers a 10-session certification program in transcranial magnetic stimulation. This program includes instruction on motor threshold procedures and the use of all related equipment as well as a seizure training to learn how to react to any adverse event. Over the course of these sessions, participants learn to successfully identify the hotspot over the motor cortex which elicits a response in the First Dorsal Interosseous (FDI) muscle and define the motor threshold relative to this spot. This training includes the use of TMS stimulators and coils, Brainsight neuronavigation systems, EMG recording systems and the robotic arm. Upon completion of this training program individuals are awarded a certificate allowing for unsupervised access and use of the BSRC facilities and equipment.
Collaboration
Through close collaboration with the Brain Imaging and Analysis Center (BIAC) researchers can efficiently use information from their neuroimaging protocols (fMRI, MRI and DTI) towards the implementation of advanced TMS and tDCS targeting. In addition to facilitating brain stimulation research studies, BSRC participates in the quarterly TMS CME Fellowship offered through the Department of Psychiatry & Behavioral Sciences.
---
Personnel
---
Facility Information
Facility Use
Researchers can apply to use the center and talk about collaborations for funding proposals by contacting Andrada Neacsiu, PhD, at andrada.neacsiu@duke.edu.
Hours
The facility is staffed Monday-Friday, 8am to 5pm.
Location
Duke University Hospital
Rooms 54209-54212
South Building, 5th Floor of the Red Zone
40 Duke Medicine Circle
Durham, NC 27710
---
Contact Information
Please contact Jessica Choi at (919) 684-5939 for further information.