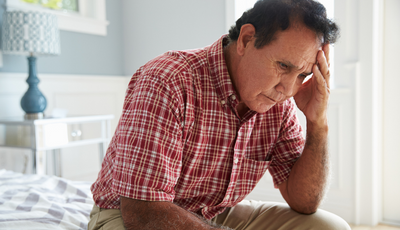 Mood and anxiety disorders are among the most common psychiatric disorders worldwide and can be chronic in course and highly impairing. Current treatments can offer help but are often limited by side effects and low response rates.
Researchers at Duke Psychiatry & Behavioral Sciences are working to improve our understanding of the biology of mood and anxiety disorder and advancing new strategies for prevention and treatment development.
Our research spans basic and translational science to novel behavioral and neurostimulation interventions, and includes studies across the lifespan, from childhood through late life.
The goal of our children's mood and anxiety disorders research is to transform our understanding of pediatric anxiety, mood, obsessive-compulsive disorder and related disorders and to advance treatment innovation. 
Our mission is to conduct patient-oriented translational research that: 
Reveals underlying mechanisms
Identifies new treatment targets
Develops collaborative and integrative models with other delivery systems (e.g., primary care, schools)
Develops novel treatment strategies
Advances methodological and technological innovations
Makes new treatments rapidly available to patients and families. 
Representative Studies
Evaluating adaptive intervention strategies suicidal college students seeking treatment at college counseling centers 
Adapting and evaluating internet-based cognitive-behavioral therapy (iCBT) for treatment of pediatric anxiety disorders in primary care settings
Evaluating an app-based intervention for depressed teens and young adults
Evaluating strategies to help high school students transition to college more successfully
An open longitudinal study to evaluate the long-term risks and safety of sertraline in pediatric anxiety populations
Faculty
Click on a faculty member's name to view their profile, including their grants and publications.
Duke has a rich history of furthering our understanding of the biological, social and neurological underpinnings of mood and anxiety disorders.
Representative Studies
Understanding the brain, biological and lifestyle factors that contribute to cognitive impairment in late life depression
Improving clinical diagnosis and develop preventative strategies of depression across the lifespan
Developing behavioral interventions for depression and anhedonia
Neurobehavioral studies of emotion regulation and reward processing in depression
Precision medicine approaches to understanding neuropsychiatric disorders including depression and anxiety
Faculty
Click on a faculty member's name to view their profile, including their grants and publications.