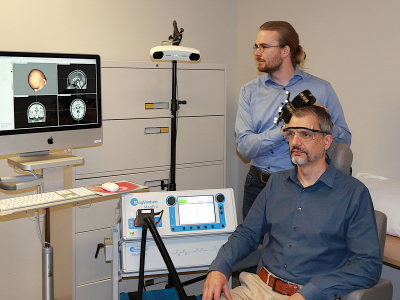 Brain stimulation is a rapidly expanding area of research and clinical practice. It enables noninvasive modulation of brain circuits to understand how the brain works. Clinical interventions using brain stimulation are an alternative or a complement to pharmacotherapy and psychotherapy. 
Duke has a long tradition of clinical care, research and education in the area of brain stimulation. The Duke Electroconvulsive Therapy Clinic provides cutting-edge clinical care, and the Brain Stimulation Research Center offers brain stimulation research services for members of the Duke community. 
A range of brain stimulation techniques are developed and utilized at Duke, including:
Transcranial magnetic stimulation (TMS)
Transcranial direct current stimulation (tDCS)
Transcranial alternating current stimulation (tACS)
Transcutaneous vagus nerve stimulation (tVNS)
Electroconvulsive therapy (ECT)
Deep brain stimulation (DBS)
Neurofeedback 
Continuing Medical Education Opportunities
The Department of Psychiatry & Behavioral Sciences offers two continuing medical education fellowships:
Faculty
Click on a faculty member's name to view their profile, including their grants and publications.