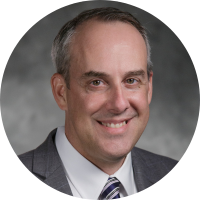 Welcome to Duke University Medical Center's Clinical Psychology Doctoral Internship Program in the Department of Psychiatry & Behavioral Sciences, led by Christian Mauro, PhD—a graduate of the internship. The program, started in 1948, has been accredited by the American Psychological Association since 1957 and is accredited through 2029.
The program's 10 full-time interns learn to integrate the roles and responsibilities of a clinical psychologist in a world-renowned academic health center. Profession-wide competencies are developed through experiential learning in a number of multiprofessional clinics, concentration-specific didactics, and internship-wide seminars. Opportunities to participate in ongoing research are also available. Interns benefit from the program's flexibility to provide an experience tailored to their professional interests.   
Why Choose Duke?
Dr. Chris Mauro, clinical psychology doctoral internship program director, and a few of our former interns—now postdocs and faculty members—share highlights and personal reflections about the program, as well as what they love about Durham.
Why Duke Psychiatry & Behavioral Sciences?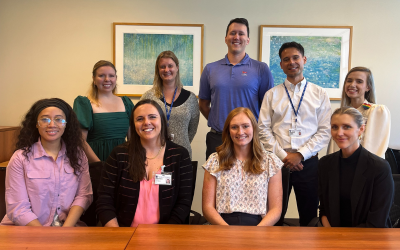 A central vision of the Duke Clinical Psychology Doctoral Internship Program is to provide the breadth to ensure core competencies while giving opportunities to pursue depth into a specific concentration of clinical psychology. Each intern will spend approximately half of their time in their concentration. After the match, they will be able to rank their preferences for elective rotations based on their interests, training goals, and elective availability. 
Aims of the Internship Program
The overall aim of the program is to provide the breadth of training to ensure the development of all profession-wide competencies. Training takes place within the context and spirit of the scientist-practitioner and clinical scientist models with the goal of producing clinical psychologists who will be able to thrive in a variety of academic and health care settings. 
A second aim of the program is to help interns explore and develop areas of concentration to prepare them for early career development in research, clinical work and/or education.
Supervision & Mentoring
To enhance capabilities as a supervisor, interns participate in a monthly supervision series throughout the year. For the first half of the internship year, the series focuses on didactic training in supervision. In the second half of the year, the series shifts to the practice of supervision, with interns supervising Duke graduate students, social work students, or psychiatry residents.
Early in the internship year, each intern chooses a faculty member for ongoing mentoring throughout the year about issues relevant to their professional growth (e.g., getting a postdoc or faculty position, balancing one's life with career aspirations, etc.).
Growth Mindset
Our internship program explicitly focuses on the development of a "growth mindset" in order to cultivate resiliency and instill values of life-long learning. Dweck's (2006) research demonstrates that a "growth mindset" is one that embraces challenges, learns from mistakes and feedback, and focuses on effort.
Eight Concentration Options
Choose from among the following concentrations:
Adult CBT/DBT 
Adult Health – Cancer
Adult Health – General 
Child Autism 
Child – General 
Child Trauma
Eating Disorders 
Pediatric Psychology 
Applicants are encouraged to apply to only one concentration.
Commitment to Diversity & Statement of Non-Discriminatory Practices
Duke is a diverse community committed to the principles of excellence, fairness and respect for all people. As part of this commitment, we actively value diversity in our workplace and learning environments as we seek to take advantage of the rich backgrounds and abilities of everyone. We believe that when we understand, celebrate and tap into our uniqueness to creatively solve problems and address shared goals, our possibilities are limitless.
 
The Duke Clinical Psychology Doctoral Internship Program adheres to a policy of nondiscrimination in recruitment and retention of interns on the basis of gender, race, ethnicity, sexual orientation or other personal characteristics that are irrelevant to success in an internship. We strive to maintain an environment of equal acceptance and respect for individuals regardless of personal, racial or ethnic background. 
Please visit Duke's Office for Institutional Equity for more details on our policies, statements and procedures.
 
"I chose Duke because of the possibilities and people. At Duke, I have opportunities to refine my skills in assessment, case conceptualization, and intervention. I am thrilled to be able to expand my competencies with different populations through the completion of multiple minor rotations."
— Keaton Somerville, MPS, MA, Clinical Psychology Doctoral Intern