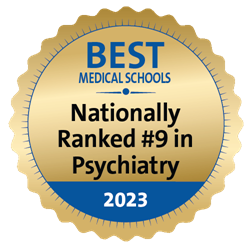 We offer two fellowship programs: Child & Adolescent Psychiatry (two years) and Geriatric Psychiatry (one year).
Child & Adolescent Psychiatry Fellowship
Our
Child & Adolescent Psychiatry Fellowship
draws upon decades of faculty expertise and experience. With clinical activity dating back to 1946, child and adolescent psychiatry services at Duke have contributed significantly to the health and wellness of patients at Duke and in the surrounding community for more than 70 years.
Our fellows learn with experienced and dedicated clinical supervisors in diverse clinical settings including a dedicated consultation-liaison service, pediatric emergency department, state psychiatric hospital, and myriad specialty and community based outpatient clinics. We excel in care of medically complex youth and ensure our fellows gain expertise in evidence based psychotherapies and collaborative care. Fellows pursue their individual interests via electives focused on clinical care, medical education, research, and advocacy.
Geriatric Psychiatry Fellowship
Founded in 1965, our 
Geriatric Psychiatry Fellowship
was the first in the nation. The program offers fellows a variety of clinical settings such as the Durham VA Medical Center, the Duke Memory Disorders Clinic and skilled nursing facilities. Specialized rotations in areas such as sleep, palliative care, hospice and forensics are also available to fellows.
Fellows also benefit from their exposure to the Division of Geriatric Medicine in the Duke Department of Medicine, with opportunities to see patients, participate in case conferences, engage in didactics and undertake research projects.
Why Train at Duke?
Visit the Graduate Medical Education website to see an interactive virtual tour of many of our clinical sites, learn about our commitment to social justice and dismantling racism, and more!