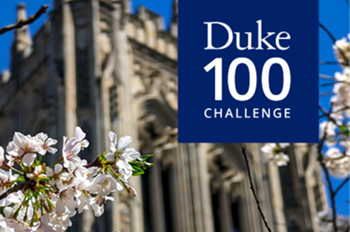 Thank you for considering a contribution in support of mental and behavioral health initiatives at Duke. We are grateful to have friends like you who share our commitment to provide compassionate patient care, train the best and brightest, and discover new therapies through creative innovation and cutting-edge research. And there are many meaningful ways to make a difference!
Giving Opportunities
To give to an area of your choosing, visit the Duke Health giving website:
Support Duke University and Psychiatry
In the spirit of honoring 100 years since Duke's founding in 1924, Duke University aims to raise 100 new planned gifts through the Duke 100 Challenge. Beginning in April 2023, 10 percent of a new planned gift established in your estate or retirement plan will be matched with current-use funds for your chosen area of support—and we hope you'll choose the Department of Psychiatry & Behavioral Sciences! 
Duke has generously committed $1 million to serve as a pool of matching funds. Every $10 of your planned gift will be matched by $1 from this pool, up to $10,000 per match. This a wonderful way to support Duke today and tomorrow.
To learn more and make an unrestricted gift to the department, click on the button below: 
Learn More & Give

To direct your gift to a specific program within the department, or if you're interested in life income gifts, please contact Suzi Ferrero (suzanne.ferrero@duke.edu) for additional guidance.
Support our Missions
Alternatively, our philanthropic partners often choose to support one of our "greatest need" funds, listed below, or a particular clinical or research program.
Featured Giving Opportunity: Suicide Prevention Research
Suicide is a leading cause of death in the United States, with more than 45,000 deaths reported in 2020 and an estimated 1.2 million suicide attempts each year. Identifying individuals who are at risk for suicide and developing new, effective interventions to prevent suicide are critical public health priorities. Researchers at Duke University are actively working to address this urgent need.
Our investigators are advancing the science in this area by ...
Studying genetic markers associated with suicide risk
Developing novel screening tools to help healthcare providers quickly identify patients at risk
Testing innovative treatment approaches that integrate established therapies with advanced technologies and dissemination strategies
The Department of Psychiatry & Behavioral Sciences at Duke is committed to reducing the burden of mental illness and a key objective in our mission is making progress in the prevention of suicide. Here are a few highlights of our suicide prevention research:
Contact Us 
To discuss specific giving opportunities and learn how you can help, please contact: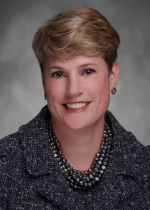 Emily C. Espenshade
Director of Development for the Neurosciences & Behavioral Health
Duke Health Development and Alumni Affairs 
300 W. Morgan Street, Suite #1000
Durham, NC 27701
Email: emily.espenshade@duke.edu
Phone: (919) 385-0068