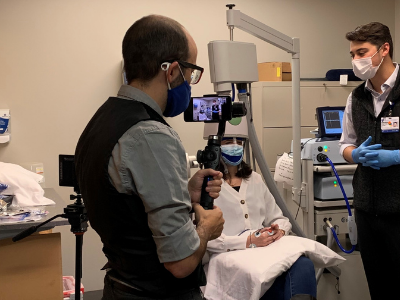 The three-day course offers intensive training on Transcranial Magnetic Stimulation (TMS). TMS is an FDA-cleared treatment for depression, obsessive-compulsive disorder, migraines, smoking cessation and cortical mapping.
Sponsored  by the Duke University School of Medicine, it includes didactic sessions and hands-on administration of TMS. The didactic sessions with the TMS faculty of Duke University cover all topics relevant to running a TMS clinical service and a TMS research lab, including:
Device principles and types
Neuroscience of TMS
Motor threshold determination
Treatment technique
Stimulus dosing
Risks, complications and contraindications
Safety screening
Post-TMS management and continuation treatment
Clinical and non-clinical research applications
Emerging brain stimulation techniques
This activity is designed for clinicians and researchers who wish to enhance their knowledge of TMS and related brain stimulation techniques. The course session is capped at 20 participants.
At the conclusion of this course, participants should be able to:
State the rationale for the use of TMS in depression, obsessive compulsive disorder and off-label conditions

Explain regulatory issues and policies concerning TMS

Name the two main components of transcranial magnetic stimulation devices

Operate the TMS device and correctly use it to determine the optimal site and motor threshold

Describe the findings from TMS research in imaging and motor cortex excitability studies

Apply the indications for use of TMS in depression

Identify the risks and side effects of TMS and describe how to conduct a safety screening

Design a protocol for seizure management during TMS administration

Outline steps necessary to set up a TMS service/lab
Schedule
The fellowship, currently offered on a quarterly basis, is held on a Saturday from 8:30am to 5pm, Sunday from 8:30 am to 7pm and Monday from 8:30am to 5pm. Attendees must attend all three days of the course in order to receive full continuing education credit for the course. Upcoming dates in 2022 are as follows:
July 16-18, 2022
October 8-10, 2022
Cost
The course cost is $3,000 for all participants. Discounts are not available.  
Registration
Before registering, please see the COVID-19 Policy and Cancellation Policy below.
COVID-19 Policy
All participants must be fully vaccinated to register.
The 2022 courses are planned to be held in-person unless otherwise indicated. For in-person attendance at the Visiting Fellowship in Transcranial Magnetic Stimulation Course at Duke University, you must be fully vaccinated for COVID-19 and provide a scan of your vaccination card via email to the course coordinator at DukeTMS@dm.duke.edu. Please send your proof of vaccination now. If the course is virtual, proof of vaccination will not be required.
PLEASE NOTE: If the need to transition to a virtual Zoom format arises due to circumstances out of our control, we will let you know via email. We hope that this does not happen, but please understand that the Duke leadership events policy could change depending on evolving COVID-19 circumstances.
During the visiting fellowship, masks are required to be worn at all times. The health and safety of our participants and staff are our priority. Due to the recent rise of COVID-19 and the increased spread of the Delta and Omicron variant of the virus, everyone is required to wear a face mask in all Duke Health facilities until further notice. Only approved masks should be worn over the nose and mouth. Gaiters will not be allowed.
Cancellation Policy
Full credit card payment is due at the time of registration. A written notice of cancellation must be received 30 days prior to the start of this activity. A 10% ($300) cancellation fee will be assessed at that time; after that date, cancellation requests cannot be honored and no refund will be issued. In the event that the program is canceled or postponed, we will not be responsible for any travel costs or expenses, including cancellation/change penalties assessed by airlines, travel agencies or hotels. Please contact marisa.spurrell@duke.edu with questions.
To receive CME certificate after completion of course, participants are required to create a
Duke OneLink Account
 to fill out the evaluation, attest credit hours and download the certificate. If you are a Duke employee, you must log in to your
Duke OneLink Account
. Please email Brandie Jones (
brandie.jones@duke.edu
) with any questions.
NOTE: You must attend all three days of the course in order to receive full credit for the course. You must sign-in for all three days.
Greg Appelbaum, PhD
Professor, University of California, San Diego
Adjunct Professor, Duke Psychiatry & Behavioral Sciences

Asa Cordle, MD
TMS Clinic Director, Partner, Raleigh Psychiatric Associates

Simon W. Davis, PhD
Assistant Professor, Duke Department of Neurology

Leah D. Frymi, MD
Staff Psychiatrist, Durham VA Medical Center

Tommy G. Fu, MD
Psychiatrist, Duke Electroconvulsive Therapy Clinic, Duke Regional Hospital

Colleen A. Hanlon, PhD
Professor, Department of Cancer Biology at Wake Forest University Health Sciences

Bruce M. Luber, PhD
Staff Scientist, National Institute of Mental Health
Previously: Associate Professor of Psychiatry at Duke University, Assistant Professor of Psychiatry at Columbia University  

Shawn M. McClintock, PhD, MSCS
Associate Professor, Division of Psychology, Department of Psychiatry, UT Southwestern Medical Center
Adjunct Associate Professor, Duke Psychiatry & Behavioral Sciences

Andrada D. Neacsiu, PhD
Assistant Professor, Duke Department of Psychiatry & Behavioral Sciences
Assistant Professor, Duke Department of Family Medicine & Community Health

Angel V. Peterchev, PhD
Associate Professor, Duke Department of Psychiatry & Behavioral Sciences
Departments of Biomedical Engineering, Electrical & Computer Engineering and Neurosurgery (secondary), Duke University

Sandeep Vaishnavi, MD, PhD
Medical Director, MindPath Care Centers Brain Stimulation
Program and Medical Director, MindPath Care Centers Clinical Research Institute

Ellie Wood
Sr. Clinical Research Specialist, Duke Department of Psychiatry & Behavioral Sciences

Jonathan R. Young, MD
Staff Psychiatrist, Durham VA Medical Center
Consulting Associate, Duke Department of Psychiatry & Behavioral Sciences
The information provided at this CME activity is for continuing medical education purposes only and is not meant to substitute for the independent medical judgment of a physician relative to diagnostic and treatment options of a specific patient's medical condition.
Statements by industry representatives during the industry device demos and exhibits may not reflect the views and opinions of the course organizers and faculty.
The following speakers and/or planning committee members have indicated they have no relationship(s) with industry to disclose relative to the content of this CME activity:
Asa Cordle, MD
Simon Davis, PhD
Leah Fryml, MD
Tommy Fu, MD
Sarah H. Lisanby, MD
Bruce Luber, PhD
Marisa Spurrell, BA
Justin Uzl, MD
Sandeep Vaishnani, MD, PhD
Eleanor Wood, BSE
Jonathan Young, MD
The following speaker/planning committee member have indicated that they have relationship(s) with industry to disclose:
Wayne Feng, MD, FAHA, advisory board for Ipsen, primary investigator for NIH, primary investigator and advisory board for American Heart Association, consultant for Huamed Inc.
Colleen A. Hanlon, PhD, consultant for Roswell Park Cancer Institute, advisory board for Welcony.
Shawn M. McClintock, PhD, MSCS, consultant for X-Pearson Assessment.
Andrada Neacsiu, PhD, has received training fees for teaching mental health providers cognitive behavioral therapy and dialectical behavioral therapy techniques from Behavioral Tech and NC AHECs.
Angel Peterchev, PhD, Inventor on patents and patent applications on TMS, Royalties for controllable pulse parameter TMS (cTMS/ElevateTMS) patents from Rogue Research, TMS intellectual property and research support from Magstim, TMS device loan and hardware donations from MagVenture, Research funding, device donations, consulting fees, intellectual property on low field magnetic stimulation (LFMS) technology from Tal Medical / Neurex, Consultant: Neuronetics, BTL Industries, Advise Connect Inspire.
Duke University Health System Department of Clinical Education and Professional Development designates this live activity for a maximum of 20.0 AMA PRA Category 1 Credit(s). Physicians should claim only credit commensurate with the extent of their participation in the activity. 
Duke University Health System Department of Clinical Education & Professional Development is accredited by the American Nurses Credentialing Center (ANCC), the Accreditation Council for Pharmacy Education (ACPE), and the Accreditation Council for Continuing Medical Education (ACCME), to provide continuing education for the health care team.