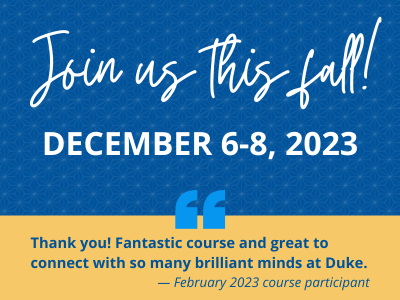 Duke Psychiatry & Behavioral Sciences offers the Electroconvulsive Therapy (ECT) Practical Virtual Course, a virtual three-day training experience, four times per year. This course provides clinicians with a practical ECT learning experience without the travel time and costs required for an on-site course. 
This course follows in the footsteps of our former on-site Duke ECT course, which trained more than 1,000 psychiatrists from throughout the U.S., Canada, Europe, Asia and Australia. It focuses on providing educational content directly relevant to administering ECT, including:
Patient selection
Pre-ECT evaluation and informed consent
ECT stimulus parameters and electrode placement
Use of EEG monitoring
Provision of ECT in patients with different diagnoses, ages and medical comorbidities
Anesthetic aspects of treatment
Monitoring of treatment efficacy and side effects
Management of both inpatients and outpatients during and following an acute ECT course
Potential future developments with this treatment modality
Considerable time during the course will be provided for answering questions from participants, in addition to brief discussion of de-identified case materials. 
Completion of this course satisfies the didactic educational recommendations for ECT from the present American Psychiatric Association ECT Task Force, but does not imply clinical competence to administer ECT or any other form of clinical management.
This course is primarily designed for psychiatrists who wish to enhance their knowledge of the clinical practice of ECT, but attendance is also open to other clinicians who work or plan to work in an ECT setting. The course is capped at 15 participants per course.
At the conclusion of this course, participants should be able to: 
Demonstrate knowledge regarding the clinical indication for ECT, the evaluation of patients for this treatment modality, all aspects of ECT administration, and the management of patients during and following the treatment course, including maintenance ECT.
Delineate the potential risks and benefits of ECT.
Describe diagnostic and strategic indications for ECT and provide positive and negative prognostic factors; describe various risks of ECT, including those affecting memory function and provide a plan to assess for the presence and likelihood of potential risks.
Demonstrate ability to delineate aspects of how ECT should be administered including pre-ECT evaluation, management of medications prior to and during ECT, choice and application of stimulus electrodes, choice and delivery of the electrical stimulus, physiological monitoring, determinations of treatment outcomes and post-treatment management.
Demonstrate understanding of the administration of ECT, including familiarity with unilateral and bilateral electrode placement, contemporary ECT devices and seizure monitoring.
Schedule
The following virtual course sessions are scheduled (all Wednesday-Friday):
December 6-8, 2023 
February 21-23, 2024
May 8-10, 2024
Cost
The course cost is $3,000 per participant. Discounts are not available.
Registration
Registration is on a first-come, first-served basis—no holds and no wait list. Registration is available only via credit card (no checks), and registration is confirmed only once the full cost is paid. 
NOTE: Attending this course meets the APA recommendations for didactic training in ECT administration, which can support credentialing at your institution. The decision to credential non-physicians for ECT administration is made at the institution level, and thus attendance at this course is not a guarantee for credentialing approval at your institution. We have had NPs join the course, and most already had institutional support for ECT administration before they registered.
Register for an Upcoming Course
 
Duke Attendance Disclaimer
Conditions for attending Duke courses: All course material is property of Duke and faculty lecturers. No recording is permitted. Noncompliance may cause loss of CME credit and/or registration. Course registration/participation is at our discretion and can be rescinded.
Cancellation Policy
Full payment of $3,000 is due at time of registration via credit card. A written notice of cancellation must be received 30 days prior to the start date of this activity. A 10% ($300) cancellation fee will be assessed at that time; after that date, cancellation requests cannot be honored and no refund will be issued.
Questions?
Please email Marisa Spurrell at marisa.spurrell@duke.edu with registration questions.
To receive a CME certificate after completion of course, participants are required to create a Duke OneLink account to fill out the evaluation, attest credit hours and download the certificate. Participants will be emailed with detailed instructions for how to do this after the course is over after the CME office reviews your attendance. If you are a Duke employee, you must log in to your Duke OneLink account. Please email Zaneta Heartwell (zaneta.heartwell@duke.edu) with any questions. 
You must attend all three days of the course in order to receive full credit for the course. You must sign-in for all three days. Please plan accordingly with your clinic or institution. 
Accreditation Statement
In support of improving patient care, Duke University Health System Clinical Education and Professional Development is accredited by the American Nurses Credentialing Center (ANCC), the Accreditation Council for Pharmacy Education (ACPE), and the Accreditation Council for Continuing Medical Education (ACCME), to provide continuing education for the health care team. The designation was based upon the quality of the educational activity and its compliance with the standards and policies of the Accreditation Council for Continuing Medical Education (ACCME), the Accreditation Council for Pharmacy Education (ACPE), and the American Nurses Credentialing Center (ANCC).
Credit Designation 
Duke University Health System Department of Clinical Education and Professional Development designates this virtual activity for a maximum of 20.0 AMA PRA Category 1 Credit(s)TM ANCC. Physicians and nurses should claim only credit commensurate with the extent of their participation in the activity.
Jacob Feigal, MD
Course Director
Medical Director, Duke ECT Program
Assistant Professor of Psychiatry & Behavioral Sciences
Assistant Professor of Medicine
Duke University School of Medicine
Marisa Spurrell, BA
Course Coordinator
Department of Psychiatry & Behavioral Sciences
Duke University School of Medicine
Amanda Faulkner, MD
Assistant Professor of Anesthesiology
Duke University School of Medicine
Aaron Feiger, MD
Medical Instructor, Psychiatry & Behavioral Sciences
Duke University School of Medicine
Tommy Fu, MD
Medical Instructor, Psychiatry & Behavioral Sciences
Duke University School of Medicine
Grace Gunderson Falcone, RN, DNP, PMHNP-BC, FNP, A/GNP-C, BC
Doctor of Nursing Practice (DNP), ECT Program Director
Clinical Associate Professor, Duke University School of Nursing
Jonathan Komisar, MD
Medical Instructor, Psychiatry & Behavioral Sciences
Duke University School of Medicine
Shawn McClintock, PhD
Lydia Bryant Test Distinguished Professorship in Psychiatric Research
University of Texas Southwestern School of Medicine
Scott Moore, MD, PhD
Professor of Psychiatry & Behavioral Sciences
Duke University School of Medicine
Angel Peterchev, PhD
Associate Professor
Psychiatry & Behavioral Sciences, Biomedical Engineering, Electrical & Computer Engineering, Neurosurgery
Duke University
Richard Weiner, MD, PhD
Professor Emeritus of Psychiatry & Behavioral Sciences
Duke University School of Medicine
The Duke ECT course exceeded my expectations with a thoughtful, comprehensive curriculum and lecturers who were generous with their expertise and time. The learning environment was highly supportive and the entire experience well-organized. I would highly recommend the course to any professionals looking to establish or advance their knowledge of ECT.
— ECT course participant, October 2022