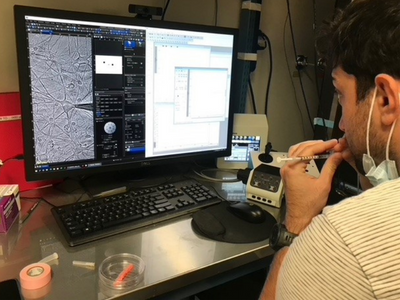 The Physician Scientist Track (PST) prepares resident-scientists for a career in basic/translational/clinical inquiry by offering additional training and mentorship. The program focuses on developing research knowledge and skills, team management, grant proposal development, mentoring, communication and public engagement.
This track is led by co-directors Alexandra Bey, MD, PhD, and Jonathan Posner, MD, with advisory board members Kimberly Carpenter, PhD, Kafui Dzirasa, MD, PhD, Chris Marx, MD, and Heather Vestal, MD, MHS.
The PST emphasizes flexibility and early protected research time, allowing residents to begin pursuing independent research projects at an earlier stage in training. 
Upon completing the PST, residents will:
Successfully compete for an NIH training grant (K08, K99/R00) or independent research grant (DP5) at the end of residency training. 
Have the skills to build an independent research laboratory.
The Duke School of Medicine's Office of Physician-Scientist Development works to leverage institutional and grant-funded opportunities, including the Burroughs Wellcome Fund Physician-Scientist Institutional Award, various NIH awards, and an abundance of highly qualified mentors for diverse projects. We offer two spots each year in the PST, and the track has its own NRMP number: 1529400C3. 
Read on to learn more about the specific program components and how to apply. 
Primary Research Mentor
PST leadership works with trainees to identify a primary research mentor during the first year of residency training (in addition to potential secondary mentors). Once the trainee has identified a primary research mentor, PST leadership works with the trainee and selected research mentor to craft an individual development plan (IDEP). PST leadership provides guidance/mentoring approximately every two months (or more as needed).
Opportunities to Mentor 
Mentoring provides an important opportunity for trainees to develop their leadership skills. Research mentors coordinate opportunities for PST trainees to mentor earlier-stage trainees. 
PST trainees may receive up to three months of research time during PGY1, up to three months during PGY2, and a maximum of 4.5 days per week of research time distributed between PGY3 and PGY4. For example, a resident could have 1 day per week research during PGY3 and 3.5 days per week during PGY4; or could have 2 days per week during PGY3 and 2.5 days per week during PGY4.
Alternatively, trainees may select a five-year training pathway that enables additional protected research time during the initial years of residency. Candidates also have the opportunity to access research support funds aligned with individual development plan objectives, through internal mechanisms. 
Participation in Journal Clubs
PST trainees have the opportunity to participate in discipline-specific journal clubs coordinated throughout the Duke neuroscience community. 
Participation in PARTNER (Postdocs and Residents Translating Neuroscience)
PST trainees have opportunities to engage with other physician scientists and postdoctoral researchers across the neuroscience community to explore and establish meaningful pathways to research translation.
Participants receive direct training in grant preparation from their research mentors and PST leadership, including mentoring in selection of funding agencies/grant mechanisms and feedback on draft proposals. 
A salary supplement and research support funds are provided for each candidate. 
The didactic curriculum, delivered monthly, is co-developed and taught by PST faculty, postdocs and residents. Examples of topics include mentoring, grant preparation, time management, identifying questions for research inquiry and managing collaborations. Didactics also explore NIH funding priorities, research frameworks (e.g., RDoc) and programmatic priorities, ABCD, HEAL and BRAIN. 
PST trainees are encouraged to attend international meetings in neuroscience, biological psychiatry and psychopharmacology, such as SfN, SOBP, ACNP and others. A limited number of travel awards are available each year to PST trainees who are presenting a poster, talk and/or participating in a symposium. PST leadership also assists trainees in applying for conference-sponsored travel awards.  
The CARiNG-StARR (Creating Alzheimer's Disease and Related Dementias Researchers for the Next Generation – Stimulating Access to Research in Residency) Pathway supports protected time for residents to conduct research on issues related to Alzheimer's disease and related dementias (ADRD). The program's goal is to help residents develop into independent physician-scientists who use cutting-edge research methods to pursue long-term academic careers investigating ADRD issues. These opportunities are supported by an active R38 StARR award to Duke University School of Medicine from the National Institute on Aging.
We seek outstanding medical students with a demonstrated track record of clinical excellence and exceptional research achievement. Successful trainees will exhibit clinical and research interests that complement available resources at Duke.
Residency applicants interested in the PST should select the "Psychiatry/Research" track when applying through ERAS.  
Applications will be pre-screened by the Psychiatry Residency leadership team, with secondary screening by research track faculty. 
Applicants who receive an interview invitation will be invited to submit detailed research statements for review by research track faculty. 
Applicants will have the opportunity to participate in a day of research interviews in addition to their regular residency interview day. Research track faculty will work to coordinate the research interview schedule based on candidate interests. 
The NRMP program number for the Physician Scientist Track is 1529400C3. Applicants may choose to rank just the PST, or may choose to rank both the PST and the regular categorical psychiatry program. 
After the match, residents who have matched into the PST will discuss with the program director and PST leadership their research and clinical interests, their preference for a four-year or five-year path, and the amount of protected research time they will have during PGY1. 
By November of the PGY1 year, candidates who previously chose the four-year track may decide to opt in to the five-year track. 
"As a Physician Scientist track member, I enjoy generous protected time each year, complete academic freedom to work with Duke's outstanding faculty across departments, and professional development and community from track leadership and members. I have the support I need to grow as a physician-scientist and achieve my goals."
— William Meyerson, MD, PhD, Third-Year Psychiatry Resident