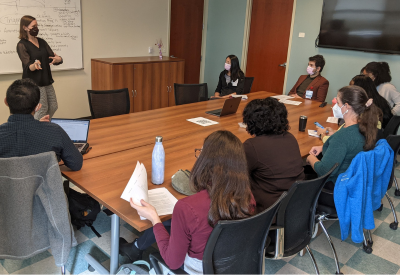 We believe protected academic time—a block of time each week dedicated to teaching, learning and reflection—is critical to the development of a child and adolescent psychiatrist. In both Year 1 and Year 2, fellows and faculty participate in a weekly Academic Half Day in which fellows do not have clinical responsibilities.
Academic Half Day
Academic Half Day—the time the curriculum is taught—taps into a range of teaching approaches, including case-based seminars presented by fellows, faculty lectures, journal club, and professional development seminars. Academic Half Day draws educators from the department's faculty as well as from across Duke. We aim to foster a culture of lifelong learning through our community of shared inquiry.
Seminars span human development, high yield clinical topics, consultation, systems-based practice, neuroscience, and psychopharmacology. We also offer sessions on topics including ethics, structural competency, and teaching adult learners.