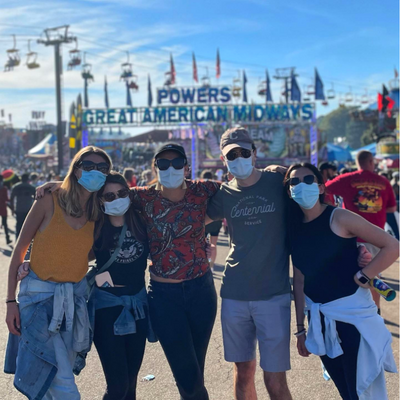 We strive to ensure that residents not only have a fulfilling experience with their clinical rotations and didactics, but that they also have plenty of time and opportunities to enjoy life in Durham, delve into their passions and strike a healthy work/life balance through a variety of formal and informal support structures.
Our residents work hard, but we believe in providing a well-rounded experience for our trainees. Below you'll find links to highlights of some of the other key elements of the Duke Psychiatry & Behavioral Sciences residency experience.
Life in Durham
Residency training at Duke gives you the added bonus of spending several years in the incredible city of Durham. See why we love the Bull City so much.
Wellness
It goes without saying that residency is challenging. Learn about some of the ways we prioritize and promote well-being among our trainees.
Committees, Interests Groups & Volunteering
Residency isn't just about clinical rotations and Academic Half Day. Learn about some of the ways you can further tailor your training experience through committee work, interest groups and volunteer opportunities.
A Week in the Life
What is it like to be an internal medicine-psychiatry resident at Duke? A few residents walk us through a typical week and share some of their favorite things about Duke and Durham. Check out these behind-the-scenes accounts of resident life!
Hear from Current Residents
Below, three med-psych residents discuss their experiences in the program.
Chris Luccarelli, MD (PGY2)
Cameron Strong, MD (PGY5)
Alissa Stavig, MD (2022 graduate/PGY5 when recorded)