Welcome to Internal Medicine-Psychiatry at Duke!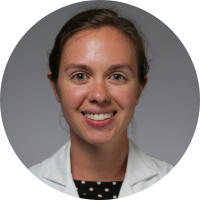 I am thrilled to be able to share our residency program with you! Our Med-Psych program, offering combined training in Internal Medicine and Psychiatry in a five-year residency program, has been in continuous existence for over three decades. Because of our long history, Med-Psych is a well-recognized and respected specialty at Duke, with appreciation for the unique perspective and expertise offered by our residents and faculty.
We have a large number of combined-trained faculty at Duke, many of whom are graduates of the program, who practice in a variety of clinical settings and actively participate in residency education to offer clinical teaching, support and mentorship. Our faculty and alumni hold roles in clinical and education leadership both at Duke and across the country and globe.
The clinical training experience at Duke offers a number of unique combined training experiences, including the inpatient combined Med-Psych rounding team ("Gen Med 12"), outpatient integrated clinic experiences, weekly med-psych conference and regular faculty-resident journal clubs.
We are a close-knit community with a common interest in "whole person care" addressing the biological, psychological and social factors impacting our patients' health and advocating for the best possible care for these patients often made vulnerable by systemic inequities through excellent clinical care, research, quality improvement, and advocacy.
We wish you the best as you explore the opportunities for combined training at Duke!
Sincerely,
Nicole Helmke, MD
Interim Director
Combined Residency Training Program in Internal Medicine-Psychiatry