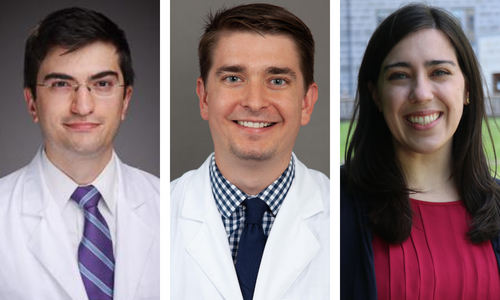 Duke's Internal Medicine-Psychiatry (Med-Psych) Residency Program, a combined five-year program, was founded in 1992. Our program benefits from strengths in both departments, from combined-trained physicians on faculty and from outstanding residents. 
Led by residency director Jane Gagliardi, MD, MHS, and associate training director Nicole Helmke, MD, the Med-Psych residency prepares physicians to be excellent, compassionate, inquisitive and well-rounded clinicians who are experts at the behavioral and medical manifestations of illness and knowledgeable about pathophysiology and mechanisms of disease—including biological, behavioral and social drivers of health.  
Program Overview
Graduates of our program are leaders in integrated behavioral healthcare delivery models, education and scholarship in pursuit of overall health. Five years of training are split between psychiatry and internal medicine. In each year of training, Med-Psych residents rotate on the combined inpatient Med-Psych service, "Gen Med 12," caring for patients with complicated comorbid medical and psychiatric illnesses.
Med-Psych trainees may participate in tracks offered institutionally (Medical Educator Leadership Track), by Psychiatry (Psychotherapy Track, Clinician-Educator Track), and by Medicine (Advocacy in Clinical Leadership Track).  
Med-Psych residents have the opportunity to work closely with Duke faculty who trained in a combined residency program (Medicine-Psychiatry, Neurology-Psychiatry, Family Medicine-Psychiatry or the Triple Board), as well as faculty from the departments of Medicine and Psychiatry & Behavioral Sciences. Learn about our faculty.
Learn more about the Duke Med-Psych program and residents and graduates of our program.
Watch a video about the history of the program.
Hear from three of our residents about the program.
Hear from Program Leaders
Learn more about the Med-Psych Residency Program from program director Dr. Jane Gagliardi and associate program director Dr. Nicole Helmke, who are also both alumnae of the program. 
"It's been great taking advantage of the different clinical environments in both the medicine and psychiatry worlds. Duke has a lot to offer—everything from a robust ECT presence to an opportunity to work at the state psychiatric hospital. There are a lot of med-psych faculty, too, and they are all down to earth and have a variety of cool careers."
—Ryan Slauer, MD, Fourth Year Internal Medicine-Psychiatry Resident