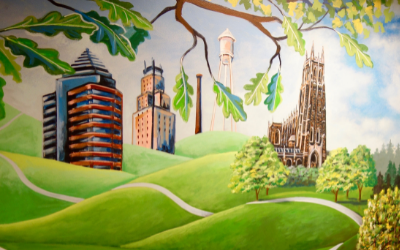 Duke child and adolescent psychiatry (CAP) fellows provide patient care in a variety of clinical settings to establish a solid foundation in core competencies.
In addition to core clinical rotations, fellows can pursue specific clinical and academic interests in a range of specialty clinics.
At each clinical rotation, fellows receive close supervision and mentoring by experienced faculty members invested in their success.
Read on to learn more about how first- and second-year fellows spend their time in the program.
During the first year, CAP fellows gain experience in several diverse clinical settings, including a state psychiatric hospital, Duke University Hospital, Duke Regional Hospital, a family therapy clinic and an outpatient psychotherapy clinic.
Central Regional Hospital (Inpatient)
First-year CAP fellows rotate on child and adolescent units at Central Regional Hospital (CRH) in Butner, North Carolina. One of three state psychiatric inpatient facilities in the state, CRH serves a broad range of patients and their families from central and coastal North Carolina. At CRH, multidisciplinary teams comprising physicians, psychologists, social workers, nurses and behavioral specialists collaborate to treat children and adolescents. 
First-year fellows spend roughly one-half of their time working with latency-age children and one-half working with adolescents. Trainees work with patients with autism spectrum disorder, gender dysphoria, early onset psychosis, complex chronic medical problems and complex psychosocial problems, as well as mood and behavioral disorders.
Duke Children's Hospital (Consult-Liaison Service)
Fellows also spend time rotating on the pediatric psychiatry inpatient consultation-liaison service at Duke Children's Hospital. Fellows round with multidisciplinary teams including psychologists and social workers in intensive care units and pediatric floors and develop expertise treating infant delirium, eating disorders and mood disorders, among other conditions.
Duke University Medical Center (Emergency Psychiatry)
Fellows gain experience in pediatric emergency psychiatry at Duke University Medical Center. Fellows round in the emergency room with Child and Adolescent Psychiatry faculty and collaborate with nursing and case management on patient evaluations, treatment and dispositions. Fellows are involved of the care of patients experiencing mental or behavioral health crises, and enhance their skills in crisis management, safety planning and psychopharmacology.
Outpatient Clinics
Fellows also develop psychotherapy skills in two outpatient clinics, the Psychosocial Treatment Clinic and the Family Studies Program. They receive weekly scheduled supervision and didactics alongside psychology pre-doctoral trainees.
The Psychosocial Treatment Clinic is a cognitive-behavioral therapy based clinic for children and adolescents with a variety of conditions. Fellows develop competency in both short- and long-term evidence-based psychotherapy with close supervision from teaching faculty.  
The Duke Family Studies Program and Clinic, an innovative training model that incorporates live-observed supervision facilitated by a two-way mirror and computer console feed. With teams of learners and weekly systems-based didactics, trainees acquire invaluable techniques and perspective on family system dynamics and pathology.
Second-year CAP fellows devote their time to outpatient child psychiatry. Fellows benefit from core clinical experiences at the Child and Development and Behavioral Health Center and continue their work in the Psychosocial Treatment Clinic.
Additionally, second-year fellows participate in a wide range of specialty clinics and enjoy the freedom to develop particular interests through electives. Fellows have spent time in a range of Duke clinics, community clinics and clinics embedded within local schools. 
Learn more about core and elective Duke training sites:
CAP fellows are on call about six or seven weekends per year, rounding on inpatients on the Duke University Hospital System pediatric psychiatry consult-liaison service or seeing patients in the emergency department.