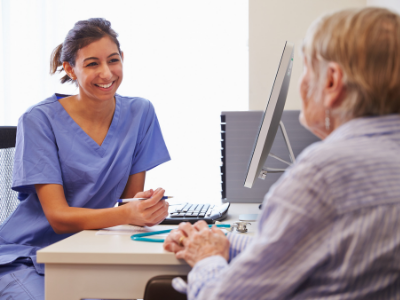 Duke geriatric psychiatry fellows provide patient care in a variety of clinical settings to establish a solid foundation in core competencies. In addition to core clinical rotations, fellows can pursue specific clinical and academic interests in a range of specialty clinics. At each clinical rotation, fellows receive close supervision and mentoring by experienced faculty members invested in their success.
While careful attention is paid first to ensuring that all ACGME requirements for geriatric psychiatry fellowships are met, there is flexibility to allow trainee interests to mold their own experience. Elective options such as specialized rotations in sleep, palliative care, hospice, integrative medicine, substance abuse, forensics and pain are be available. There is also flexibility in location and type of acute hospital consults and the opportunity to pursue of scholarly interests.
Learn about our clinical training sites:
The Duke Behavioral Health Broad Street clinic is the fellow's primary continuity clinic and offers the highest quality mental health services for older adults, including diagnostic evaluations, psychiatric medication management, memory disorders care and brief psychotherapy.
Central Regional Hospital (CRH) is a state psychiatric facility with board certified geriatric psychiatry attendings and strong interdisciplinary teams that enable fellows to address all aspects of an older adult's care.
Through COACH, multidisciplinary teams comprised of geriatric social workers, medicine, psychiatry, pharmacy, nursing, occupational therapy and speech therapy conduct in-home evaluations of veterans living with dementia. These teams ensure that adequate safety measures are in place, provide information on programs allowing respite for caregivers and ensure that geriatric medical and psychiatric care is optimized. Founded at the Durham Veterans Affairs Medical Center, COACH has now been adopted by other hospitals. 
The Durham Veterans Affairs Medical Center is a tertiary care VA located directly across the street from Duke University Health System's main campus. Patients represent a broad range of outpatient geriatric psychiatry concerns, including cognitive impairment, affective disorders, thought disorders and neuropsychiatric issues.
Duke is home to a thriving ECT practice that also provides ECT training for many physicians across the country. Trainees have access to regular lectures, rounds, consults and ECT administration, as well as access to the ECT practice at Central Regional Hospital and the VA sites.
One of the greatest strengths of geriatric training at Duke is the alliance with geriatric training programs for different disciplines. The geriatric-medicine consult service enables trainees to work within an experienced team, providing education for peers and trainees as well as learning from them in caring for hospitalized older adults.
The GET Clinic helps older adults cope with the challenges of daily living and health maintenance. GET's experienced multidisciplinary team takes referrals from other providers to assist older adults in optimizing function.
Led by a geriatric psychiatrist, but housed within the Department of Neurology, the Memory Disorders Clinic offers another view of multidisciplinary care. Duke is well known for dementia care and research, and the Memory Disorders Clinic provides fellows the opportunity to work with patients through their diagnosis and for follow-up care.
The neuropsychology clinic provides an opportunity to participate directly in the neuropsychological evaluation of older adults. Time spent observing and performing testing as well as formulating the results helps trainees learn what questions can be answered by various neuropsychological tests, understand the purpose of the tests and better interpret test results.
Fellows have the opportunity to explore skilled nursing facilities (SNF) consultations in the community and in the VA system. Trainees perform consultations for SNF residents, explore the business model allowing community SNF consultations as part of a practice and understand the regulations that apply to psychiatric care in long-term care facilities.