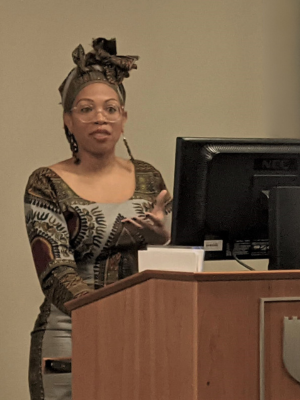 We recognize esteemed former department leaders through named lectures honoring their contributions.
Albert R. Alden Memorial Lecture
The Albert R. Alden Memorial Lecture was established by Dr. Alden's parents in 1979 after he died suddenly at age 31. After completing his residency at Duke in 1975, Dr. Alden served as a psychiatrist at the Durham Veterans Affairs Medical Center and on faculty at Duke before his death in early 1978. He was deeply committed to resident education, and his research and clinical interests included schizophrenia and chronic mental illness. 
Ewald Busse Memorial Lecture
The Ewald Busse Memorial Lecture honors Ewald W. (Bud) Busse, MD, ScD, the second full-time chair of the Duke Department of Psychiatry & Behavioral Sciences, serving from 1953 to 1974. During his tenure as chair, the department grew to be the largest in the south with a heavy and eclectic research focus. Dr. Busse was an expert in the study of usual and successful aging, establishing the Duke Center for the Study of Aging and Human Development in 1954, now the oldest center still in existence in the western hemisphere. He retired from the chair of Psychiatry to become Associate Provost and Dean of Medical and Allied Health Education for the university, serving in that position until 1982.
James H. Carter, Sr. Memorial Lecture
The James H. Carter, Sr. Memorial Lecture honors Dr. James H. Carter Sr., the first African-American full professor of psychiatry at Duke University Medical Center. Dr. Carter arrived at Duke in 1970 and served as a tenured professor for more than 20 years. Throughout his career, he was commited to community psychiatry, particularly in the areas of substance abuse and mental health care for prisoners. Dr. Carter played a critical role in building mental health services at Lincoln Community Medical Center in Durham, the Alcohol Treatment Center in Raleigh, the Johnston County Mental Health Center and the Department of Corrections.
TK Li Distinguished Lecture
In 2015, the TK Li Distinguished Lecture was founded to honor the career and contributions of Dr. TK Li by bringing internationally-respected addiction researchers, clinicians and educators to speak at Duke. During Dr. Li's tenure at Duke, he was a strong advocate, contributing architect and advisor in the creation of the Center for Addiction & Behavior Change in the Duke Institute for Behavioral Sciences.
Hans Lowenbach Memorial Lecture
The Hans Lowenbach Memorial Lecture was established in 1991 in memory of Dr. Hans Lowenbach (1905-1983), who joined the Duke faculty in 1940 and served as a professor of neurology and also, after returning from a two-year leave to serve for the US Army in Munich, Germany, the Chair of the Department of Psychiatry from 1951 to 1953. During his career, Dr. Lowenbach contributed to many aspects of neurology, psychiatry and mental health. He was instrumental in advancing the field of electroconvulsive therapy and consulted for numerous psychiatric facilities in the state and the nation.
"The research presented in this lecture was impressive—so sophisticated, complex, and hopeful. A treat to hear! And Dr. Weiner's introduction made me proud of my father all over again."

—Torry Lowenbach, commenting on the 2021 Hans Lowenbach, MD, Memorial Lecture: "ECT Amplitude, Hippocampal Engagement and Clinical Outcomes," presented by Christopher Abbott, MD, of the University of New Mexico Health Sciences Center
Karen C. Wells Lecture
The Karen C. Wells Lecture honors Karen C. Wells, PhD, a faculty member in the Department of Psychiatry & Behavioral Sciences for 30 years before her retirement in 2019. She was active in research, education and clinical services and her career focused on environmental/systems influences, with a strong interest in how environmental systems, singly and in interaction with biology/neurobiology/genetics, influence the development, escalation, and maintenance and treatment of psychopathology in children, adolescents and adults. The themed annual lecture will focus on the influence of one or more of the environmental and systems influences within which the brain and body systems develop, uniquely or in interaction, to produce or to treat behavioral, emotional or cognitive outcomes.
To make a gift to the Karen C. Wells Lecture, visit the Duke Health giving website and click on "Or search for an area." Type "Karen Wells" in the box, and "The Karen Wells Training & Lectureship Fund" should auto-populate. Please contact Whitney Martin (whitney.w.martin@duke.edu) with any questions.
Karen L. Wrenn Lecture
The Karen L. Wrenn Lectureship in Alzheimer's Disease was established in 2015, through a gift from the Karen L. Wrenn Trust and its trustee, distinguished Duke alumnae Marjorie Bekaert Thomas. It is organized and conducted by the Neurocognitive Disorders Program in the Department of Psychiatry & Behavioral Sciences, and comprises a lectureship given by an internationally recognized authority, a graduate student workshop/travel award and specified Alzheimer's disease-related student activities. The lectureship may be held in some years in a Duke clinical department and in other years at other Duke schools or basic research departments.