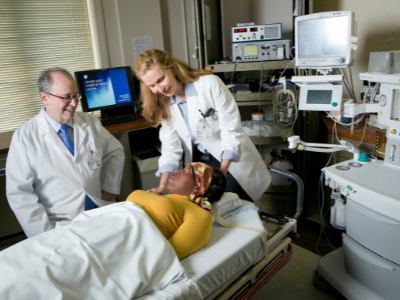 The week-long Electroconvulsive Therapy (ECT) Fellowship Program at Duke University Medical Center is the oldest of its type in the U.S., and has trained hundreds of psychiatrists throughout the U.S., Canada, Europe, Asia and Australia. 
The fellowship offers practicing clinicians an active ECT learning experience that combines participation in ECT treatments, meetings with faculty, conferences and consultations, and self-instructional programs of readings and video material. To the extent possible, didactic and background reading material are custom-tailored to the needs of the visiting fellow.
In order to maximize the opportunity for practical learning, enrollment is usually held to three fellows per week.
This on-site course is on hold as a result of the viral pandemic crises, but work is underway to develop a virtual course format that will provide a comparable learning experience. For more information, please email psychectcourse@dm.duke.edu.