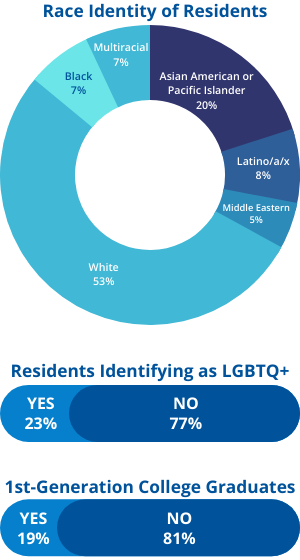 Diversity and inclusion are two of of our most closely held values at the Duke Psychiatry Residency Program. We celebrate the diversity of our residents and we are committed to providing a welcoming and inclusive environment for all residents, no matter their age, gender, race, ethnicity, ability, sexual orientation, religion or socioeconomic background.
We are proud that over a quarter of our residents attended international medical schools, and we encourage graduates from international medical schools who have had experience in the U.S. healthcare system and outstanding academic backgrounds to apply to our program. 
Durham is a very diverse city, and our residents provide care to an exceptionally diverse patient population across all of our clinical sites, acute care services, outpatient clinics and community psychiatry rotation sites. Our community psychiatry rotations include the Lincoln Community Mental Health Center serving Durham's Black community and El Futuro serving Latinx families in a bilingual environment.
We were excited to launch a new anti-racism curriculum in 2020, with a variety of sessions on topics including structural competency, implicit bias; unbiased de-escalation and restraint; racism and psychiatry; understanding clinician bias in psychiatric diagnosing and treatment; and Bias at the Bedside: A Toolkit for Upstanders.
Visit the diversity, equity and inclusion section of our website to learn more about Duke University, Duke University Health System and the School of Medicine's commitment to and initiatives towards dismantling racism at Duke and within our community and for related institutional resources and programs.