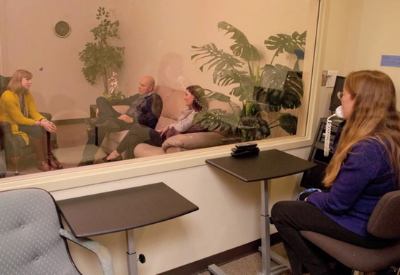 Duke's Family Studies Program and Clinic, located within the Duke Child and Family Center at Lakeview Pavilion, specializes in teaching family therapy to psychiatry residents, psychology interns and child and adolescent psychiatry fellows.
Using a principle-based, multi-dimensional approach incorporating attachment theory, family systems theory, cognitive-behavioral techniques and evidence-based therapies, the Family Studies program offers a full range of family therapy services, including: 
Couples and marital therapy
Family therapy for child and adolescent issues
Parent management training for parents of children and adolescents with behavioral problems
General family therapy to enhance communication and problem-solving
Family therapy for adults with chronic mental illness
Established in 1985 by Psychiatry department chair Fred Melges, MD, and social worker Stephen Hawthorne, the Family Studies Program has long taught evidence-based family approaches while helping psychiatry and psychology trainees develop professional skills. 
I could not possibly have anticipated the ways in which this experience would help improve my abilities as a therapist—both in individual and family work. The focus on emotions has come up in almost all of my work across rotations.
–Feedback from a trainee evaluation
The clinic has an interdisciplinary faculty of skilled family therapists who provide live supervision to learners working directly with families. The clinic consists of: 
Weekly seminar: These sessions cover a variety of topics from basic family therapy theory and psychotherapy skills to state-of-the art approaches and techniques.
One-on-one supervision: Each learner is the primary therapist for a family or couple, with live supervision by a family therapy clinician who observes the entire session from behind a one-way mirror, accompanied by a small team of other learners. Supervision takes place in real-time using computer teleprompting, room-to-room telephone call-ins and occasional live modeling by the supervisor. 
Participation as a team member: Learners also participate as "behind the mirror" team members for two to three sessions weekly, observing peers in learning family therapy and participating in rich discussions regarding the interactions and processes in the therapy room.
The Family Studies Program not only helps trainees learn family therapy theory and techniques, it also nurtures mindfulness and psychotherapeutic maturity by providing a safe place for them to test experiences and receive direct peer and senior supervision. Supervisors are often able to identify subtle but important areas in need of development among learners. The Family Studies experience teaches trainees skills they were not aware they lacked and imparts lessons they can use throughout their career.
The Family Studies Program is a required year-long rotation for psychiatry residents, medicine-psychiatry residents, clinical psychology interns, and child and adolescent psychiatry fellows.
[This is] one of the best training experiences that Duke offers. It supports development of skills for individual and couples/family therapy, supports development of being an independent practitioner, and provides a source of support for residents …
–Feedback from a trainee evaluation