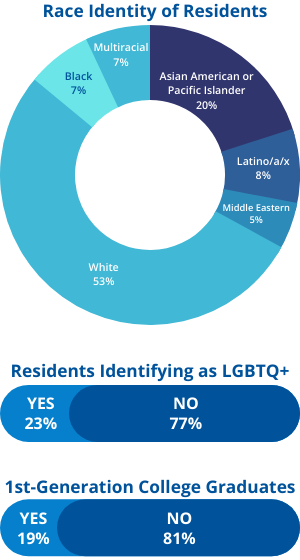 At Duke, we are proud to have a culturally diverse psychiatry residency program. In fact, our residents hail from approximately 18 different countries! We actively recruit outstanding residents to join our community who have attended medical school from all across the U.S. and the world. We believe that the diverse backgrounds, experiences and perspectives of our residents and faculty add an essential richness to the training experience and resident community.
 
We are also fortunate to live and work in a city as diverse as Durham, NC. Duke psychiatry residents provide direct care to diverse patient populations across our core hospital sites (Duke, VA and the state hospital). In addition, our residents have the opportunity to complete several community psychiatry rotations, including the Lincoln Community Mental Health Center, which serves a predominantly Black patient population, and El Futuro, a clinic that serves predominantly Latino/a/x families in both Spanish and English. 
 
We strive to advance equity, diversity, and inclusion in psychiatry both within our residency and at the local, state, national, and international level. Our goal is to train the next generation of psychiatrists to provide the highest quality care to all individuals and communities. In part, we achieve this goal through a robust didactic curriculum that includes social determinants of health, structural racism, cultural case formulation, implicit and explicit bias, as well as anti-racism efforts.
Visit the equity, diversity and inclusion section of our website to learn more about Duke University, Duke University Health System and the School of Medicine's commitment to and initiatives towards dismantling racism at Duke and within our community and for related institutional resources and programs.