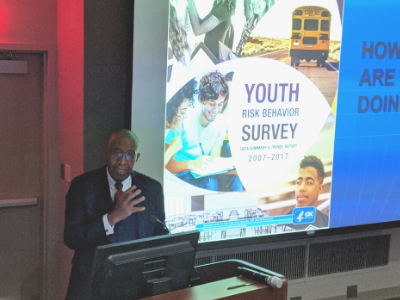 The Department of Psychiatry & Behavioral Sciences hosts Grand Rounds on Thursdays from noon to 1:00pm. Due to COVID-19, all Grand Rounds are currently virtual. 
In creating the Grand Rounds schedule, a committee of physicians and psychologists meet to review evaluations and complete ongoing needs assessments. The committee strives to attain a balance between basic science, translational science, clinical practice and implementation of health services in the annual Grand Rounds lecture series.
Below is a list of Grand Rounds lectures we've hosted in the past few years. View the events calendar for information about upcoming Grand Rounds.
To request a link to the recording of any of the following presentations, please email psychgrandrounds@dm.duke.edu.
Morbidity & Mortality
Shelley Holmer, MD


June 29, 2023


 

"

Precision Therapeutics: From Circuit Biotypes to Personalized Interventions"


Leanne Maree Williams, PhD
June 8, 2023
 

Research Hot Topics


Physician Scientist Track Trainee(s)
June 1, 2023
 

"Meeting the Need: Early Child Mental Health, Trauma and Access to Child Psychiatry"


Laine Young Walker, MD
May 25, 2023
 

EDI Series:

After The DEI Statement: The Work of Anti-Racism in Medical Academia
Sarah Vinson, MD


May 18, 2023


 

Children's Mental Health Awareness and National Mental Health Day: "

North Carolina 

Psychiatry Access Line: A public health approach to improving mental health care across North 

Carolina"


Gary Maslow, MD, MPH


May 11, 2023


 

Karen C. Well Lecture Presentation:

"

Interpersonal Psychotherapy for Adolescent Depression (IPT-A): Improving Access to Effective Care"


Laura Mufson, MD


May 4, 2023


 

Celebrate Diversity Month: Integrating Diversity, Equity and Inclusion: How to Change a Culture




Alyson Myers, MD




April 27, 2023


 

EDI Grant Report Out:

"

Childhood Trauma Interventions: Disparities & Opportunities"




Ernestine Briggs-King, PhD


April 20, 2023
 

"Neuroimmune Signaling in Neurodevelopment: Implications for Mental Health Throughout the Lifespan" 




Staci Bilbo, PhD




April 13, 2023


 

Ewald Busse Memorial Lecture: "Social Determinants of Health and Wisdom in the Era of Pandemics"


Dilip Jeste, MD


April 6, 2023


 

"Mental HealthCare in Nepal: Challenges and Accomplishments"




Sushrusha Arjyal, MD




March 30, 2023


 

EDI Research Grants: "Implementation Mapping for Tobacco Cessation in a Federally Qualified Health Center"


Sarah Wilson, PhD
March 23, 2023
 

"

Neuroscience-Informed Treatment Interventions for Youth with Posttraumatic Symptoms"


Victor Carrion, MD
March 9, 2023
 
"Clinical and Research Perspectives on Identifying and Reducing Racial/Ethnic 

Disparities in Behavioral Health Treatment"




Benjamin Cook, PhD, MPH & Caryn Rodgers, PhD


March 2, 2023
 

EDI Series: "For Youth and By Youth: Creating Digital Interventions for Mental Health and Access to Care"


Lisa Fortuna, MD, MPH, MDiv
February 23, 2023
 

"

Neurocomputational Insights into Emotion Representation and Dynamics"




Kevin LaBar, PhD




February 9, 2023


 
James Carter, Sr. Lecture: "Diversity, Inclusion and Equity: Our Collective Responsibility"


Deborah Deas, MD, MPH


February 2, 2023
 

Government Relations Update


Katie Lipe
January 26, 2023
 

EDI Series: "Belonging Without Fitting In: Racial Literacy for Healing the Trauma of Racial Hate"


Howard Stevenson, PhD


January 12, 2023


 

Albert Alden Lecture: "

Cognitive Load and Handoffs"

 


John Q. Young, MD


January 5, 2023
Hot Research Topics




Ashley Huggins, PhD; 

Kathryn Walder, PhD; and Jonathan Young, MD




December 15, 2022


 

Morbidity & Mortality




TBD


December 8, 2022
 

The Paradox of Perfectionism


Nancy Zucker, PhD and Alison Adcock, MD, PhD
November 17, 2022
 

TK Li Lecture: Inequities in Addiction Treatment for Racial and Ethnic Minoritized

Populations: How to Move Forward




Ayana Jordan, MD;


November 10, 2022
 

Medical Alumni Weekend

: "Research Advances in Mood Disorders: Moving Toward a Brighter

Future




Chris Marx, MD; Angel Peterchev, PhD; Moira Rynn, MD


November 3, 2022
 

OCD Awareness: Understanding the OCD Brain: Using Technology to Build Bridges

Between Humans and Mice


Susanne Ahmari, MD
October 27, 2022
 

Bench to Bedside: From Mechanism to Treatment in Anorexia Nervosa


Joanna Steinglass, MD
October 20, 2022
 

The Great Pretender: An Investigation into "Insane Places"




Susannah Cahalan


October 13, 2022
 

Developmental Approaches to Identifying Novel Neural Risk Markers and Brain-based

Treatments for Mood Disorders


Mary Phillips, MD
October 6, 2022
 
Smartphones and Psychiatry: A 2022 Update
John Torous, MD, MBI
September 29, 2022
 

In Honor of Reverend James Brown: From Neurons to Nations: The Road to Health Equity in

Aging and Alzheimer's Disease


Luis Medina, PhD
September 22, 2022
 

Hans Lowenbach Memorial Lecture: Stanford Accelerated Intelligent Neuromodulation Therapy


Speaker: Nolan Williams, MD
September 1, 2022
 
Neurodevelopmental Mechanisms Linking Childhood Adversity with Psychopathology Across the Life-Course
Katie Ann McLaughlin, PhD
June 30, 2022
 
Research Data Blitz
Jer Grove, PhD; McLean Pollock, PhD; Katherine Ramos, PhD


June 23, 2022


 

Recent Innovations in the Assessment and Prediction of Self-Directed Violence




Nathan Kimbrel, PhD




June 9, 2022


 

Developmental Cognitive Neuroscience in the Era of Big Data




Damien Fair, PhD




June 2, 2022


 
K

aren Wells Lecture: Biobehavioral Synchrony and Humans' Social Affiliations: From Basic Science to Clinical Intervention




Ruth Feldman, PhD




May 26, 2022


 
Hans Lowenbach Memorial Lecture: The Limbic System in Major Depression: A Circuit-Based Perspective from Treatment Research


Yvette Sheline, MD




May 19, 2022


 
DEI Series: Systems and Individuals: Deconstructing the Social Determinants of (Mental) Health
Danielle Hairston, MD


May 12, 2022


 
CANCELLED: Forensic Psychiatry: Building a Skill Set, Honing your Craft, and Shaping the Future


Sally Johnson, MD




May 5, 2022


 

National Autism Month: Novel approaches to the early detection and treatment of autism


Geraldine Dawson, PhD
April 28, 2022
 
SM-5 Text Revision Outline for Cultural Formulation and Cultural Formulation Interview: Tools for Culturally Competent Care
Francis Lu, MD
April 14, 2022
 
Morbidity & Mortality
April 7, 2022
 

DEI Series: Systemic and Community Engaged Approaches to Promoting Latinx Health Equity


Rosa Gonzalez-Guarda, PhD, Duke University
March 31, 2022
 

Centering Equity in Trauma-Informed Work


Karinda Roebuck, CNM, MSN, Chatham Organizing for Racial Equity (CORE)
March 17, 2022
 

Functional Analytic Psychotherapy


William Follette, PhD, University of Nevada, Reno
March 10, 2022
 

Ewald Busse Lecture:

Designing and Evaluating Multi-modal Interventions to Promote

Cognitive, Social and Physical Activity




Michelle Carlson, PhD, Johns Hopkins Bloomberg School of Public Health


March 3, 2022
 

POSTPONED UNTIL FALL 2022: National Eating Disorders Week: The Paradox of Perfectionism


Nancy Zucker, PhD, Duke University; Alison Adcock, MD, Duke University
February 24, 2022
 

DEI Series:

Cutting Without a Knife


LJ Punch, MD
F

ebruary 10, 2022


 

James H. Carter, Sr. Memorial Lecture


Ruth Shim, MD, UC Davis Health
February 3, 2022
 

Epigenetic embedding of early life adversity


Elisabeth Binder, PhD, Emory University
January 27, 2022
 

Telehealth advocacy and the future of telehealth


Arthur Evans, PhD, American Psychological Association
January 20, 2022
 

Rapidly acting antidepressants: New treatments, new hope and new insights into the brain




John Krystal, MD, Yale University




January 13, 2022


 

Government Relations Lunch & Learn


Doug Heron & Katie Stanley, Duke University Government Relations
J

anuary 6, 2022
DEI Series: Shifting Pain: Black Men, Masculinities, and Behavioral Health in Times of Uncertainty
Wizdom Powell, PhD, Director of the Health Disparities Institute and Associate Professor of Psychiatry at UConn Health
December 9, 2021
 
What Have We Learned from Studies of Cognitive Behavioral Treatment for Adolescent Depression and Substance Use?
John Curry, PhD, Duke University
December 2, 2021
 
Veteran's Day: Community, Suicide Prevention Intervention for Transitioning Service Members and Veterans: The Sponsorship Initiative
Joseph Geraci, PhD, MIRECC
November 11, 2021
 
Medical Alumni Weekend: A Primer on Substance Use Disorders for Youth and Families
Joseph Lee, MD, Hazelden Betty Ford Foundation
November 4, 2021
 
DEI Series: LGBTQ-Affirmative Mental Health Care: From Theory to Trials to Community Implementation and Global Dissemination
John Pachankis, PhD, Yale University
October 28, 2021
 
Population Health as a Paradigm for Improving Behavioral Health Outcomes
Mehul Mankad, MD, Alliance Health
October 21, 2021
 
The SHARP Study: A Culturally Celebratory Approach to Black American Brain Health
Raina Croff, PhD, Oregon Health & Science University
October 14, 2021
 
DEI Series: Pursuing, Teaching, and Adopting Health Equity as a Personal Value
Viviana Martinez-Bianchi, MD
October 7, 2021
 
Transcriptional and Epigenetic Mechanisms of Depression
Eric Nestler, MD, PhD, Icahn School of Medicine at Mt. Sinai
September 30, 2021
 
Karen Wrenn Lecture: "Alzheimer's Plans and Progress at the National Institute on Aging
Richard Hodes, MD, Director of the National Institute on Aging
September 23, 2021
 
From Dispensers to Collaborators:  Building Effective Therapeutic Relationships for Psychiatric Prescribing
Warren Kinghorn, MD, ThD, Duke University
September 9, 2021
 
Albert R. Alden Memorial Lecture: Presentation: Social Media & Professionalism
Howard Liu, MD; Sandra DeJong, MD; Christina Girgis, MD; Jordan Broadway, MD; Rick Wolthusen, MD, MPP; Jill Boy
September 2, 2021
 
Does Precision Psychiatry Have a Future?
Jordan Smoller, MD, Harvard Medical School, Harvard School of Public Health
July 29, 2021
 
Hans Lowenbach, MD, Memorial Lecture:

ECT Amplitude, Hippocampal Engagement and Clinical Outcomes


Christopher Abbott, MD, University of New Mexico
July 22, 2021
 
The Path towards Inclusive Excellence: Exploring & Navigating Implicit Bias
Judy Seidenstein, Duke University
July 15, 2021
 
Professional Accountability (PACT) Training
Cindy Gordon, RN; Diana McNeill, MD, MACP; Melissa Gordon-Pitts, LCSW, Duke University
June 3 and June 10, 2021
 
Ewald W. Busse Memorial Lecture: Population-Based Strategies for Improving Brain Health
Kristine Yaffe, MD, University of California, San Francisco
May 27, 2021
 
Fostering Joyful and Sustainable Professional Practice During (and After) a Pandemic
Erica Wise, PhD, University of North Carolina at Chapel Hill
May 20, 2021
 
Research and Practice Gaps in PTSD Care and the Way Forward
Brett Litz, PhD, Boston University
May 13, 2021
 
The Spread of Suicide and Possible Ways to Contain It
Madelyn Gould, PhD, MPH, Columbia University, Vagelos College of Physicians and Surgeons
April 29, 2021
 
Law, Science and Children's Legal Rights: An Evolving Landscape
Marsha Levick, JD, Juvenile Law Center
April 22, 2021
 
Addressing the Impact of Trauma on Children from Brain to Policy: State & National Efforts to Make a Difference
Lisa Amaya-Jackson, MD, MPH, Psychiatry & Behavioral Sciences, Duke University School of Medicine
April 15, 2021
 
Towards an Evidence Base for Interventions to Decrease Stress in Immigrants and Refugees
Gabriela Nagy, PhD, Psychiatry & Behavioral Sciences, Duke University School of Medicine
April 8, 2021
 
Genetics of the Brain-Heart Connection
Svati Shah, MD, MHS, Duke University School of Medicine
April 1, 2021
 
Probing and Rescuing Dysfunctional Brain Circuits in Depression
Conor Liston, MD, PhD, Weill Cornell Medicine
March 25, 2021
 
Machine Learning in Mental Health
Andrew Michael, PhD, Duke Institute for Brain Sciences
March 11, 2021
 
Towards a Trans-diagnostic Treatment for Emotional Dysregulation: How Neuroscience, Technology and Behavioral Therapy can Change Mental Health
Andrada Neacsiu, PhD, Psychiatry & Behavioral Sciences, Duke University School of Medicine
March 11, 2021
 
Innovations with Cognitive Processing Therapy for PTSD
Patricia Resick, PhD, Psychiatry & Behavioral Sciences, Duke University School of Medicine
March 4, 2021
 
Albert R. Alden Memorial Lecture: Mental Health in the Digital Age: Assessing the Benefits and Risks of Information Technology
Anthony L. Rostain, MD, MA, Cooper Medical School of Rowan University, Cooper University Healthcare
February 25, 2021
 
Racial Blackness beyond Interpersonal Definitions and Perceptions
Patrice Douglass, PhD, Duke University
February 11, 2021
 
The Role of Mental Health in Gender-Affirming Care for Trans and Non-Binary Adolescents and Adults
Walter Bockting, PhD, Columbia University
Feburary 4, 2021
 
James H. Carter, Sr. Memorial Lecture: Physician Leadership during Times of Crisis and Transition
Patrice Harris, MD, Past President of the American Medical Association
January 28, 2021
 
Karen Wells Distinguished Lecture: From Instagram to Internet Addiction: Adolescent Mental Health in the Digital Age
David Bickham, MD, Boston Children's Hospital
January 21, 2021
 
The Effects of Religion and Spirituality on Health
Harold Koenig, MD, Duke Psychiatry & Behavioral Sciences
January 14, 2021
Biomarkers and New Therapeutics for Pain – A Novel Neurosteroid Intervention
Jennifer Naylor, PhD, Duke Psychiatry & Behavioral Sciences
December 17, 2020
 
TK Li Lecture: Collision of the Opioid Crisis and the COVID-19 Pandemic: Update and Challenges
Nora Volkow, MD, Columbia University
December 3, 2020
 
The View from Durham: A Social History of Duke Hospital
Dr. Jeffrey Baker, MD, Duke School of Medicine
November 19, 2020
 
Keepers of the House: Film Showing and Discussion
Neil Prose, MD, Duke School of Medicine
November 12, 2020
 
Medical Alumni Weekend
Sarah Lisanby, MD, National Institute of Mental Health
November 5, 2020
 
Morbidity & Mortality
Jane Gagliardi, MD, MHS
October 29, 2020
 
Mechanisms of Fear, Threat and Trauma Memory Encoding: Relevance
Kerry Ressler, MD, Harvard University
October 22, 2020
 
Heterogeneity in Autism: Impact of Co-Occurring Psychiatric and Neurodevelopmental Disorders
Kimberly Carpenter, PhD, Duke Psychiatry & Behavioral Sciences
October 15, 2020
 
Wrenn Lecture: Dementia Prevention and Interventions. A Conversation with The Lancet Commission
Lon Schneider, MD, University of Southern Carolina
October 1, 2020
 
Exposure Therapy for Fear: The Inhibitory Learning Approach
Jon Abramowitz, PhD, University of North Carolina
September 24, 2020
 
Promoting Wellness: Silencing Your Inner Critic: Tools for Physician Wellness
Heather Vestal, MD, MHS, Duke Psychiatry & Behavioral Medicine
September 10, 2020
 
Introduction to Machine Learning for Applications in Mental Health
Lawrence Carin, PhD, Duke School of Medicine
September 3, 2020
 
Social Isolation and Loneliness: What Can Mental Health Professionals Do?
Dan Blazer, MD, PhD, Duke Psychiatry & Behavioral Sciences
August 6, 2020
 
Bystander Intervention in Medicine
Ada Gregory, Associate Director, Kenan Institute for Ethics
July 16, 2020
 
The Reciprocal Relationship of Neurocognitive and Neuropsychiatric Symptoms in Late Life Mental Health Disorders
Ruth O'Hara, PhD, Stanford Medicine/VA Alzheimer's
June 4, 2020
 
Safe Opioid Prescribing: From a State of Affairs to Affairs of State
Padma Gulur, MD, Professor of Anesthesiology & Population Health; Executive Vice Chair, Operations & Performance, Duke Anesthesiology
May 28, 2020
 
Opportunities in Alzheimer's Disease Prevention: TOMMORROW - A Clinical Trial to Delay the Onset of Mild Cognitive Impairment
Kathleen Welsh-Bohmer, PhD, Psychiatry & Behavioral Sciences
February 27, 2020
Promoting Professionalism: Inclusion and Power Dynamics in Academia
Kathryn Dickerson, PhD, Psychiatry & Behavioral Sciences, Duke Institute for Brain Sciences
February 13, 2020
 
James H. Carter, Sr. Memorial Lecture: Presentation: Adolescent Risk-taking Behavior – Can Youth Be Saved?
Robert L. Johnson, MD, FAAP, Rutgers New Jersey Medical School
February 6, 2020
 
Military Psychiatry 2020: Updates from Deployment to the Middle East
Justin Johnson, MD, Duke University, Durham Veterans Affairs Medical Center
January 30, 2020
 
Suicide Prevention Across the Lifespan: Addressing Barriers to Care
John Campo, MD, School of Medicine, West Virginia University
January 23, 2020
 
Ewald Busse Memorial Lecture: Resilience in Aging
Paul Kirwin, MD, Yale University
January 17, 2020
 
Maximizing Behavioral Health Within Value-based Reimbursements and ACOs
Katherine Hobbs Knutson, MD, MPH, Blue Cross North Carolina
January 9, 2020
Promoting Professionalism: Hindsight is 20/20: Reflections on Inequities, Burnout, and Professionalism
Jane Gagliardi, MD, MHS, Duke University, Department of Psychiatry & Behavioral Sciences
December 12, 2019
 
TK Li Distinguished Lecture: Cocaine Use Disorder: A Persistent Problem in Need of New Therapeutic Options
Frances Levin, MD, Columbia University
November 14, 2019
 
Medical Alumni Weekend Presentation: NC Medicaid Transformation: Challenges & Opportunities
Carrie Brown, MD, MPH, North Carolina Department of Health and Human Services
November 7, 2019
 
Delirium, Dreams, Distress & Deterrence: A Patient & Provider Perspective
Alison Clay, MD, Duke University, Department of Surgery 
October 31, 2019
 
Integrating Neuroscience into the Clinical Practice of Psychiatry
Melissa R. Arbuckle, MD, PhD, Columbia University Irving Medical Center
October 10, 2019
 
Adolescent Suicide Risk: New Developments in Screening and Intervention
Cheryl A. King, PhD, University of Michigan
September 26, 2019
 
Caring for the Child, Not the BMI: Community-Based Approaches for Improving the Health and Well-Being of Children with Obesity
Sarah Armstrong, MD, Duke University
September 12, 2019
 
Suicide Risk Screening in Medical Settings: From Clinical Observation to Research Implementation
Maryland Pao, MD, NIMH
September 5, 2019
 
Case Report: ApoE 4 and Sex as Risk Factors for Early Onset Alzheimer's Disease
Sarah Kim, MD, Duke University
June 27, 2019
 
Single Mothers, Vulnerable Population or Superheroes: Considerations for Mental Health Professionals
Veronica Hocker, MD, Duke University
June 27, 2019
 
Duke Psychiatry Honored Professor: Perinatal Psychiatry
Marla Wald, MD
June 27, 2019
 
Duke Psychiatry Honored Professor: 'Teaching' Social Determinants of Health
Jacob Feigal, MD
June 27, 2019
 
Implicit Bias - Impact of Physician Names on Patient Show Rates
Ahmad Ali, MD, MPH, Duke University
June 6, 2019
 
Bonding Rounds: Meaning at Work + Psychological Support = Wellbeing. A Feasibility Study
Christian Bjerre Real, MD, Duke University
June 6, 2019
 
Karen Wells Distinguished Lecture: Children's Bodies Keep Score: The Adverse Childhood Experiences Study (ACEs) and Psychopathology in Youth and Adults
Dr. George Holden, SMU
May 31, 2019
 
Traditional Healers and Mental Health in Nepal
Tony Pham, MD, Duke University
May 9, 2019
 
Reducing the Number of People with Mental Illness Involved in the Criminal Justice System
Megan Pruette, MD, M.Sc, Duke University
May 9, 2019
 
Considerations in Psychopharmacological Management for Transgender Patients
Hyun Hee Kim, MD, Duke University
May 2, 2019
 
Mind Mending: Using Mice to Model Depression and ECT for Novel Treatment Approaches
Michael Kritzer-Cheren, MD, PhD, Duke University
May 2, 2019
 
Morbidity and Mortality
Jane P. Gagliardi, MD, MHS
April 25, 2019
 
Interventional Psychiatry: A Look Under the Hood
Nicholas Mischel, MD/PhD, Duke University
April 11, 2019
 
Understanding Anxiety in Coronary Heart Disease Patients
Karan Vyas, MD, Duke University
April 11, 2019
 
Restructuring Reward and the Power of Veto in Addiction
Brett Froelinger, PhD, Medical University of South Carolina
April 4, 2019
 
Enduring Impact of Childhood Adversity: Observations at Reproductive Transitions
C. Neill Epperson, MD, Colorado University
March 28, 2019
 
Faculty Development for Clinical Educators: Setting Expectations for Learner Success
Katherine McDaniel, PhD, MSW, Duke University
March 21, 2019
Forgotten in the Shadow of Death: End of Life Considerations for Persons with Serious Mental Illness
Melinda Asbury, MD, PhD, Duke University
March 14, 2019
 
Psychiatry Resident Training in Buprenorphine and Office-Based Opioid Treatment
Sara Olack, MD, PhD, Duke University
March 14, 2019
 
Striving for Culture Change: Promoting Civility and Enhancing Our Ability to Care for Our Patients and Each Other
Dinushika Mohottige MD, MPH, Duke School of Medicine, Department of Medicine, Division of Nephrology
March 7, 2019
 
Effectively Disseminating Scientific and Clinical Knowledge to Policymakers to Promote the Health and Well-Being of Underserved Populations
Diane Elmore Borbon, PhD, MPH, Duke University
February 28, 2019
 
Multimodal Neuromodulation for Circuit-Based Psychiatry
Joan A. Camprodon, MD, MPH, PhD, Mass General
February 14, 2019
 
Partnering with African American Churches to Promote Mental Health Equity
Dr. Sidney Hankerson, MD, MBA, Columbia University
February 7, 2019
 
Morbidity and Mortality
Jane P. Gagliardi, MD, MHS
January 31, 2019
 
Translational Neuroeconomics: Characterizing Multiple Valuation Systems in Neuropsychiatric Disorders
Brian Sweis, PhD, University of Minnesota
January 24, 2019
 
Happy New Year: Let's Talk Aging, Depression, and Bipolar Disorders
John Beyer, MD, Duke School of Medicine, Department of Psychiatry and Behavioral Sciences
January 3, 2019
Can we detect and treat Alzheimer's Disease a Decade before the Onset of Dementia?
Reisa Sperling, MD, M.MSc
December 13, 2018
 
Developing Biomarkers for Autism Spectrum Disorder
James McPartland, PhD
December 6, 2018
 
Neural Predictors of Treatment Outcomes and Trajectories in Childhood Psychiatric Disorders
Rachel Marsh, MD
November 29, 2018
 
Medical Alumni Weekend Lecture: Mental Stress-Induced LV Dysfunction - A Path to Twig Stress Affects Health
Wei Jiang, MD
November 18, 2018
 
Psychosis: Changing Concepts and Therapeutic Implications
William T. Carpenter, MD
October 25, 2018
 
The Neurodevelopment of Irritability: A Multi-Modal Perspective
Kathy Steele, MN, CS
October 11, 2018
 
Long-term Psychotherapy in the Rear-View Mirror: 'Evidence' from My 40-Year Clinical Career
William S. Meyer, MSW
October 4, 2018
 
The Neurodevelopment of Irritability: A Multi-Modal Perspective
Susan B. Perlman, PhD
September 27, 2018
 
Challenges and Opportunities in Understanding Psychopathology with Imaging Studies of Brain Development
Theodore Satterthwaite, MD, MA
September 6, 2018
 
Quality Improvement Updates from Clinical Psychology Fellows: Implementing Routine Outcome Measures to Improve Quality and Value of Behavioral Health Services in the Era of Values-Based Care
Justine Grosso, PhD, Postdoctoral Clinical Psychology Fellow at Duke
June 28, 2018
 
Quality Improvement Updates from Clinical Psychology Fellows: Developing 'Smart' Psychotherapy Note Tools to Improve Documentation and Demonstrate Value of Behavioral Health Services
Colleen Cowperthwait, PhD, Postdoctoral Clinical Psychology Fellow at Duke
June 28, 2018
 
Honored Professor Grand Rounds: Card-Flipping and Bedside Rounding in Psychiatry: Review of Successful Rounding and Bedside Teaching Methods
James Lefler, MD, Durham VA Medical Center and Duke University Department of Psychiatry and Behavioral Sciences
June 21, 2018
 
Honored Professor Grand Rounds: Clinical Teaching and Mind-Brain Integration in Psychiatry
W. Scott Griffies, MD, Duke University Department of Psychiatry and Behavioral Sciences
June 21, 2018
 
De-Stigmatizing? Telepsychiatry's Role in Cross-Cultural Care
Yingying Rezmovits, MD, MBA
June 14, 2018
 
Are We Ready for Real-Time Tracking of Psychiatric Symptoms Using Mobile Devices Among Patients with Serious Mental Illness?
Kammarauche Asuzu, MBBS, MHS
June 14, 2018
 
Personality Squares! – An Experiment in the Teaching of Personality Disorders and Dimensions
Erik Larsson, MD
May 31, 2018
 
The Future of Brain Stimulation
Gopalkumar Rakesh, MBBS
May 31, 2018
 
Transforming Pain Care in America: Promoting Adaptive Pain Self-Management
Robert D. Kerns, PhD, Yale University
May 24, 2018
 
Illuminating the Way: Leading by Example and Cultivating a Culture of Mentorship
Thai Nguyen, MD
May 17, 2018
 
Perspectives on Psychotherapy in Consultation-Liaison Psychiatry
Elizabeth Gilbert, MD
May 17, 2018
 
Morbidity and Mortality
Gary Maslow, MD, MPH; Jane P. Gagliardi, MD, MHS
May 10, 2018
 
Endocannabinoids, the Amygdala, and Anxiety
Matthew Hill, University of Calgary
April 26, 2018
Hypersomnolence in Psychiatric Disorders
David T. Plante, MD, MS, University of Wisconsin
April 19, 2018
 
Bringing Families and Providers Together to Improve Pediatric ADHD Chronic Care
Nerissa S. Bauer, MD, MPH, Indiana University
April 12, 2018
 
Busse Memorial Lecture: Neuromodulation: Past, Present, and Future
Mustafa Husain, MBBS, University of Texas Southwestern, Duke University Department of Psychiatry & Behavioral Sciences
March 29, 2018
 
Adventures in Pharmacotherapy Development for Cannabis Use Disorder
Kevin M. Gray, MD, Medical University of South Carolina
March 22, 2018
 
From SOAP to HOPE: Returning Healing to the Heart of Medicine
Wayne B. Jonas, MD, Georgetown University
March 15, 2018
 
Binge Eating Disorder: Diagnosis, Etiology and Treatment
Allan Kaplan, MD, University of Toronto
March 8, 2018
 
GABAergic Neurophysiology and Socio-communicative Abilities in High-Functioning Adults with Autism Spectrum Disorder
Lawrence Fung, MD, Stanford University
February 22, 2018
 
Morbidity and Mortality
Jane P. Gagliardi, MD, MHS
February 15, 2018
 
Addressing Health Inequities Using an Academic-Community Partnership to Improve Service Systems, Policy, and Practices in Community Mental Health Settings
Altha Stewart, MD, University of Tennessee and President-Elect, American Psychiatric Association
February 1, 2018
 
Is it Time to Abandon the Goldwater Rule? How Will We Know? A Panel Discussion Regarding Ethics, Professionalism, Credentialing, and Politics
Marvin Swartz, MD, Mehul Mankad, MD and Elena Perea, MD; Duke University Department of Psychiatry & Behavioral Sciences
January 30, 2018
 
Dopaminergic Regulation of Motivated Behavior: insight into the Neurobiological Bases of Substance Abuse and Mood Disorders
Nii Antie Addy, PhD, Yale University
January 25, 2018
 
Anxiety in Children and Adolescents: From Risk and Recognition to Remission
Jeffrey R. Strawn, MD, University of Cincinnati
January 11, 2018
Morbidity and Mortality
Jane P. Gagliardi, MD, MHS
December 21, 2017
 
Predicting Psychosis with an Aim Toward Prevention
Richard Keefe, PhD, Duke University Department of Psychiatry and Behavioral Sciences
December 14, 2017
 
Karen L. Wrenn Lecture: What's Preventing Us from Preventing Alzheimer's Disease?
Gary Small, MD, UCLA
November 30, 2017
 
Medical Alumni Weekend Lecture: Bridging Bench and Bedside: Translational Neurosteroid Investigations from Rodent Models to FDA INDs
Christine E. Marx, MD, Duke University Department of Psychiatry and Behavioral Sciences and DVAMC
November 9, 2017
 
Morbidity and Mortality
Jane P. Gagliardi, MD, MHS
October 26, 2017
 
Unexpected Turbulence: Assessing, Treating and Managing Risk in Pilots with Mental Health Concerns
Chris Kenedi, MD, Auckland University (NZ) and Duke University Department of Psychiatry & Behavioral Sciences
October 19, 2017
 
Hans Lowenbach Memorial Lecture Electroconvulsive Therapy at Duke: A Treatment Modality Evolves Over Seven Decades
Richard D. Weiner, MD, PhD, Duke University Department of Psychiatry and Behavioral Sciences
October 12, 2017
 
Disaster Mental Health Sheltering: Including People with Mental Illness Disabilities in Disaster Shelter Operations
Allan K. Chrisman, MD, Duke University Department of Psychiatry & Behavioral Sciences
September 28, 2017
 
Practice Guidelines for Treating Muslim Patients: Identifying Unique Challenges and Learning How to Provide Culturally-Sensitive Care
Farha Abbasi, MD, Michigan State University
September 21, 2017
 
Clinical and Behavioral Outcomes Following Lung Transplantation: It's All in Your Head
Patrick Smith, PhD, Duke University Department of Psychiatry and Behavioral Sciences
September 14, 2017
 
Opioids, Pain, Addiction, and Buprenorphine
Steven Prakken, MD, Director, Medical Pain Service, Duke University Department of Anesthesiology
August 31, 2017
 
Decision-Making in the Aging Brain
Gregory Samanez-Larkin, PHD, Duke University Department of Psychology & Neuroscience
August 24, 2017
 
Learning Cognitive Control: Cognitive and Neural Mechanisms of Adapting Control to Changing Contexts
Tobias Egner, PhD, Duke University Department of Psychology & Neuroscience
August 17, 2017
 
Collaborative Care
Virginia O'Brien, MD, Duke University Department of Psychiatry & Behavioral Sciences, Department of Medicine, Cancer Center
August 10, 2017
 
Duke Child and Adolescent Gender Care: Pediatric Care for Trans and Gender Diverse Youth
Deanna Adkins, MD, Duke University Department of Pediatrics
June 29, 2017
 
Honored Professor Lecture: Inverted U-Shaped Curves: The Neuroscience and Art of Resident Education
Betsy Sumner, MD, PhD, Central Regional Hospital and Duke University Department of Psychiatry & Behavioral Sciences
June 22, 2017
 
Fear and Threat Processing: Behavioral Models for Investigating the Neurobiology of PTSD
Rajendra Morey, MD, Duke University Department of Psychiatry & Behavioral Sciences, DVAMC
June 15, 2017
 
Why Bother? Using the Cognitive Neuroscience of Reward to Inform Psychosocial Treatments for Anhedonia
Moria Smoski, PhD, Duke University Department of Psychiatry and Behavioral Sciences
June 8, 2017
 
Going Deeper into the Design and Evaluation of Health Apps
Roger Vilardaga, PhD, Duke University Department of Psychiatry and Behavioral Sciences
May 25, 2017
 
Oncology Behavioral Symptom Management and Psychosocial Support
Rebecca Shelby, PhD, Duke University Department of Psychiatry and Behavioral Sciences and Duke Cancer Institute
May 18, 2017
 
Head Injuries During Assaults Against Women: Implications for Recovery from PTSD
Patricia Resick, PhD, Duke University
May 11, 2017
 
Morbidity and Mortality
Marvin Swartz, MD, Jane P. Gagliardi, MD, MHS and Shelley Holmer, MD
April 27, 2017
 
AEDP for Couples: How Accelerated Experiential Dynamic Psychotherapy Addresses the Treatment of Relational Trauma
David Mars, PhD, AEDP Institute
April 20, 2017
 
Epigenetic Programming by Psychological Stress Along the Human Lifespan
Antonios Zannas, MD, MSc, Max Planck Institute, Duke University Department of Psychiatry & Behavioral Sciences
April 13, 2017
 
Changing One's Mind: Learning Neuromodulation and Interventional Paradigms for Mental Health
R. Alison Adcock, MD, PhD, Duke University Department of Psychiatry and Behavioral Sciences
March 30, 2017
 
Treatment Advances in Pediatric Anxiety Disorders
Moira A. Rynn, MD, Columbia University
March 23, 2017
 
Medical Management of Substance Use Disorders: Does Research Evidence Translate to Clinical Practice?
Ashwin Patkar, MD, Duke University Department of Psychiatry and Behavioral Sciences
March 16, 2017
 
James H. Carter, Sr. Memorial Lecture: Firearm Violence as a Public Health Crisis
Rahn Kennedy Bailey, MD, Chair, Department of Psychiatry, Wake Forest University
February 23, 2017
 
Issues to Consider When Engaging Muslim Youth in Psychiatric Care
Allan K. Chrisman, MD; Zainab Malik, MBBS; Duke University Department of Psychiatry & Behavioral Sciences
February 16, 2017
 
Cultivating Resilience Following Traumatic Experiences and Severe Stressors
Noga Zerubavel, PhD; Kelly L. LeMaire, MS; Yuliya Kaplinska, PhD; Duke University Department of Psychiatry & Behavioral Sciences
February 9, 2017
 
Advances in the Pathophysiology and Measurement of Psychiatric Symptoms Across the Menstrual Cycle
Tory Eisenlohr-Moul, PhD, University of North Carolina at Chapel Hill
January 26, 2017
 
Medical Complications of Anorexia Nervosa and Bulimia
Philip S. Mehler, MD, Eating Recovery Center, Denver
January 19, 2017
 
Albert R. Alden Memorial Lecture: The Treatment of Schizophrenia
Joseph P. McEvoy, MD, Medical College of Georgia
January 12, 2017
Durham Crisis Intervention Team: Who Are We and What Do We Do?
Laylon Williams, BS, QP, Criminal Justice Specialist, Durham CIT Coordinator, Alliance Behavioral Health; Tadeus M. Ochman, Sergeant, Durham Police Department
December 15, 2016
 
Morbidity and Mortality Conference:  How Can We Take Better Care of Our Patients? A Discussion
Jane P. Gagliardi, MD, MHS, Vice-Chair, Education, Duke Department of Psychiatry and of Behavioral Sciences
December 8, 2016
 
Ewald Busse Memorial Lecture: Cognitive Aging: What Every Psychiatrist Should Know
Dan G. Blazer, MD, MPH, PhD, JP Gibbons Professor Emeritus of Psychiatry and Behavioral Sciences
November 17, 2016
 
Medical School Alumni Weekend: The Mechanism of Action of Lithium
Robert Henry Belmaker, MD, Professor Emeritus of Psychiatry, Ben Gurion University of the Negev; President, Israel Psychiatric Association; President, International Neuropsychiatry Association
November 10, 2016
 
NIMH Experimental Therapeutics & Novel Intervention Development: Stories of Success from Duke Psychiatry
Scott H. Kollins, PhD, Professor and Vice-Chair for Research Strategy & Development, Department of Psychiatry & Behavioral Sciences
R. Alison Adcock, MD, PhD, Assistant Professor of Psychiatry & Behavioral Sciences
Steven Szabo, Jr., MD, PhD, Assistant Professor of Psychiatry & Behavioral Sciences
Nancy L. Zucker, PhD, Associate Professor of Psychiatry & Behavioral Sciences
October 13, 2016
Psychiatric Advance Directives: A Compelling Idea In Search of Effective Implementation
Marvin Swartz, MD, Professor of Psychiatry & Behavioral Sciences
October 20, 2016
Bridging Therapy and Home: Using the Power of Family Dinners to Make Change in Family Therapy
Anne Fishel, PhD, Director, The Family & Couples Therapy Program, Massachusetts General Hospital; Associate Professor of Psychology, Harvard Medical School
September 15, 2016
 
Morbidity and Mortality Conference:  Learning from Defects: Brainstorming Ways to Improve the Care of Patients with Neuropsychiatric Disorders
Jane P. Gagliardi, MD, MHS, Vice-Chair, Education, Duke Department of Psychiatry & Behavioral Sciences
September 8, 2016
 
Mental Health 2.0 – Emerging Digital Technologies
Murali Doraiswamy, MBBS, Professor of Psychiatry & Behavioral Sciences
F. Joseph McClernon, PhD, Professor of Psychiatry & Behavioral Sciences
Ricky Bloomfield, Jr., MD, Assistant Professor of Internal Medicine and of Pediatrics; Director, Mobile Technology Strategy, Duke University Medical Center
September 1, 2016
A Trauma-informed Model of Care for Assessment and Interventions for Victims of Intimate Partner Violence
Noga Zerubavel, PhD, Assistant Professor, Department of Psychiatry and Behavioral Sciences
August 25, 2016
 
Evidence Based Approaches for Treating the Unmotivated Smoker
Jessica W. Cook, PhD, Assistant Professor of Medicine, University of Wisconsin-Madison School of Medicine and Public Health; Investigator, UW-M Center for Tobacco Research and Intervention; Director, Madison VA Mental Health Research Cooperative
August 11, 2016
When Children and Adolescents Refuse School: Tantrums, Technology, and Trends
Christian Mauro, PhD, Assistant Professor, Department of Psychiatry and Behavioral Sciences
June 30, 2016
 
Honored Professor Lecture: Where Are We Going, and How Did I Get in this Handbasket?: One Approach to Teaching Adults
Elena Perea, MD, Assistant Professor, Department of Psychiatry and Behavioral Sciences
June 23, 2016
Using Telepsychiatry to Improve Access to Evidence-Based Care
Sy Atezaz Saeed, MD, MS, Professor and Chair, Department of Psychiatry and Behavioral Medicine, Brody School of Medicine, East Carolina University; Director, North Carolina Statewide Telepsychiatry Program (NC-STeP)
June 16, 2016
Revisiting Tardive Dyskinesia:  Some Neglected Aspects of Management and Screening
Vernon Neppe, MD, PhD, Director, Pacific Neuropsychiatric Institute
June 9, 2016
Next Generation Neuropsychiatric Diagnostics and Therapeutics
Kafui Dzirasa, MD, PhD, Assistant Professor, Department of Psychiatry & Behavioral Sciences
May 26, 2016
Addressing Delirium in the PICU: A Focus on the 'Liaison' Component of Consult-Liaison Psychiatry
Lisa Hutchison, MD, Clinical Associate, Departments of Psychiatry & Behavioral Sciences and of Pediatrics
May 19, 2016
Integration of Behavioral Health and General Medical Services for Youth
Katherine Hobbs Knutson, MD, MPH, Child and Adolescent Psychiatrist, Division of Child and Family Mental Health and Developmental Neuroscience, Department of Psychiatry & Behavioral Sciences
May 12, 2016
 
An Alternative Vision of Value-Free Capacity Assessment: The Case of Anorexia Nervosa
Jennifer Hawkins, PhD, Associate Research Professor, Department of Philosophy and Trent Center for Bioethics, Humanities, and History of Medicine
April 28, 2016
 
How Low Can You Go? A Transdiagnostic Perspective on Early Detection of Neurodevelopmental Risk
Meghan Miller, PhD, Postdoctoral Fellow, Department of Psychiatry and Behavioral Sciences, MIND Institute, University of California-Davis
April 14, 2016
Beyond Positive: Advances in the Management of Cognitive Symptoms in Schizophrenia
Vladimir Maletic, MD, Clinical Professor of Psychiatry and Behavioral Science, University of South Carolina School of Medicine
April 7, 2016
Mental Health Care Response to the Nepal Earthquakes: From Humanitarian Emergencies to Sustainable Mental Health Systems
Brandon Kohrt, MD, PhD, Assistant Professor, Department of Psychiatry and Behavioral Sciences
March 31, 2016
Ethics and the Law around Intimate Partner Violence (IPV)
Jonathon Weiner, MD, Psychiatrist, Durham VA Medical Center; Consulting Associate, Department of Psychiatry & Behavioral Sciences
March 24, 2016
Improving Care for Depression & Suicide Prevention: Integrating Evidence-Based Care Within Emergency Department & Primary Care Services
Joan Asarnow, PhD, Professor of Psychiatry & Behavioral Sciences; Director, UCLA Youth Stress & Mood Program, UCLA David Geffen School of Medicine
March 17, 2016
Growing up Sick: Moving into Adulthood and Adult Healthcare for Youth with Childhood-Onset Chronic Conditions
Gary Maslow, MD, Assistant Professor of Psychiatry and Behavioral Sciences and of Pediatrics
March 10, 2016
Morbidity and Mortality Conference
February 25, 2016
Holding a Mother/Holding a Baby: Forging Connections with the Low Income Pregnant Woman
William S. Meyer, MSW, Associate Professor of Psychiatry and Behavioral Sciences
February 18, 2016
James H. Carter, Sr. Memorial Lecture: Using Poverty and Privilege to Teach Professionalism in Graduate Medical Education
Toni L. Johnson, MD, Clinical Associate Professor and Program Director, Psychiatry Residency Training Program, Brody School of Medicine at East Carolina University
February 11, 2016
The Psychopharmacology of Alcohol Use Disorders: Current Status and New Developments
James C. Garbutt, MD, Professor of Psychiatry & Research Scientist, Bowles Center for Alcohol Studies, University of North Carolina School of Medicine; Medical Director, Alcohol & Substance Abuse Program, UNC Hospitals
January 28, 2016
Cognitive Impairment, Assessment, and Treatment in Schizophrenia
Richard Keefe, PhD, Professor of Psychiatry, Neuroscience, and Psychology
January 21, 2016
The North Carolina Harm Reduction Coalition
Logan Graddy, MD, MS, Medical Director, North Carolina Harm Reduction Coalition; Staff Psychiatrist, North Carolina Physicians Health Program
January 14, 2016