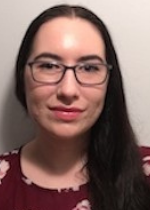 Undergraduate School
Northern Arizona University 
Medical School
Duke University School of Medicine 
Interests and Career Goals
Clinically, I am interested in geriatric psychiatry and would like to pursue a fellowship following residency. I love hearing stories from older people and using my medical training to create psychiatric plans that consider their often-numerous medical conditions. Research-wise, I am interested in the circuitry underlying mood disorders. I would like to put these two interests together to develop circuit modifying interventions that minimize the cognitive side effects commonly seen in the elderly.
Favorite Pastimes
I love spending my free time with my partner and our dog. I also enjoy hobbies that allow me to be creative and make functional pieces I can use/give to others (knitting, crochet, ceramics).
Strengths of the Program
The research track residency has incredible physician-scientist mentors, provides more dedicated research time than most other programs, and a generous stipend. I also greatly appreciate the strong medicine foundation built during intern year.
Prior Areas of Research
Prior to medical school, I worked as a lab technician for Dr. Elliott Mufson at Barrow Neurological Institute studying the pathological proteins that underlie Alzheimer's Disease. In medical school, I work two full years in Dr. Kafui Dzirasa's Laboratory for Psychiatric Neuroengineering at Duke studying reward and anxiety networks in a mouse model of bipolar disorder. As a Duke research-track resident, I am excited to continue my work with Dr. Dzirasa to better understand mood disorder circuitry.
Publication
Mufson, E. J., Mahady, L., Waters, D., Counts, S. E., Perez, S. E., DeKosky, S. T., Ginsberg, S. D., Ikonomovic, M. D., Scheff, S. W., & Binder, L. I. (2015). Hippocampal plasticity during the progression of Alzheimer's disease. Neuroscience, 309, 51–67. https://doi.org/10.1016/j.neuroscience.2015.03.006
Poster Presentation
Waters, D., Hughes, D., McClung, C., & Dzirasa, K. (2019, October 18). Developing a Behavioral Task to Assay Positive and Negative Valences in a Mouse Model of Bipolar Disorder [poster presentation]. Molecular Psychiatry Association 2019 National Meeting, San Francisco, CA.