"Every moment is precious, so don't miss a prom when you have the opportunity!"
"No one will judge you about, 'Oh, you had cancer,' or 'Oh, you can't walk.' Everyone's just out there dancing and having fun!"
"Everyone here is just so amazing and so accepting. I just love it. I don't feel different."
These responses from a few of the adolescents participating in the first Duke Children's Prom, held in April 2017, perfectly capture the spirit and vision of the annual event for current and former Duke Children Hospital patients aged 12 and up.
Clinical social worker Jodie Neukirch Elliott, MSW, hadn't yet arrived at Duke that spring, but soon after she joined Duke Psychiatry & Behavioral Sciences in December 2017, the prom became near and dear to her heart. Before long, she took the helm in organizing the event, supported by a team of staff and volunteers. She even led the planning and festivities for two virtual proms during the COVID-19 pandemic.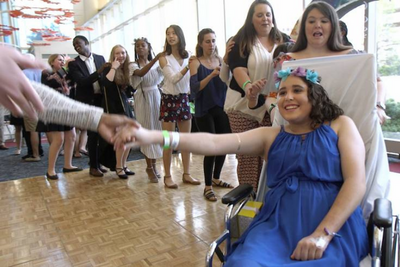 Teen volunteers select a theme each year for the prom, which is sponsored by Meg's Smile Foundation, Duke Stores, The Duke Hospital Auxiliary, and private donations. In 2022, the "Retro 80s"-themed virtual prom included music, interactive games, messages from Duke staff to participants, special guests, and a live raffle. Each participant also received a "prom box" ahead of time filled with neon items specially curated, assembled, and distributed to about 100 participants by Neukirch Elliott and her team.
Neukirch Elliott, who was born with a heart condition, was passionate about helping adolescents and young adults with chronic medical conditions; nowhere was this more evident than in her tireless work to create magical virtual prom experiences each year during the pandemic.
Neukirch Elliott passed away on August 3, 2022, from complications related to a heart transplant. In honor of her creativity and dedication to making the annual event as special as possible for participants, the Duke Children's Prom has been renamed "Jodie's Prom" beginning in 2023.
Comradery, Support, Advocacy, & Leadership
The prom is just one of the many initiatives Neukirch Elliott led in her role as clinical director of Adolescents Transitioning to Leadership and Success (ATLAS), a collection of programs catering to teen and young adult Duke patients with chronic illnesses and other special healthcare needs. The conditions of participants run the gamut, including Type 1 diabetes, Crohn's disease, and intellectual and developmental disabilities, to name just a few. 
One of ATLAS's signature programs brings together young adults in high school and college-aged mentors for group mentoring. Mentors are trained in facilitation skills, safety issues, and recognizing signs of mental health struggles. They also receive ongoing support from program staff. These supports prepare them to have meaningful conversations with their younger counterparts about topics such as communicating with their clinical providers, talking with friends about their illness, and preparing to become more independent in managing their condition.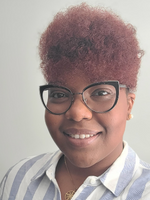 ATLAS also hosts a peer support program for individuals aged 18 to 28, a health and wellness program for young adults aged 18 to 30 with intellectual or developmental disabilities and their families, and a four-day summer leadership program for adolescents and young adults. In addition, ATLAS offers supportive programs for parents of youth with chronic health conditions.
A unique characteristic of ATLAS programs is that they're led by the teen and young adult participants with oversight by program staff. "We're teaching them how to make decisions and advocate for themselves. They get to choose the topics, they get to choose what they feel would help them learn and grow, and they lead the sessions. We give them as much decision-making power as possible," said Kaya Craig, MA, LCMHCA, NCC, who worked closely with Neukirch Elliott and now serves as the clinical director for ATLAS. 
"We really value what they say they need, because that's what helps keep it relevant and that's what keeps them coming back."
— Kaya Craig, MA, LCMHCA, NCC
"I think a lot of youth programs don't necessarily do that," she added. "We really value what they say they need, because that's what helps keep it relevant and that's what keeps them coming back." 
ATLAS is housed within the Department of Psychiatry & Behavioral Sciences and supported by the Pratt Family Foundation, the Duke Hospital Auxiliary, and private donations.
A Multi-Faceted Legacy
In addition to her leadership of ATLAS, Neukirch Elliott developed nationally recognized curriculum and methods for peer health coaching and healthcare transition that serve as models for similar programs across the country. 
Prior to joining Duke, Neukirch Elliott worked at Hasbro Children's Hospital in Providence, Rhode Island, where she was a clinical social worker and program director of The Adolescent Leadership Council, an award-winning transition-focused program serving dozens of teens with chronic illness, their parents, and college-aged mentors. In 2012, she received a Promising Practice Award for Promoting Adolescents' Strengths from the American Academy of Pediatrics and a Brite Lite Award from Hasbro Children's Hospital for her exceptional patient care. She co-authored numerous academic publications, journal articles, and presentations.
As well as being a gifted and compassionate social worker with two graduate degrees, Neukirch Elliott was an experienced swing and blues dancer and an artistic quiltmaker. 
She will certainly be remembered for her impressive professional and personal talents and the impactful programs she developed, led, and championed. But perhaps her most profound legacy will be the ways she deeply touched the lives of those in all her circles: family members, friends, colleagues, and the youth she encountered through those programs. Neukirch Elliott inspired countless children and adolescents with chronic illness to believe that they could live fulfilling and meaningful lives and pursue their dreams, despite their health challenges. 
Remembering Jodie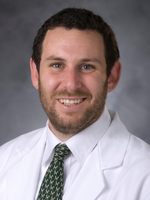 Neukirch Elliott approached every interaction with a colleague or a young adult patient with purpose, said Gary Maslow, MD, MPH, associate professor and co-director of the Child and Family Mental Health and Community Psychiatry division. Maslow first met Neukirch Elliott about 20 years ago as a medical student at Dartmouth College, where they worked on Steps Towards Adult Responsibility, a mentoring program.
They worked together for the last decade, first at Brown University and for the past five years at Duke, creating national models for youth peer support. 
"Her dedication, passion, and work ethic are an inspiration, and we will carry forward her vision through these programs."
— Gary Maslow, MD, MPH
"Jodie focused intensely on what was needed and worked tirelessly to serve individual patients in her therapy clinic and to build programs that would support young adults across the country," Maslow reflected. "Her dedication, passion, and work ethic are an inspiration, and we will carry forward her vision through these programs."
Sustaining Her Life's Work
Upon Neukirch Elliott's passing, her family established the Jodie Neukirch Elliott Fund at Duke University to help sustain her life's work by supporting ATLAS programs and related peer mentorship and leadership programs. The fund will also support the Duke Children's Prom, now known as "Jodie's Prom." Within just a few months, nearly 170 donors have contributed more than $35,000—a testament to Neukirch Elliott's enduring impact on others.
To contribute to the fund, please visit the donation website.
---
Editor's note: Parts of this article were pulled or adapted from content on the Jodie's Fund website.