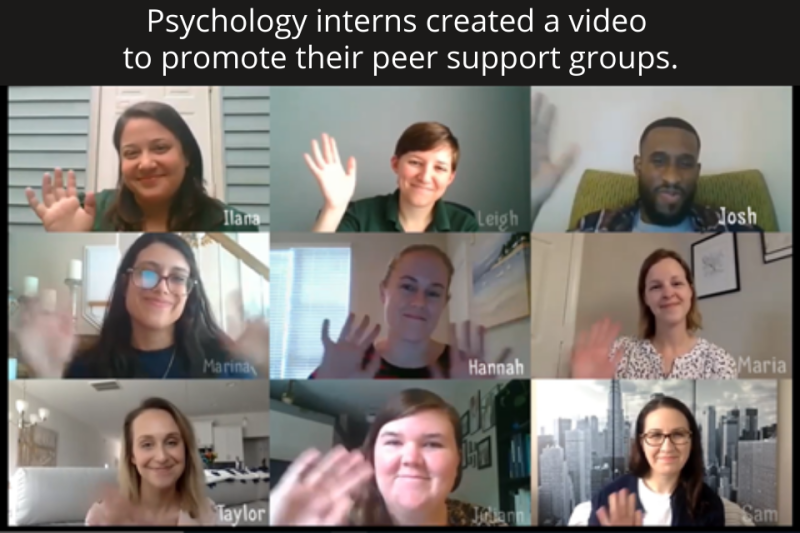 In mid-March, U.S. graduate medical education and psychology internship programs were forced to curtail many academic and clinical training activities due to the COVID-19 pandemic. But that didn't stop Duke Psychiatry & Behavioral Sciences trainees from finding innovative ways to contribute to Duke's pandemic response—and build their knowledge, skills and experience along the way. 
Given their training and passion for helping people navigate difficult times, it's no surprise that their involvement centered around supporting others through this health crisis. Here are some of the ways they participated in the response.
Duke Patient Outreach
A group of child and adolescent psychiatry fellows and psychiatry residents have been checking in by phone with Duke Health patients to assess how they're doing, connect them to care and provide resources and support. 
They're focusing on patients considered to be at high risk for mental health concerns, such as individuals who had recently received psychiatric evaluations in the emergency department; patients with autism, intellectual disability, psychosis or depression; and children and adolescents who had recently been referred to the Duke Children's Evaluation Clinic.
Duke Psychiatry faculty members Greg Brown, MD, Tara Chandrasekhar, MD, Nathan Copeland, MD, and Ali Manning, MD, are leading this initiative.
Research on Supporting Healthcare Workers and Others
A team of third- and fourth-year residents and clinical psychology interns reviewed journal articles, case studies from 20+ U.S. health institutions and guidelines from entities such as the American Medical Association and the World Health Organization to identify creative ideas and best practices for supporting healthcare providers during pandemics.
The information and insights they gathered helped guide mental health care providers in planning response efforts and supporting Duke health care providers, faculty, staff and patients through the pandemic. They also shared their findings with their peers in a residency Academic Half Day presentation. 
Emotional Support & Well-Being Line
To support Duke health care providers, faculty, staff, trainees and students, Nicole Heilbron, PhD, vice chair for clinical services, and clinical social worker Kristen Stefureac, LCSW, led the creation of an Emotional Support & Well-Being Line, a free, confidential support service. 
A team of social workers, clinical psychology interns, psychiatry residents and faculty members staff the phone line (919-681-1631) from 8 a.m. to 5 p.m. on weekdays (except for university holidays). Any member of the Duke community, and their family members, can use the service to receive in-the-moment support, be connected with resources or schedule an appointment with a therapist.
(NOTE: As of August 1, 2021, the Emotional Support and Well-Being Line has been discontinued.)  
Peer Support for Residents and Fellows
To support residents and fellows across Duke Health during the pandemic, clinical psychology interns, led by intern Samantha Bento, and psychiatry residents, led by third-year resident Amber Graham, MD, created confidential peer support groups dubbed "Validation Stations." Offered via Zoom and facilitated by clinical psychology interns, these groups were developed under the leadership of associate professor Chris Mauro, PhD, and assistant professor Marla Wald, MD, with guidance by associate professor Jane Gagliardi, MD, MHS. Supervision of the groups was provided by assistant professor Susan Hazlett, PhD.
Now under the direction of assistant professor McLean Pollock, PhD, the team is now exploring options to offer support groups and other services, including one-on-one peer support, targeted to individual residency programs. Their goal is to sustain these services beyond the COVID-19 crisis period to provide a support outlet for graduate medical education trainees on an ongoing basis.
Support for Duke Student Affairs Staff
As the pandemic forced Duke to close the campus to students after spring break, vice provost and vice president for student affairs Mary Pat McMahon recognized that the drastic changes in student life would leave student affairs staff vulnerable to high levels of stress. She reached out to the Department of Psychiatry & Behavioral Sciences in search of ways to support the staff.
In response, with input from Tasha Curry-Corcoran, the education and training associate director for student affairs, Hazlett led the development of a series of facilitated support groups for the 30+ student affairs staff members who chose to participate. She enlisted the help of four Duke Psychiatry faculty and staff members, three clinical psychology interns and a psychiatry resident to host three Zoom-based 90-minute sessions over three weeks for each group of about eight participants.
Resources for Families
Under Mauro's leadership, several clinical psychology interns collaborated with staff at Duke's Center for Healthcare Safety and Quality to create a COVID-19 Parent & Family Resource Guide, which contains tips on talking to kids about COVID-19, activities for families, coping strategies and local childcare opportunities. This publicly accessible guide was shared by multiple Duke entities on social media.
COVID-19 Screening Assistance
A number of psychiatry and medicine-psychiatry residents volunteered to help Employee and Occupational Health and Wellness conduct COVID-19 screening for employees during the height of the pandemic.  
A Meaningful Experience for Trainees
For the trainees who participated in these COVID-19 response activities, helping patients and members of the Duke community cope with some of the challenges of the pandemic was personally rewarding.
"Connecting with our colleagues, giving them a voice and holding space for them to process their experiences during such an uncertain and overwhelming time was an incredibly rewarding experience." 
— Sam Bento, PhD
Graham, who was involved in several of these activities, appreciated the opportunity to share her expertise in support of her trainee peers, especially because she can relate to their experiences. "It brings me so much joy to participate in a group whose goal is to support the mental health and well-being of trainees," she reflects. "Knowing firsthand what it's like to be a trainee and feel anxious and confused about how to seek help, I'm extremely excited to see the good that can come from an initiative like this."
Bento found the new partnerships with her fellow trainees particularly meaningful. "Working alongside a group of highly motivated, incredibly intelligent and passionate trainees was such a memorable experience," she says. "The psychology interns and psychiatry residents developed strong bonds and friendships during this process, as we were quickly united by the deep care and concern we had for our colleagues. Our programs came together so seamlessly and beautifully to collaborate on these initiatives."
From Bento's perspective, the common theme tying all of these initiatives together is connection: "Connecting with our colleagues, giving them a voice and holding space for them to process their experiences during such an uncertain and overwhelming time was an incredibly rewarding experience."