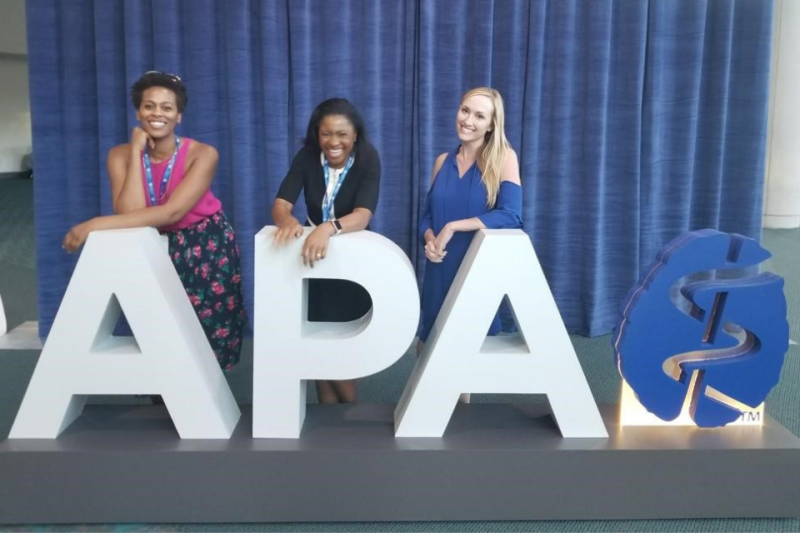 As a child and teenager in Ibadan, Nigeria, Uche Aneni, MBBS, MHS, thought her mother, a clinical psychologist, "got into her head too much." But that frequent unsolicited analysis—along with her father's career as a public health and community medicine physician and her older sister's struggle with a neurodevelopmental disorder—ultimately inspired Aneni to become a child psychiatrist. 
Growing up, Aneni learned from her father the importance of prevention in community health, and she observed the profound negative impact of poor access to health care on members of her community. These experiences prompted her to focus on developing preventive health care strategies and broadening access to high-quality behavioral health care. 
Her path has led her to the Yale School of Medicine, where she's an instructor of clinical child psychiatry in the Child Study Center and the associate director of the play2PREVENT Lab at the Yale Center for Health & Learning Games. In the lab, she works with a multidisciplinary team to develop digital interventions designed to reach children and families where they are—in homes and schools, for example—to prevent the development of problems such as substance use.
From Ibadan to Durham
After graduating from medical school at University of Ibadan College of Medicine in Nigeria in 2009, Aneni completed her medical internship and one year at the Nigerian National Youth Service Corps. She then moved to the United States to pursue a Master of Health Science at Johns Hopkins University in Baltimore with a focus on mental health. After graduate school and a brief stint in research at the University of Miami, she began her psychiatry residency at Duke in 2014.
"I fell in love with Duke. Everybody was so warm, and I knew I would be a well-trained, well-rounded psychiatrist when I left."
— Uche Aneni, MBBS, MHS
"I fell in love with Duke," she recalls. "Everybody was so warm, and I knew I would be a well-trained, well-rounded psychiatrist when I left. The clinical training seemed solid and there were so many opportunities to engage in research. I felt like Duke would be the program where I could just explore and find my place."
Aneni thrived at Duke, where she eventually became chief resident, and where she began investigating the effectiveness of digital interventions in addressing substance use challenges. 
The Promise of Digital Interventions
"My experience in residency really highlighted the gaps in access to care for kids struggling with mental illness and got me thinking about the ways we can improve access to care," she reflects. "It was also around this time that I started getting quite interested in substance use, because the gap for kids who are struggling with substance use is even worse."
In a systematic review of a range of interventions delivered through electronic platforms, she found that digital interventions are feasible, are generally well-received by youth and families, and can be effective. These findings were reinforced by a subsequent study Aneni conducted under the mentorship of associate professor Zach Rosenthal, PhD, which explored whether patients would embrace mobile health interventions.
After she completed residency in 2018, Aneni headed to Yale University for a child and adolescent psychiatry fellowship, where she solidified her passion for working with children and families struggling with substance use and built on her digital intervention research.
Last year, Aneni received a National Institutes of Health diversity supplement award to investigate the role of specific ecological factors on the efficacy of a video game intervention designed to prevent opioid misuse among 16- to 19-year-olds. The intervention was developed by the play2PREVENT lab, led by Lynn Fiellin, MD, Aneni's primary research mentor. Aneni is looking at factors such as the impact of parent-child relationships on the intervention's efficacy and the power of race/ethnicity to influence differences in how adolescents respond to the intervention. The KL2 grant she received last year—the Yale Center for Clinical Investigation Scholar Award—is helping to support this research. 
"I think our findings will help us design interventions that focus on addressing family-level risk factors," she says. "And if there are differences in how kids of different ethnicities respond, it will also tell us about how to design interventions that are culturally informed."
Aneni is also exploring what we may be able to learn about a person's psychological state from digital biomarkers—that is, patterns of interactions with one's electronic devices. For example, she says, if someone is sending a lot of text messages that seem uncharacteristically disorganized, that might tell us something about their mood states. Similarly, games can be used to assess traits such as impulsivity and emotional dysregulation, which can be risk factors for substance use. 
The Intersection of Research & Patient Care
Although Aneni spends most of her time in the research lab, she also provides consultation to primary care providers in an outpatient primary care clinic and sees some of her own child, adolescent and young adult patients in the same clinic. In addition, she supervises and mentors Yale trainees rotating through the clinic.
"It's really humbling when a parent feels relief in my clinic or when a child feels that someone is hearing them. It gives meaning to the research I do."
— Uche Aneni, MBBS, MHS
Aneni says her clinical experiences inform her research and serve as a constant reminder of why the research matters. "It matters that we can find ways to reduce the gap in access to care. It matters that we learn how to identify risks early on so kids don't suffer for so long. And it matters that we can reach families not only in person, but also through digital platforms," she says. "It's also really humbling when a parent feels relief in my clinic or when a child feels that someone is hearing them. It gives meaning to the research I do."
Residency Highlights
Looking back to her time at Duke, Aneni says the outstanding psychotherapy training she received during residency—particularly in the Family Studies Program—has had a significant impact on her success as a psychiatrist. "Every time I get really curious about a family, there's something about my Family Studies training that comes back to me and helps me in my approach to working with them," she notes.
She also recalls with fondness and gratitude the excellent mentorship she received at Duke, which was particularly important to her as an immigrant who was still acclimating to the U.S. Jane Gagliardi, MD, MHS, Mehul Mankad, MD, and Kafui Dzirasa, MD, PhD, were among the many faculty members who made an impression on her.
The Next Few Years
In the coming year, Aneni will continue pursuing these two lines of research, get her current study up and running and apply for a research career development award (K award). She hopes to be in a position to lead an independent clinical trial within the next five years—perhaps developing and evaluating a digital intervention that addresses some of the factors she and her team identify in their current study. 
Parting Words of Wisdom
Now nearly four years out of residency and a recent graduate of the Yale Child & Adolescent Psychiatry Fellowship program, Aneni has one word of advice for psychiatry residents: Dream.
"Allow yourself to dream of and explore all the potential possibilities before you, and don't feel hampered by negative thoughts and questions."
— Uche Aneni, MBBS, MHS
"Allow yourself to dream of and explore all the potential possibilities before you, and don't feel hampered by negative thoughts and questions," she advises. "Change the question to, 'How might I explore that and get it done?' And then find people who will support you, or at least explore it with you."
She adds, "We don't know how much time we have, but as long as we're here, we can do whatever we dream of."
---
Photo caption: Uche Aneni, MBBS, MHS (center) with fellow residents April Toure, MD (left) and Heather Spain, MD, at an American Psychiatric Association conference during residency. Dr. Toure is now an attending psychiatrist at Maimonides Medical Center in Brooklyn, NY, and Dr. Spain is an outpatient child and adolescent psychiatrist in Rapid City, SD.