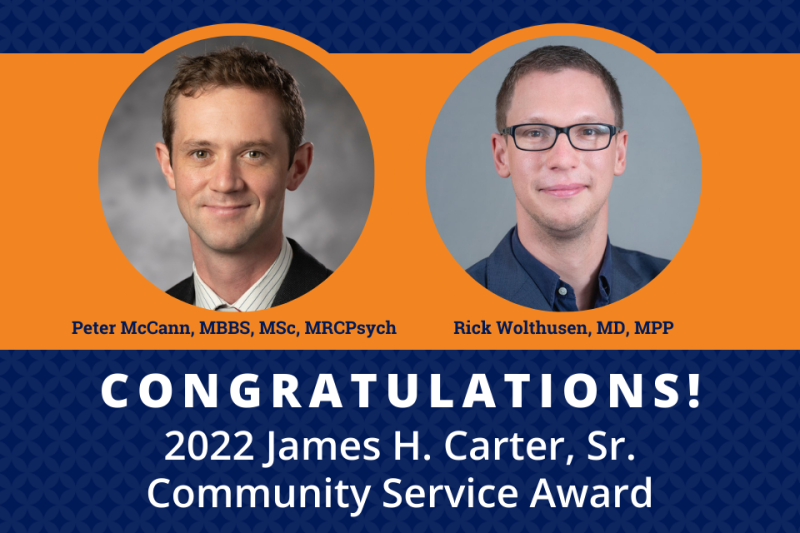 Peter McCann, MBBS, MSc, MRCPsych, a fifth-year internal medicine-psychiatry resident, and Rick Wolthusen, MD, MPP, a second-year psychiatry resident, have received this year's James H. Carter, Sr. Community Service Award.
James H. Carter, Sr., MD, was the first Black full professor of psychiatry at Duke University Medical Center. The Carter Clinic, LLC, led by M. Ojinga Harrison, MD—an alumnus of the Duke internal medicine-psychiatry residency program and a close colleague of Carter—established this award in honor of Carter's commitment to community service. 
Carter's Dedication to Serving the Underserved
Carter dedicated his career to serving the underserved. In addition to his faculty position at Duke, he played a critical role in building mental health services at Lincoln Community Health Center in Durham, the Alcohol Treatment Center in Raleigh, the Johnston County Mental Health Center and the North Carolina Department of Corrections. 
Carter provided critically needed clinical and educational services during his career and inspired and mentored scores of budding mental health professionals. He was recognized for his work at the institutional, local, state and national levels, including receiving the Solomon Carter Fuller Award in 2003. Toward the end of his career, he co-founded the Carter Clinic with his wife, Elsie Carter. Learn more about Carter's life and legacy.
Award Recognizes Service in Community Psychiatry
The James H. Carter, Sr. Community Service Award recognizes one or two Duke Psychiatry & Behavioral Sciences trainees each year for outstanding commitment and service in community psychiatry, particularly among underrepresented minorities and with attention to health disparities. Award recipients receive a certificate and $1,500 from the Carter Clinic in recognition of their service.
Peter McCann's Passion for Working with Patients Experiencing Homelessness
Peter McCann, MBBS, MSc, MRCPsych, was selected for the award based on his work with the Lincoln Community Health Center's (LCHC) Homeless Mental Health Clinic and the LCHC opioid use disorder medication-assisted treatment clinic, where he works with patients with opioid use disorder, as well as his fundraising efforts for the Life Skills Foundation to support youth experiencing homelessness in Durham. 
McCann has been dedicated to working with underserved populations in and around Durham since his first year of residency, beginning with volunteering in the LCHC Homeless Clinic, providing mental health care to uninsured patients experiencing homelessness. After his third year, he moved his continuity primary care clinic to the LCHC Homeless Clinic so he could provide care to that same population on a more regular basis and treat both medical and psychiatric needs for the patients who needed it. 
McCann's interest in addiction treatment in underserved populations led him to work in the opioid use disorder medication-assisted treatment clinic at LCHC this year, where he provides primary care and addiction treatment for patients who are in unstable housing or lack insurance. 
Seeing the incredible toll of addiction on his patients and knowing that the roots of addiction often start early in life, McCann was inspired to raise awareness and funds for the Life Skills Foundation, an organization that provides housing and support for adolescents transitioning from foster care. Through his recent participation in the Race Across Durham Trail Marathon, he raised $1,200 for the Durham non-profit.
"I'm extremely grateful for the opportunities I've had at Duke to work with patients in underserved communities. It's been a particular privilege to be able to practice integrated psychiatric and medical care for some of the patients who need it the most and have access to it the least."
— Peter McCann, MBBS, MSc, MRCPsych
Rick Wolthusen's Multi-Pronged International Efforts
Rick Wolthusen, MD, MPP, was selected for the award based on his compassion and advocacy when working with diverse patients from underserved communities, as well as his contributions in the field of global mental health through research, education, policy, advocacy and public awareness. 
Having lived in numerous countries on four continents—including Germany, the U.S., Ghana, Kenya and Australia—Wolthusen deeply values the psychosocial determinants and cultural aspects of mental health.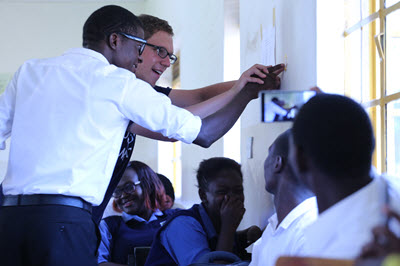 During medical school, Wolthusen co-founded the international non-profit organization On The Move e.V., which empowers communities to take care of their well-being and mental health. He and his partners use a neuroscience-based approach to connect with community members in various settings. He and his team have reached more than 100,000 individuals through "brain awareness campaigns," trained close to 100 community members to conduct these campaigns, published numerous newspaper articles and podcasts, given a TEDx Talk, and released a documentary about their work. 
Wolthusen also advocates for patients and amplifies patient voices through exhibitions, patient advisory boards and engaging them in many of On The Move e.V.'s activities. He supports communities in thinking through how the needs and resources identified during community sessions can be transformed into better mental health care, and takes these learnings to county and national governments to assist in drafting mental health strategies and mental health policies. 
Wolthusen plans to apply his award money toward a project in Ghana (the Brain Spirit Desk) and one in Kenya (to organize Design Thinking workshops that help him and his team draft mental health policies and innovate community-based mental health care).
"I strongly believe in the power of community-based care, especially in the mental health field, and in the power of community members to take charge of their mental health and well-being. Through my work, I have learned that no community is like another; therefore, it is imperative to work with communities on individual solutions to identified mental health needs."
— Rick Wolthusen, MD, MPP