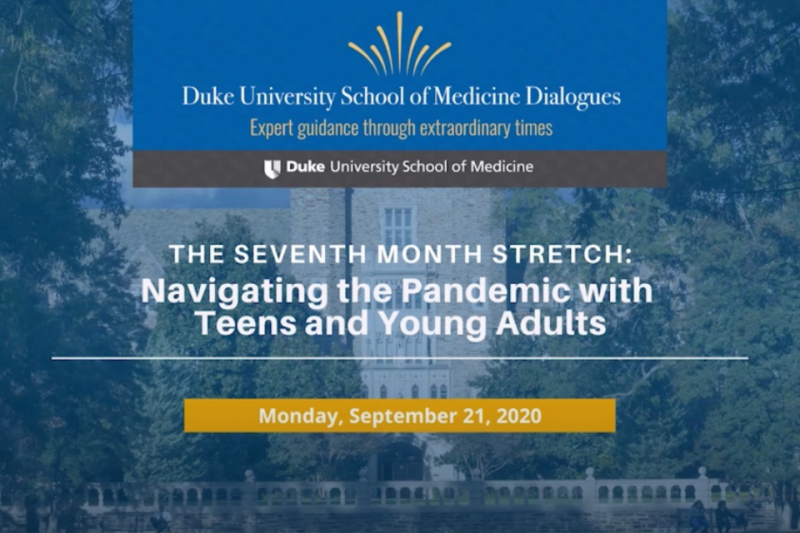 On  September 21, the Duke University School of Medicine's Development and Alumni Affairs office hosted a virtual meeting, "The Seventh Month Stretch: Navigating the Pandemic with Teens and Young Adults," for alumni, donors and School of Medicine staff and their families. Panelists included:
Gary Bennett, PhD, Vice Provost for Undergraduate Education, Bishop-MacDermott Family Professor of Psychology & Neuroscience, Global Health, and Medicine, Duke University
Moira Rynn, MD, Chair of Psychiatry and Behavioral Sciences, Duke University School of Medicine (discussion host) 
Charlene Wong, MD, MSHP, Assistant Professor of Pediatrics and Public Policy, Duke University and the Duke-Margolis Center for Health Policy
As Dr. Rynn noted in her introduction, this discussion is particularly timely and urgent as young adults, teens and families work to navigate already complex decisions and challenges against the backdrop of these extraordinary times: 
"Over the past seven months the work of guardians, educators, and providers has ramped up. This crisis has highlighted the unique needs of teens, young adults and their families. The confluence of existing stressors that are typical for teens and young adults—like balancing school work, building educational resumes, managing relationships, finding footing before leaving home—are all a bit more complicated during this current global crisis."
The experts addressed questions such as:
How can young adults can take agency while mitigating risks during this time? 
How do I know the difference between a level of anxiety or depression that is appropriate for this time vs. a level of anxiety or depression where outside assistance may be necessary?
What are the effects of COVID-19 on the young adult population?
As many teens and young adults have increased their screen time because of virtual learning and more virtual social interactions, what are some negative effects we may want to be on the lookout for?
What should families do if their teen or young adult tests positive for COVID-19?
And many more!
In addition to the webinar, the panel curated a collection of mental health and well-being resources. You can find many of these resources here. 
Watch the webinar: