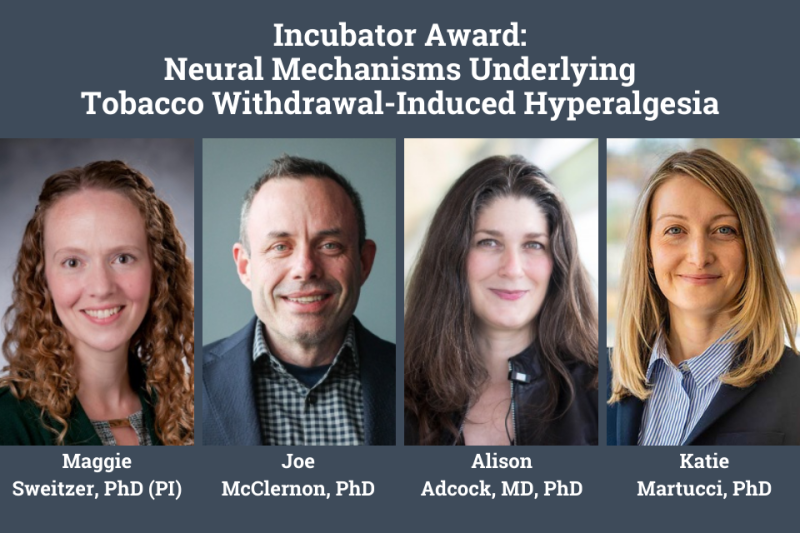 Five interdisciplinary teams, including one led by Maggie Sweitzer, PhD, assistant professor of psychiatry and behavioral sciences, have received 2020 Research Incubator or Germinator Awards from the Duke Institute for Brain Sciences (DIBS). The awards are designed to promote high risk/high-return neuroscience research that is collaborative, crosses disciplinary boundaries and is likely to draw external funding.
The research teams will address health issues affecting millions, including spinal-cord injuries, the relationship between tobacco use and chronic pain, how changes in the gut are communicated to the brain, the use of novel technologies to understand the neural mechanisms of Parkinson's disease, and the effects of toxins on the developing brain. They represent multiple departments and schools, including the Duke School of Medicine, the Pratt School of Engineering, Trinity College of Arts & Sciences, and the Nicholas School of the Environment. 
Sweitzer received a $75,000 Incubator Award for her project, "Neural Mechanisms Underlying Tobacco Withdrawal-Induced Hyperalgesia." She will be collaborating with two of her Psychiatry & Behavioral Sciences colleagues—professor Joe McClernon, PhD, and associate professor Alison Adcock, MD, PhD—and initiating an exciting new collaboration with Katie Martucci, PhD, in the Department of Anesthesiology.
More about Sweitzer's Award
Chronic pain and cigarette smoking influence one another, in that smokers are more likely to have pain, and individuals with pain are more likely to smoke. People with chronic pain have more difficulty quitting smoking, in part, because temporarily going without smoking (early withdrawal) leads to increased pain sensitivity.
The goal of this study is to examine the brain's response to heat pain stimuli among smokers in early withdrawal, to better understand the reasons for increased pain sensitivity. Daily smokers will complete two fMRI sessions, one after smoking as usual, and one after not smoking for 24 hours. During the scans, participants will experience heat pain delivered through an electrode and will provide ratings of their pain response. It is expected that participants' ratings of pain in response to heat stimuli will be greater during the withdrawal session, and that this increased pain will be associated with greater activation throughout a network of brain regions involved in perceiving pain. 
This approach will allow us to determine which brain regions are most involved in pain sensitivity during withdrawal, which will help to identify targets for treatment. In addition, these processes might differ among smokers who also have chronic pain, compared to those who do not. As such, half of the participants will be those diagnosed with chronic pain, while the other half will be pain-free. We anticipate that the effects of smoking withdrawal on pain-related brain function will be more pronounced among those with chronic pain.
Learn more about this DIBS seed grant program and the other awardees.