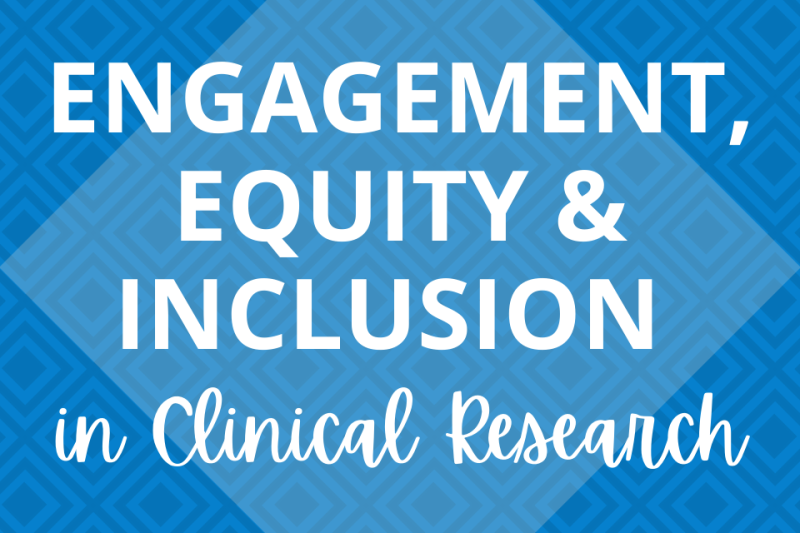 On September 17, the Department of Psychiatry & Behavioral Sciences hosted its first annual Psychiatry Research Day—a half-day departmental symposium, "Leading Clinical Research with Engagement, Equity and Inclusion." 
With this theme, our intent was to meet the moment and contribute toward our department, and our institution's, efforts to dismantle systemic racism.
 
The line-up included speakers from Duke; the National Institute on Minority Health and Health Disparities; and the Center for Truth, Racial Healing & Transformation; as well as a panel discussion with community representatives.
We're pleased to be able to share the speakers' insights with the Duke community and beyond. See below for links to each session.
Opening Remarks
A. Eugene Washington, MD, MPH, MSc, Chancellor for Health Affairs at Duke University, President and CEO of the Duke University Health System
Dr. Washington discussed a few of the challenges the health system faces in addressing issues such as the mental health burden of health care providers, the need to expand efforts to reach patients in their communities and the responsibility we have to find ways to effectively serve our most vulnerable patients.
He notes, "With the COVID-19 pandemic, we were once again reminded of the vulnerability of certain populations in our communities, and so the disparities—the inequities that we knew were there—have just been exaggerated to the point that they're clearer now to many more people than they were in the past. And so the discussions today are quite timely."
Keynote Address – Systemic Racism and Discrimination in Research and Healthcare: Diagnosis and Treatment
Monica Webb Hooper, PhD, Deputy Director, National Institute on Minority Health and Health Disparities
Dr. Webb Hooper began her discussion by noting that we're at an interesting, challenging and unprecedented time in U.S. history. 
She continues, "We are currently experiencing the collision of two pandemics, one long-standing and the other unfolding before our eyes in real time … I will discuss this using both COVID-19 and scientific workforce diversity as relevant examples of the manner in which structural racism impacts healthcare and also the diversity of the scientific work force." 
Through a Racial Healing Lens: How We Can Reimagine Research
Dawn Henderson, PhD, Director of Research & Evaluation, Center for Truth, Racial Healing & Transformation 
Anna Lee, PhD, Co-Director, Collective Health and Education Equity Research (CHEER); Associate Professor, Department of Psychology, North Carolina A&T State University
In this presentation and interactive discussion, Dr. Henderson and Dr. Lee discuss the history of racism in research and systems, racial hierarchies, the power of language and a framework for truth, racial healing and transformation. 
"Anti-racism is only an initial step," said Dr. Henderson. "Anti-racism can tell us what we're against … [but] we're asking us to look to take this journey even further, and reimagine our research, where we are pro-healing, we are pro-transformation, we are orienting ourselves for what is possible—not what we are against, but what should we be working toward. And through that lens … that is when we begin to dismantle this foundational core that believes that somehow there is the existence, and we continue to perpetuate, racial hierarchies."
Panel Discussion: Community Representatives Reflect on Participant Experiences and Community Research Pitfalls and Best Practices
William Jackson, PhD, Chief Dreamer, Village of Wisdom (nonprofit that works with Black families to protect Black genius)
Reynolds Chapman, Executive Director, DurhamCares (faith-based community agency)
Luke Smith, MD, Psychiatrist and Executive Director, El Futuro (nonprofit outpatient clinic that provides comprehensive mental health services for Latino families) 
Maria Luisa Solis, Community Researcher, affiliated with El Futuro and formerly with the Duke SER Hispano Research Team and El Centro Hispano
In this panel discussion, hosted by Gabriela Nagy, PhD, an assistant professor of psychiatry and behavioral sciences, the panelists discussed a range of topics, many stemming from questions asked in real-time by the audience, such as:
What were some of the features of a successful, authentic partnership you've developed with university researchers, and what was the process for building that relationship?
Are there different strategies for fostering engagement in research between projects that are specific to a community or communities of interest?
What are some strategies to empower community members in the research process?
"We have to recognize that there is no way to have research that does not have cultural implications," Dr. Jackson said. "… And then once we begin to understand that there are cultural implications of the work, it opens us up to the possibility of being a little bit more humble about our approach and really thinking about changing the power dynamics … It's about building relationships and having investment in those communities prior to [conducting research with them]."
Community Engagement Principles and Strategies 
Sabrena Mervin-Blake, MS, CRCC, Senior Staff Director, Duke Clinical and Translational Science Institute, Community Engaged Research Initiative
In her presentation, Ms. Mervin-Blake defined and discussed the importance of community and stakeholder engagement, delineated principles of community engagement and discussed related challenges and strategies.
She notes that for engagement to succeed, researchers must:
Recognize and respect the diversity of community
Be aware of various cultures and other factors affecting diversity
Identify and mobilize community assets and strengths
Develop the community's capacity and resources to make decisions and take actions
Be willing to release control of actions or interventions
Be flexible enough to meet the community's changing needs
"It's very important to take the time up front to do some information gathering from whatever group of interest you'd like to do research with and letting them design the research," Ms. Mervin-Blake advised. "Talk to them, get feedback, and provide ideas around the research thought or question, and even more so—a step prior to that—letting them help develop the research question."
Closing Remarks
Dr. Reese reflected on the presentations and panel and challenged participants to put the stimulation of the day into action, noting, "If we're truly in line with the conversation nationally about systemic and structural change, we have to bring that home to Duke."
Dr. Rynn noted, "As Dr. Henderson said, it's important to say that we're going to be anti-racist, but that is such a tiny piece of everything. It's a good start, but we've got a lot to do. Like Dr. Hooper said, [we need to make] sure that we're making sure that our environment is just and welcoming and provides the right supports and help for a diverse group of members in our department."
Dr. Compton announced the winners of the poster contest (see links to the winning posters below).
Poster Contest Winners
First place – Nathan Kimbrel, PhD – A Longitudinal Test of the Indirect Effect of Combat Exposure on Veterans' Risk for Suicidal Ideation
Second place – Roger Vilardaga, PhD – Secondary Analysis of User Engagement With "Learn to Quit," a Smoking Cessation App Designed for People with Serious Mental Illness
Third place – Matthew Engelhard, PhD – Patterns of Health Services Use before Age 1 in Children Later Diagnosed with ASD and ADHD