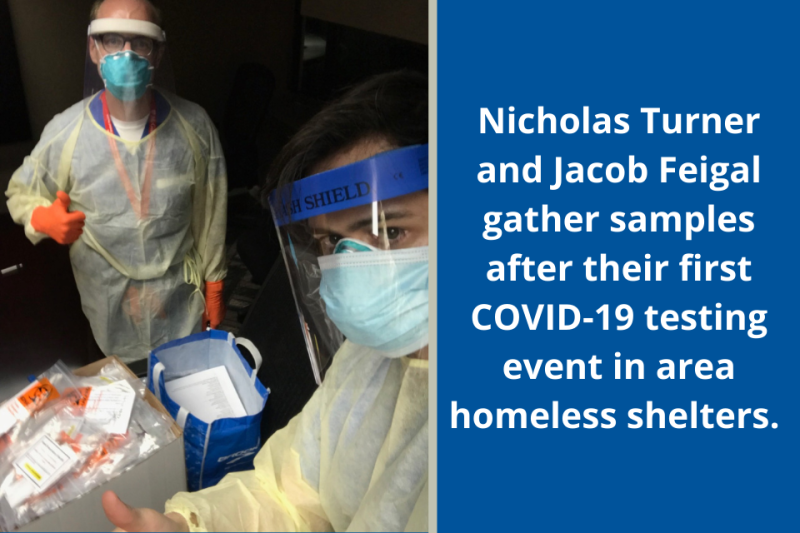 Since March, Jacob Feigal, MD, a medical instructor in the Departments of Psychiatry and Medicine, and Nicholas Turner, MD, MHSc, a medical instructor in the Department of Medicine, have been collaborating with city and county stakeholders to mitigate the impact of COVID-19 among individuals suffering from homelessness.
Through Lincoln Community Health Center's Healthcare for the Homeless clinic, Feigal provides primary care to people who are homeless. This past spring, he enlisted Turner, an epidemiologist and infectious diseases specialist, to help strategize and implement processes to optimize personal and public safety with respect to COVID-19 among this population. Their approach has included testing, tracking and isolating these individuals.
Modeling a Strategy 
Turner generated predictive models to demonstrate the possible devastating impact of a single COVID-19 positive individual in a 100-bed shelter, and then helped devise strategies to mitigate the spread of the virus.
For example, Turner, Feigal and partners in the Durham Public Health Department implemented universal screening and outbreak follow-up in several local homeless shelters. They procured testing supplies and collaborated with partners on the Duke campus to run COVID-19 tests for all individuals in specific shelters. Turner then ran predictive models to determine whether the patterns of positive results were within what would be predicted based on community-wide spread or indicative of an outbreak within the facility. 
Individuals with positive tests were rapidly rehoused, and when outbreaks occurred, shelters were temporarily closed to prevent further spread. Isolation housing has been secured through work with local city and county officials, with support from Julia Gamble, a nurse practitioner in the Duke Outpatient Clinic and director of the Durham Homeless Care Transitions Team. 
Ultimately, Turner and Feigal combined their expertise in behavioral health, infectious disease and epidemiology and collaborated with public health officials to predict and minimize additional threats to the health and safety of individuals with homelessness in various shelters in Durham.  
The grassroots effort grew to include a majority of Duke's internal medicine-psychiatry residents, who have each spent hours donned in personal protective equipment, volunteering to collect samples at various homeless shelters. 
An Evolving Approach
Over the course of the pandemic, medical professionals and community health officials—including Feigal and Turner—gained a better understanding of how COVID-19 is affecting the homeless population, and they shifted their efforts accordingly. 
For example, early on, they focused on the need to have pathways to hospitalization and support for critically ill members of the homeless community. But as time wore on, they realized that the majority of those testing positive are asymptomatic and, rather than requiring hospitalization, they needed to be isolated. This scenario posed a different set of challenges and warranted different responses, such as identifying new places for the COVID-positive individuals to live and encouraging them to remain in isolation for the required length of time.  
Lessons Learned
In a recent faculty-resident journal club meeting, Feigal and Turner shared a couple of key takeaways from their work: 
When it comes to COVID-19 testing, don't let "perfect" be the enemy of "good enough." Though some tests (those involving deep nasopharyngeal sampling) may have higher sensitivity, other tests (antigen tests) may be more easily accepted and better tolerated by individuals facing multiple repeat tests.
Predictive modeling has been critical in making smart decisions about resource allocation. For example, models can help distinguish COVID-19 outbreaks from expected levels of positive tests. These data help inform decision making around whether to close a homeless shelter, which can be a difficult and resource-intensive process and puts un-housed individuals waiting for a shelter bed at risk of medical and mental health complications.
The success of this initiative has depended on effective collaboration with community partners; compassionate, trauma-informed care; evidence-based decisions; and an agile strategy aimed at continuous improvement. These elements, combined with the dedication of our residents, colleagues and community partners, have helped keep COVID-19 at bay for many members of this extremely vulnerable population over the past nine months.
"I hope we can carry these collaborations forward to continue to better address the complex psychosocial needs of this population far beyond the pandemic."
— Jacob Feigal, MD
"During this extraordinary and difficult time, the silver lining that keeps shining to me is the tremendous collaborations we have formed in the community and across departments at Duke, and I hope we can carry these collaborations forward to continue to better address the complex psychosocial needs of this population far beyond the pandemic," said Feigal. "Additionally, I cannot express enough gratitude to Dr. Turner, and to the resident and faculty volunteers that have come out for testing events to help our community be safer."  
Learn more about the Duke School of Medicine's work during the pandemic with local homeless shelters and individuals experiencing homelessness.