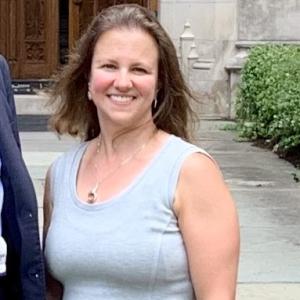 Research Program Leader, CMER
Contact Information:
Lisalynn Kelley has over 20 years of research experience within the Duke Department of Psychiatry & Behavioral Sciences. She is the Research Program Leader for both CMER and the Cognitive Behavioral Research Treatment Program (CBRTP) under Dr. Rosenthal. She has been involved in conducting and managing a range of studies on emotion regulation, sensory processing, psychopathology, and treatment. At CMER, she coordinates program development, informational webinars and trainings, is the primary contact for those searching for information and/or potential treatment for Misophonia, manages regulatory needs, and is involved with management of research studies.
Representative Publications
Rosenthal, M. Z., Anand, D., Cassiello-Robbins, C., Williams, Z. J., Guetta, R. E., Trumbull, J., & Kelley, L. D. (2021) Development and initial validation of the Duke Misophonia Questionnaire. Frontiers in Psychology, 12 https://doi.org/10.3389/fpsyg.2021.709928
Cassiello-Robbins, C., Anand, D., McMahon, K., Brout, J., Kelley, L., & Rosenthal, M. Z. (2021). A Preliminary Investigation of the Association Between Misophonia and Symptoms of Psychopathology and Personality Disorders. Frontiers in psychology, 11, 519681. https://doi.org/10.3389/fpsyg.2020.519681
Cassiello-Robbins, C., Anand, D., McMahon, K., Guetta, R., Trumbull, J., Kelley, L., & Rosenthal, M. Z. (2020). The Mediating Role of Emotion Regulation Within the Relationship Between Neuroticism and Misophonia: A Preliminary Investigation. Frontiers in psychiatry, 11, 847. https://doi.org/10.3389/fpsyt.2020.00847