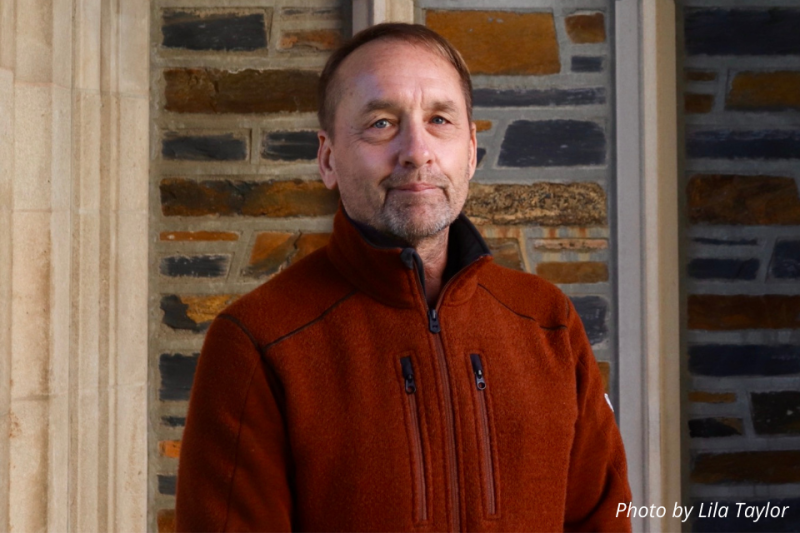 As we honor Veterans Day today, the Duke Center for Applied Genomics & Precision Medicine (CAGPM) thanks all the current service members, the many veterans who have courageously served our country and their families who have supported these individuals. Our appreciation goes beyond Veterans Day, though, as researchers at the Durham VA Health Care System, Duke, and CAGPM, including Douglas E. Williamson, PhD, are advocates for the well-being of these individuals through their studies of genomic biomarkers that hold promise for improving support for the many service members and veterans who rely on mental health care post-deployment and beyond. 
"We are getting closer to identifying who will respond successfully to various treatments," said Williamson, "so there is hope coming that once the biomarker panels are completed, we will be able to guide them to treatments which will work best for them."
The extended wars in Afghanistan and Iraq have caused a significant health burden on our military population. Those who have been deployed in the armed forces and have developed post-traumatic stress disorder (PTSD) require care throughout their lifespan. This has had a significant effect on these individuals and Veterans Affairs (VA) systems throughout our country.
Williamson, a research scientist at the Durham VA, professor of psychiatry and behavioral sciences at Duke, and faculty member at Duke's Center for Applied Genomics & Precision Medicine, has been researching biomarkers related to military members' exposure to combat and trauma leading to PTSD with lifelong consequences.
Williamson is leading efforts for the STRONG STAR (South Texas Research Organizational Network Guiding Studies on Trauma and Resilience)—a multidisciplinary and multi-institutional research consortium—and the Consortium to Alleviate PTSD (CAP) to identify genetic and environmental contributors to PTSD. The STRONG STAR/CAP study is currently evaluating approximately 4,000 active service members based in Fort Hood, Texas, before deployment to see which genetic biomarkers predict who might go on to develop PTSD after being exposed to combat trauma during deployment.
The multidisciplinary research study began in 2008 and was funded by the U.S. Department of Defense's Psychological Health and Traumatic Brain Injury Research Program. The latter consortium was part of former President Barack Obama's National Research Action Plan (NRAP) created to explore and develop effective treatments for PTSD and other mental health conditions, including traumatic brain injury (TBI).
According to the NRAP, since September 11, 2001, more than 2.5 million service members have deployed to Iraq and Afghanistan in Operation Enduring Freedom, Operation Iraqi Freedom, and Operation New Dawn. In one study, researchers found that one-third of returning veterans who were seen in VA health facilities received at least one mental health or psychosocial diagnosis. Another study estimated that only 23% to 40% of returning service members who screened positive for mental disorders seek mental health care.
In 2013, STRONG STAR investigators partnered with the VA's National Center for PTSD and were selected for joint DoD/VA funding to establish the Consortium to Alleviate PTSD (CAP). As part of CAP, Williamson and colleagues are identifying unique genetic and epigenetic biomarker signatures of PTSD. They are using these tools for early detection of risk to develop PTSD and predictors of potential treatment response. STRONG STAR and CAP have assembled a critical mass of investigators and institutions across the nation with the synergy required to make major scientific and public health advances in the prevention and treatment of combat PTSD and related conditions. 
Williamson and his team are asking, "Are there measurable genetic biomarkers that can identify the presence of PTSD, reflect whether a patient is improving from PTSD treatments, and reveal who may be at risk to develop PTSD?"
Focusing on this question, Williamson and his team of precision medicine investigators are researching genomic biomarkers and zeroing in on ones which indicate particular treatments for PTSD. By identifying these biomarkers, the goal is to identify which service members will respond successfully to a specific treatment, such as Cognitive Processing Therapy, in an effort to match them with treatments that are most suitable them.
"We are getting closer to identifying who will respond successfully to various treatments, so there is hope coming that once the biomarker panels are completed, we will be able to guide them to treatments which will work best for them."
— Douglas Williamson, PhD
Williamson recently co-authored a publication in Contemporary Clinical Trials outlining the consortia's state-of-the-science collaborative research model and how it can be used as a roadmap for future trauma-related research.
Williamson and his team are on the cutting edge of identifying the specific genetic biomarkers that can be used to detect the presence of PTSD. His research is showing that these biomarkers are present prior to exposure and then are associated with the incidence of PTSD after the exposure of combat. Some might ask, "If we know who is susceptible to these mental health issues, what do we do?" The answers to this question will continue to evolve, but Williamson says this information can assist with determining prophylactic interventions and strategies to help military members to be more resilient and possibly change their trajectory after experiencing a traumatic event. Their focus is the long-term health of the soldiers, veterans, their families, and their communities.
Williamson, along with his collaborator and wife, Dianne A. Cruz, MS, an associate in research in Duke Psychiatry & Behavioral Sciences, also play a central role in the VA National Posttraumatic Stress Disorder Brain Bank created by NRAP. Williamson and colleagues are collecting brains across the country and analyzing postmortem brain tissue to identifying molecular mechanisms underlying PTSD in different regions of the brain. Williamson and his collaborators recently published "Transcriptomic organization of the human brain in post-traumatic stress disorder" in Nature Neuroscience and "Gene expression in the dorsolateral and ventromedial prefrontal cortices implicates immune-related gene networks in PTSD" in Neurobiology of Stress as part of this effort. These brain studies are beginning to inform researchers about which regions of the brain change and what cells are affected so targeted therapies could be developed to effectively treat this debilitating disease.
There is a dire need for our country and community to support veterans throughout their lifespan after returning home from deployment. The Durham VA Health Care System is one of many local organizations with resources available to support these individuals and their mental health.
Resources:
This article was originally published on the Center for Applied Genomics & Precision Medicine website and was republished with permission.