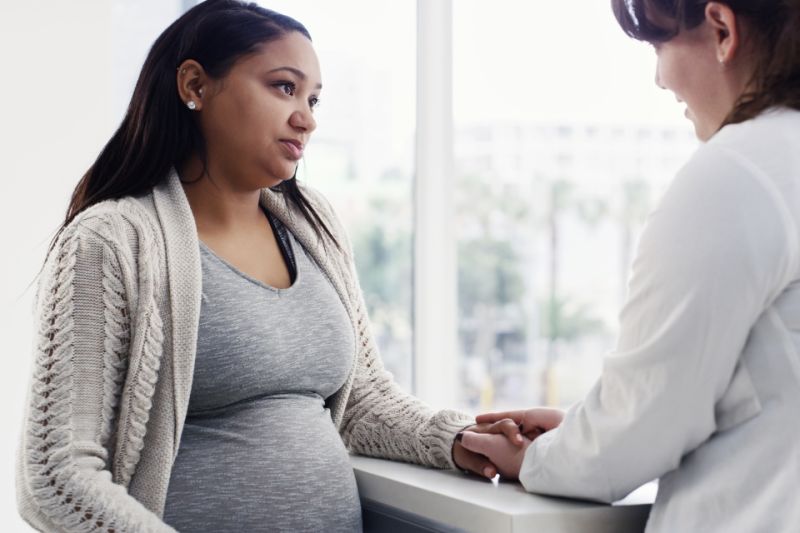 When Bernadette Vereen, MSW, LCSW-A, was hired as a member of Duke Psychiatry & Behavioral Sciences' growing perinatal mental health team in fall 2021, she quickly connected with Julia Tarr, MSW, LCSW, who had recently begun her role serving three Duke Perinatal high-risk obstetrics clinics. Within a few months, the two social workers were talking daily, collaborating to figure out how to best provide behavioral health support to patients with high-risk pregnancies.
They'd briefly crossed paths when Vereen was a North Carolina State University social work intern in the Neonatal ICU and Mother/Baby Unit at Duke University Hospital, where Tarr worked before joining the Duke Perinatal team.
"The collaboration with Julia has been really organic. It's just a nice cohesion and it feels good to be able to share our resources and work together to support this population," said Vereen.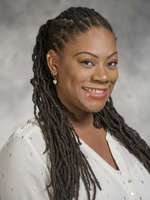 The feeling is mutual: Tarr notes that having a direct line to Duke Psychiatry & Behavioral Sciences has been crucial, "because particularly in pregnancy and postpartum, treatment for psychiatric concerns can't wait. Sometimes we need to make sure we're acting now to care for Mom in order to support a good outcome for delivery or promote a healthy attachment with baby." Having Vereen as a partner, she says, has been "really valuable."
Tarr and Vereen are part of an interdisciplinary group of clinicians who are working together to deliver comprehensive behavioral health care for patients with high-risk pregnancies. The team includes psychiatrists, psychologists, maternal-fetal medicine specialists, and a family medicine social worker.
When a Maternal-Fetal Medicine Specialist Is Needed
All pregnancies carry risk, and one role of obstetricians is to evaluate risk to reduce potential complications. Pregnancies are deemed "high-risk" for a range of reasons. Patients or babies may develop conditions specific to the pregnancy such as a fetal anomaly or gestational diabetes, or the patient may have a chronic medical condition, serious mental illness, or complex comorbidities. In some cases, an unforeseen complication arises in a pregnancy that was initially considered routine, landing the patient in a high-risk obstetrics clinic. Those who are pregnant with twins or multiples often require the care of a maternal-fetal medicine specialist.
"Additionally, many of our patients have underlying social risk factors, such as poor access to care, housing and food insecurity, or substance use disorders, that complicate how we care for them and their pregnancies," explained Sarah Dotters-Katz, MD, MSHPEd, a maternal-fetal medicine specialist and associate professor of obstetrics and gynecology at Duke.
Duke Perinatal operates three high-risk obstetrics clinics: one in Durham, one in Cary, and one in Raleigh. Patients are referred to the clinics from other Duke obstetrics practices, the Durham County Health Department, and other ob/gyn practices across North Carolina.
Caring for Patients Today, Planning for Tomorrow
While pregnancy is often a joyful time full of excitement and anticipation, it can also be a period of stress and worry, even in the smoothest, most routine pregnancies. And for those with complex, high-risk pregnancies, the likelihood of experiencing mental health challenges is even greater. That's why the integrated behavioral health care that Vereen, Tarr, and their team provide for these patients is so critical.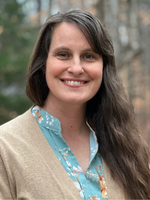 Tarr, the only outpatient behavioral health clinician embedded in Duke Ob/Gyn, works on-site in the Durham high-risk obstetrics clinic, where she can get a "warm hand-off" to a patient from a provider who has identified a behavioral health concern in that patient. 
"I typically meet with the patient, do an assessment, including brief treatment, and work with them to develop a plan, whether that's follow-up with me or with a resource referral," said Tarr. "And if they need higher-level psychiatric care, I can coordinate that directly with Bernadette and the Duke perinatal psychiatry team." 
Vereen triages and schedules patients requiring medication management or therapy, as well as meeting with patients to share resources such as the Special Supplemental Nutrition Program for Women, Infants, and Children (WIC), diaper trains, places that provide baby clothing, and support groups. She also sees a few patients each week for psychotherapy.
"It's really important to me to ensure a good fit between patient and provider, and also to just be a welcoming voice, because a lot of the patients have faced so much adversity, and it's a very scary period," Vereen noted. "It's nice to be that person who can assure them, 'You're here, you're safe, and we just want to support you—whatever that looks like for you.'"
While managing their day-to-day demands, Tarr and Vereen also try to focus on building referral systems and partnerships that will help them provide the best, most seamless care to their patients at Duke as well as in the patients' home communities. They also meet regularly with a broader team of clinicians and trainees for educational seminars, case consults, and long-term planning for addressing perinatal behavioral health needs both within the high-risk obstetrics clinics and across the Duke University Health System. 
Additional Supports for Patients and Providers
Vereen, Tarr, and several of their colleagues also facilitate various support groups for patients experiencing difficult pregnancies and fetal and infant loss, including:
A third trimester and infant loss support group, led by Vereen and Ashley Hill, PhD, medical instructor in Psychiatry & Behavioral Sciences
A first and second trimester loss support group, led by Julia Woodward, PhD, associate professor in Psychiatry & Behavioral Sciences and Obstetrics & Gynecology 
A support group for patients coping with ending a wanted pregnancy due to a medical diagnosis, led by Tarr
A support group for patients with a substance use disorder, led by Anne Fields, LCSW, MPH, MSW, a clinical social worker in Family Medicine & Community Health, and Melissa Walker, MSW, LCSW, a clinical social worker on the inpatient adult substance use team
A Spanish perinatal support group for Latinx patients, led by Fields
A support group for mothers coping with having a baby in the intensive care nursery, led by inpatient clinical social workers Kathy Briglia, MSW, LCSW, and Ashley Mohlhenrich, MSW, LCSW 
And one day per week, Vereen and assistant professor Andrea Diaz Stransky, MD, staff a perinatal psychiatric support line. Through this program—NC Maternal Mental Health MATTERS, or "NC MATTERS"—health care providers who serve pregnant and postpartum patients can connect with behavioral health experts for consultations, resources, and referrals. Led by the University of North Carolina at Chapel Hill (UNC), NC MATTERS is part of a partnership between UNC, Duke University, and the North Carolina Department of Health and Human Services.
Dotters-Katz regularly consults NC MATTERS when a patient needs immediate support and Tarr isn't available or when a patient's needs are beyond Tarr's scope. In one recent case, for example, she called NC MATTERS for advice about medication for a patient while the patient was in her office; after a brief conversation, she was able to send the patient home with an acutely needed prescription.
"I cannot say enough good things about how fast they are, how good they are, the way they interact with us, and the way they interact with patients. That service has absolutely been a huge benefit for the patients and for me," Dotters-Katz reflected.
"Priceless" Contributions
Samuel T. Bauer, MD, CPE, FACOG, medical director for Duke Perinatal and associate professor of maternal-fetal medicine, says that having the ability to coordinate care with social work and psychiatry during pregnancy is pivotal. "It's a key component of our pregnant patients' care, and it helps us provide a well-rounded and comprehensive health care experience for our patients," he said.
Dotters-Katz enthusiastically echoes his support: "Our clinic would not function without Julia, and the services she provides to our patients are unmeasurable," she said. "Like in the Mastercard commercial where they list a few things, and the last one is 'priceless'—that's what Julia brings to our clinic. She's the 'priceless.'"
Likewise, Diaz Stransky notes that Vereen has been instrumental in caring for patients facing the most challenging of circumstances. "When we manage patients with more complex needs, Bernadette ensures that the patient doesn't fall between the cracks and that we find concrete ways to help the patient access the care and supports they need." 
Looking at the bigger picture, Dotters-Katz appreciates the increased focus on perinatal mental health in recent years and looks forward to building on the joint efforts between Psychiatry & Behavioral Sciences and Obstetrics & Gynecology to serve their patients, particularly those with more complicated behavioral health needs.
"There's so much opportunity there, and we're really excited to grow that connection, that support, and that offering for our patients," she said. "There's such a huge need, and we're very excited to have a partner to work with."