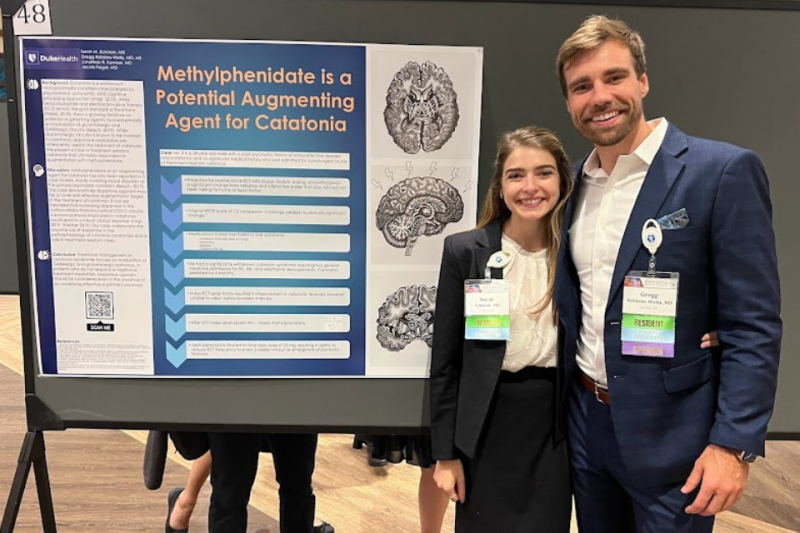 Duke's Internal Medicine-Psychiatry (Med-Psych) program had a strong showing at the 2022 Association of Medicine and Psychiatry (AMP) Annual Meeting in Atlanta, GA, on September 29 to October 1.  
Duke med-psych residents and faculty contribute in various ways to the organization. Gregg Robbins-Welty, MD, MS, Duke's Resident-Fellow delegate, is involved in a writing work group to create guidelines regarding SSRIs and bleeding risk. Jane Gagliardi, MD, MHS, is an active member of the Annual Meeting Planning Committee, the Research and Scholarly Activity Committee, the newly-formed Diversity, Equity and Inclusion Committee and various activities associated with the AMP Council.  
Duke Med-Psych Residency alumni, including Susan Padrino, MD, Kellie Clearo, MD, RPh, David Karol, MD, MA, and Colin Smith, MD, were important contributors to this year's meeting, along with Duke faculty alumna Virginia O'Brien, MD. In addition, number of other med-psych alumni were in attendance.   
The two-day meeting included excellent talks on med-psych topics including psychotropic-associated SIADH, psychedelics in cancer (in a talk presented by Duke Psychiatry alumnus Christian Bjerre Real, MD) and innovations in integrated care delivery models.
Robbins-Welty Wins Resident Vignette Competition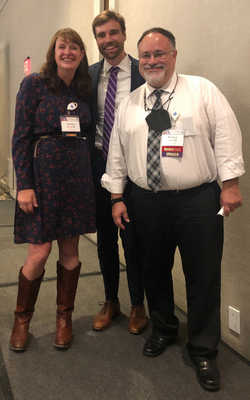 On Saturday afternoon, eight residents from across the country presented case vignettes in the resident vignette competition. Fourth-year resident Gregg Robbins-Welty, MD, MS, cleverly entitled his vignette "Occam's Toothbrush," and taught about a patient who swallowed a toothbrush—and was finally recognized as suffering chronic Chagas GI Disease.
Robbins-Welty's presentation was entertaining, thought-provoking and educational, conveying important points about assumptions, bias and health injustices—as well as lessons about Chagas Disease—and won the prize for best vignette. With this win, Duke's Medicine-Psychiatry residents will be granted free registration for the 2023 AMP Annual Meeting (scheduled for October 12-14, 2023, in Milwaukee, Wisconsin).
Strong, Eckstein & Robbins-Welty Present Posters
Robbins-Welty & Eckstein Win Case Report Category
Saturday evening's poster session included posters from Duke med-psych residents and faculty. Fifth-year resident Cameron Strong, MD, presented a poster entitled "Let's Do It: Questioning Decision-Making Capacity in a Patient with Mania," with mentorship from Duke's med-psych residency associate training director Nicole Helmke, MD, emphasizing the ways in which decompensated affective disorders can influence decisional capacity.  
Second-year resident Sarah Eckstein, along with Robbins-Welty, presented on "Methylphenidate is a Potential Augmenting Agent for Catatonia," under mentorship of program alumni and current Duke Psychiatry faculty members Jonathan Komisar, MD, and Jacob Feigal, MD, and won for best poster in the case report category.
---
Caption for main photo: Second-year resident Sarah Eckstein, MD, and fourth-year resident Gregg Robbins-Welty, MD, MS, present their poster on "Methylphenidate is a Potential Augmenting Agent for Catatonia."