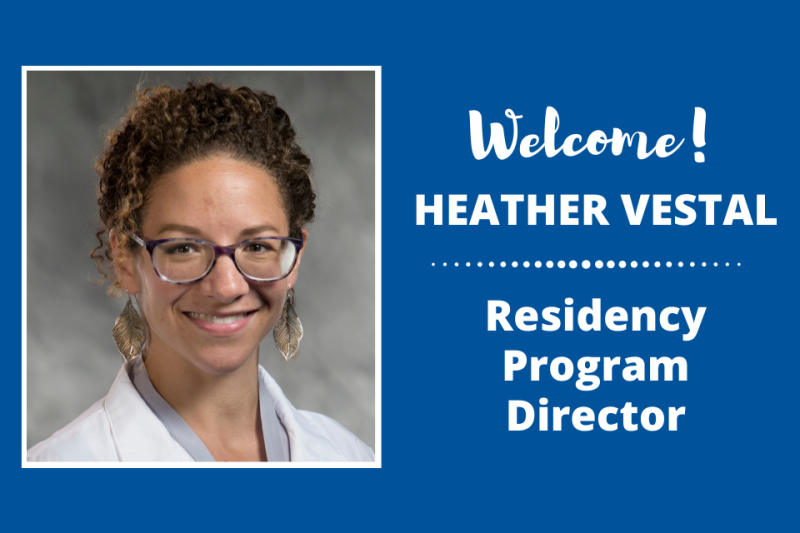 Growing up in a Boston suburb, Heather Vestal, MD, MHS, was certain of one thing: while she always wanted to be a doctor, she did not want to follow in her parents' footsteps and become a psychiatrist. But as an undergraduate at Boston College, she declared psychology as her major, finally admitting to herself that she "actually really loved psychology." A few years later, she entered the Yale University School of Medicine with an open mind, but her passion for psychiatry persisted and deepened.
After completing medical school and a master of health science degree at Yale, Vestal pursued an adult psychiatry residency at Massachusetts General Hospital and McLean Hospital. Upon finishing her training, she accepted the role of associate residency program director at McLean Hospital. 
This past September—five years later and a few states southward—Vestal became the residency program director in Duke Psychiatry & Behavioral Sciences. She succeeds Jane Gagliardi, MD, MHS, Duke Psychiatry's vice chair of education, who led the residency program from 2013 to 2019.
We recently sat down with Vestal to learn more about her background and her vision for Duke Psychiatry's residency program. Here are some excerpts from our conversation.
Duke Psychiatry: What was it about psychiatry that drew you in?
Vestal: It was the connection with the patients. It felt like such a privilege to be able to talk with people and help people through such difficult times in their lives and periods of such vulnerability. Every person was different. Every illness was different. I knew it was never going to be boring. 
I still love seeing patients, and I want to always be doing that. But I've found that the skills I learned in my training to become a psychiatrist are so relevant to my role as an educational leader. The thing I enjoy most about being a program director is the relationships with the residents—talking with them, understanding what they're going through and helping them through struggles. I see a lot of parallels between these two aspects of my work.
---
Duke Psychiatry: What was your next professional step after residency? 
Vestal: In residency, I got really interested in medical education. I was doing a lot of teaching, curriculum development and medical education research. After I graduated, I had the amazing opportunity to become the associate program director for the residency and the clerkship director for medical students at MGH McLean. I did that for three years, and then two years ago, I became the program co-director.
Throughout the last five years, a lot of my time has been dedicated to teaching education, leadership and administration. In particular, I did a lot of mentoring of residents and medical students, teaching about psychiatry and teaching about teaching—training residents to become great clinician educators. I was also seeing patients on an inpatient psychiatry unit that specialized in bipolar and psychotic disorders. I loved doing that, and I look forward to doing inpatient work here at Duke as well. Initially, though, I'll be more focused on my administrative responsibilities as program director. 
---
Duke Psychiatry: What are your areas of expertise within psychiatry? 
Vestal: Within clinical psychiatry, my main areas of expertise are bipolar disorder and psychotic disorders. Taking care of patients with severe mental illness, including catatonia, is a particular interest of mine. On the medical education side, I'm very interested in physician and resident wellness. I've done a lot of work in that area over the years, as well as teaching residents how to teach and helping faculty learn how to be great educators. I'm also interested in diversity and inclusion. 
---
Duke Psychiatry: In what ways do you envision incorporating these ideas into our residency program? 
Vestal: I'd love to work on developing and expanding on a more formalized wellness program for the Duke psychiatry residents and also collaborate with other physicians and other educators across the Duke system who are working in the physician wellness sphere. 
There are a lot of different ways to approach wellness. There are the social and community building types of activities or events. There are changes that target reducing burnout in the work environment. Another approach that I have been really interested in is trying to shape and shift the culture of a place to better support physician wellness and trainee wellness. 
The specific way I've been doing that is with a focus on encouraging residents and faculty to be willing to be vulnerable and share when they're struggling with something, rather than having a whole bunch of individual people who are suffering in silence and maybe thinking they're the only people struggling, when actually it's really a universal experience. I teach residents and faculty about the practice of self-compassion as a way to reduce the internal self-critical thoughts that are so common, particularly among physicians, and to help them find ways to deal with experiences of shame, which come up quite frequently in medical training. So that's something I'm excited to get more into doing here at Duke.
---
Duke Psychiatry: What are some of your other goals in your role as residency program director? 
Vestal: One thing I think is really important is having the right service-to-education ratio, to have really outstanding educational experiences that are grounded in clinical care, while making sure we're striking the right balance without having too much or too little service—that is, clinical tasks that might not require a physician to be doing. It's important to look at that to create the best possible education experience, and it's another aspect of trying to reduce burnout. To me, having a really robust clinical education experience is the core of a residency program. To a large extent, Duke already has that, and I want to be sure to continue that tradition.
And both in terms of our clinical rotations and our didactic seminars, I want us to be using cutting-edge educational methods in our teaching. That may include bringing in new content about the latest things that are happening in the field. It may be teaching faculty how to use different teaching methodologies that are thought to be more effective for adult learners. 
Another thing I value as a leader is to do everything I can to include residents and faculty in decisions about changes within the program and be as transparent as possible regarding how we think about making changes and helping the program evolve and grow.
---
Duke Psychiatry: What excites you most about being at Duke?
Vestal: My husband and I were both thrilled to have the opportunity to come to Duke [Dr. Matthew Vestal is a pediatric neurosurgeon at Duke]. It's an incredible place. The strength of the psychiatry training here really stood out to me. I trained in a program that also really valued strong medical training and the concept that psychiatrists are doctors too. The strong foundation in internal medicine is an important part of that. So that really resonated with me. 
We had actually been interested in moving out of Boston for quite some time. It was where we grew up, but we had also been there for nine years in training. We had had enough of the New England winters. To be able to move to an area that has it all—the warmer weather, the coast, the mountains, and a place where we could actually buy a house and have a little bit more space—was really an awesome opportunity as well. 
---
Duke Psychiatry: If you could give only one piece of advice to residents, what would you tell them?
Vestal: My advice would be "Don't worry alone." If there's ever something that you're concerned about, whether it's something that's going on with a patient or an interaction with a colleague or you're feeling like you're not doing a good enough job, don't hold that in. Find a mentor. Find a supervisor. Find a colleague to talk to about it. I suspect that they will be able to provide support and likely even relate to that experience and will help you feel a lot less alone.