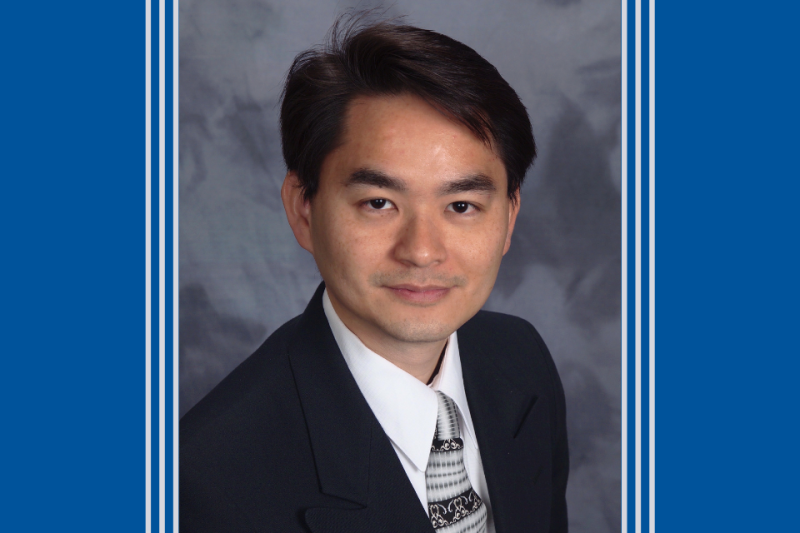 Before settling into a career in research administration, Tuyen Phan, MBA, dabbled in customer service, sales, human resources, document services management, investment finance, and grants management. His first job was working in his parents' restaurant in a small town outside of Rochester, New York, where he and his family emigrated from Vietnam when Phan was a young boy.
Phan said he's thankful for his experience in the restaurant because it gave him opportunities to interact with people he wouldn't have otherwise met, and he learned a great deal from talking with the customers. But as he graduated from high school and began thinking about his future, he had other long-term plans—beginning with college at Cornell University, where he studied human resources and economics.
Although it took Phan a while to discover his passion for research administration, one of the things he loves about the field is that it brings together all his prior work and educational experiences.
We recently sat down with Phan, an administrative director in the Department of Psychiatry & Behavioral Sciences, to learn more about his path to research administration, his career at Duke, his Vietnamese culture, and his thoughts about Asian American and Pacific Islander Heritage Month.
How did you get into research administration?
Around 2005, I was working in a finance position at the Harvard School of Public Health, and I got immersed into the grants world when my director, who oversaw sponsored funding, went on leave and I had to pick up parts of her role. I got completely absorbed in the role and then I just grew up in the research administration world. At the time, I was still trying to figure out if that was the position or the industry I wanted to be in. 
A year later, I started graduate school at Babson College to focus on investment finance. Toward the end of my graduate school experience, in addition to my role at Harvard, I joined Babson College's investment team to manage part of their endowment. That was when the economy fell apart. I had very little sleep and found out very quickly that I love investment—but not for a job. 
When I finished my MBA in 2009, my wife got a job in North Carolina. I took about six months off to recuperate from that stressful period of work and school and investment, before joining Duke as a temp in 2010.
Interestingly, we had a department event where I won a lunch at the Washington Duke Inn with Scott Gibson, executive vice dean for administration for the School of Medicine. We hit it off really well. He asked me about my background, and I told him I did research administration for a while and was just getting back to it again. He asked me if I was interested in the new research administration manager position being posted in the School of Medicine's Office of Research Administration (ORA). And from there, I worked for ORA for about five years, then joined the Department of Medicine (DOM). After about five years serving as associate director in the DOM helping with their reorganization, pulling the grants team into a central office, I joined Psychiatry, roughly three years ago.
I think I just naturally gravitate toward things that need changing—trying to make something from chaos, building processes, helping mitigate financial and compliance risks. I knew Psychiatry was going through a lot of changes several years ago, and I figured I could help support that change.
What's your role in Psychiatry & Behavioral Sciences?
I oversee the Central Research Office (grants team) and co-direct the Clinical Research Unit team, with the goal of helping the two teams work cohesively to provide seamless services to our research faculty. Overall, I have three direct reports and support more than 100 administrative and research team members.   
When I started, the priority was to document and analyze critical processes and reengineer them in a way that supports the current compliance requirements from sponsors and the School of Medicine and align with the department's strategies. 
What's one thing you've accomplished in your current role that you're proud of?
In any position, I always set target goals that I try to achieve within three to five years. Normally there are three areas I need to address: people, technology, and process. And in the past three years, I've achieved milestones in each of those categories.
On the people side, we have exceptionally strong managers, but I'd say I've helped my teams grow—for example helping them learn to operate on a more strategic level. As a manager, I need to focus on my team to make sure that they grow in a way that is very positive, and that they're prepared for whatever comes their way in the long term. I also started a book club in the last year or two, where we learn about things that we normally don't take time to learn about. We've read Leading from Anywhere, by David Burkus, and now we're reading Emotional Intelligence, by Daniel Goleman. The team votes on the books they want to read based on the issues they're contending with. I'm proud of our team for being willing to follow my lead with learning and pushing themselves beyond their boundaries.
What do you like to do when you're not working?
I like to spend time with my wife and two sons, William (age 12) and Alexander (age 10). And I like to do woodworking. I like to design and engineer things and build things with my hands. My work at Duke is all computer-based, so I don't really get to see a "product" very often. With woodworking, I'm able to create a product. I can say, "That shelf stands up, it's working, it's great!" or "It's falling down, I have to re-do something." When I retire, maybe I'll open a little woodworking shop to make things, whether it's furniture or something useful.
What would you like people to know about your culture? 
For me, for Vietnamese culture, I grew up with my family being very close, including my mom's generation and my dad's generation. They grew up with very large families—my dad had 11 siblings and my mom had seven siblings. They were each the oldest in their family, and they often took care of their younger siblings. 
In most Asian cultures, academics is probably the number one priority because that's one way we feel we can move ahead and climb the ladder in the world. Academics were very important to our family. I jokingly tell my friends sometimes that if we were getting an A, our parents would ask, "Why aren't you getting an A+?" But I think it was just them trying to push their kids to always work harder and never be satisfied with our current achievements, because we can always do better. 
What does Asian American and Pacific Islander (AAPI) Heritage Month mean to you?
AAPI Heritage Month is an opportunity for me to look back on my culture and try to teach my kids as much as I can. I grew up mostly in the U.S., so there a lot of customs I don't know much about. I call my parents now and again to see what they do or what they recommend for a particular cultural celebration, and I'll try to do that. 
And we don't just celebrate Asian culture and Asian heritage. For every cultural holiday, like St. Patrick's Day, we'll try to cook the foods for the holiday and teach the kids about the holiday. We try to teach them about all different cultures, but we do try to impress more on the Asian cultures because that's what we know more about. We're also trying to teach them how to speak Vietnamese. That's a part of us and our culture, so we feel it's necessary for them to learn the language, even if they may never use it. 
How can we promote equity, inclusion, and belonging at Duke for people of Asian American and Pacific Islander descent?
That's been a question on my mind for quite some time. I don't see many Asians at the management or director level at Duke. There are plenty of Asian staff members working in different roles, but it's rare to see them in management.
I think part of this may be because, in many Asian cultures, parents expect children to observe and listen, but not speak. And growing up in that culture can make it hard to shift your mindset and say, "I need to speak out more and be more proactive in engaging people, not just sit there and observe." I went through that difficulty myself, realizing that if I want to be a good manager, I needed to change the way I approach things. It's basically going against what I'd been taught to do as a young Asian person—that we shouldn't speak against our superiors, even if we disagree or have a better way of doing things. 
I think it's important to recognize that people who grew up in different cultures may have different challenges in getting up to a certain level in the organization. We need to try to understand what might be holding them back and help them find ways to build the skills needed for leadership roles. 
For example, as an introvert who grew up in a family where I was taught to be silent most of the time, I had to push myself to do presentations and go through training experiences to learn public speaking, get outside of my shell, and get comfortable conversing and engaging with others and speaking out. If those sessions or classes are available, managers should encourage people to take them so they can pick up the skills to be more comfortable in a management role. I challenge my managers to present as much as possible at Duke or external conferences, because those skills are invaluable.  
Editor's note: This interview was edited for length.