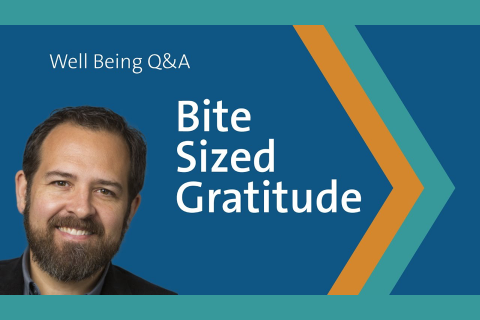 Bryan Sexton, PhD
, associate professor of psychiatry and behavioral sciences and director of the Duke Center for Healthcare Safety and Quality, has launched a new video series around the idea of "bite-sized" resilience. In two- to three-minute sessions, Dr. Sexton leads you through the evidence, science, and impact of well-being strategies. Dr. Sexton's research on assessing and improving workforce wellbeing and safety culture is used in over 30 countries.
Produced by the Duke Center for Healthcare Safety and Quality, these videos address simple and effective strategies to help us get through challenging times such as the COVID-19 pandemic. More videos will be added over time. To access all of these videos, visit the Duke Center for Healthcare Safety and Quality YouTube channel. Here's a peek at the first three:
Three Good Things
How do you make positive emotions more accessible when negative ones are so prevalent? Try the "Three Good Things" strategy once a day, every day.
Coping under Pressure
Use the "rule of twos" as roadmap of some predictability to to help you and your loved ones increase predictability and reduce stress. 
Bite-Sized Gratitude
Brief expressions of gratitude are associated a month later with statistically significant better happiness and lower depression, as well as decreases in burnout and improved work-life balance.