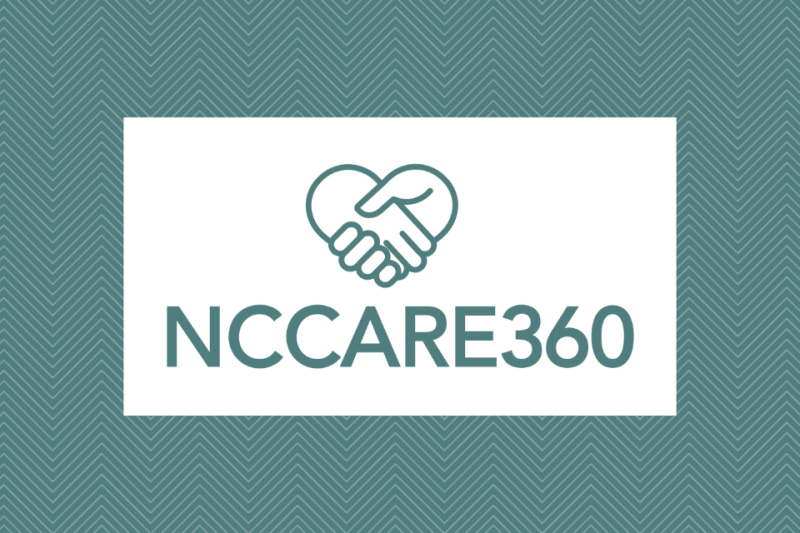 Many North Carolinians struggle with food insecurity, housing instability, lack of transportation access and other social needs. Through NCCARE360, a statewide coordinated care network, health care providers and community-based organizations are working together to connect these individuals to local services and resources that can help them meet those needs.
NCCARE360 was developed by the North Carolina Department of Health and Human Services and the Foundation for Health Leadership & Innovation in partnership with software company Unite Us. At its core is a robust statewide resource directory provided by the United Way of NC's 211 program and updated by the social service organizations on the platform.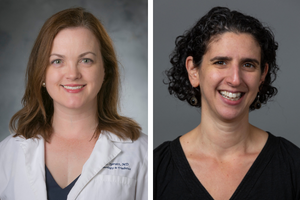 Duke Health is among the health systems across the state that are using the NCCARE360 platform to better serve their patients. Susan Spratt, MD, associate professor of medicine, is leading the implementation at Duke, and Elena Tenenbaum, PhD, assistant professor in psychiatry and behavioral sciences, is spearheading the behavioral health facets of Duke's efforts.
"The platform became available at Duke in January 2021, when behavioral health challenges were skyrocketing and we could just not meet the need here at Duke," said Tenenbaum. "And NCCARE360 created a novel way for us to connect the patients we couldn't see to behavioral health care elsewhere." When a prospective patient calls, a staff member can, with the caller's permission, access their electronic health record and instantly identify behavioral health practices near them that are currently accepting patients. 
One unique aspect of the system is that, rather than providing contact information to the caller to then follow up with a list of potential providers, requests are submitted directly to the behavioral health clinics, whose staff then follow up with the caller. This approach is particularly helpful for patients suffering from conditions such as depression, "who may not have the motivation to make 10 calls to get an appointment," said Tenenbaum.
Tenenbaum describes her role as three-pronged: (1) convening monthly virtual meetings with her counterparts at UNC Healthcare and WakeMed to learn about NCCARE360, meet staff from some of the community organizations on the platform, problem-solve, and share best practices, (2) overseeing pilots of a screening process to assess non-medical social needs among current patients, and (3) training her behavioral health colleagues on how to use NCCARE360.
Learning Together
Tenenbaum organizes the monthly one-hour meetings in collaboration with internal medicine-psychiatry resident Lynette Staplefoote-Boynton, MD, MPH, and Quinny Sanchez Lopez, community engagement manager at Unite Us.
The meetings always begin with staff from one or more community organizations across the Triangle region talking about the resources and services they provide. "The idea is that our referrals will run a lot more smoothly if we can connect faces, names and actual people with the resources listed in the system we're using," noted Tenenbaum. 
Both the behavioral health providers and the community organization staff then share their experiences with NCCARE360 implementation. Time is also set aside for open discussion, which has been a valuable forum for exchanging best practices and resolving issues collaboratively. 
In a recent meeting, for example, the group discovered a snag in the current process for scheduling a timely outpatient follow-up appointment for patients being discharged from the inpatient unit. Community-based outpatient clinics were receiving referrals through NCCARE360, but staff were unable to reach patients to schedule the appointment because the patients were still on the inpatient unit. Together, they devised a solution to facilitate the scheduling process. 
"Until you have all these people in the same room, these issues don't necessarily come out. Having both sides—the behavioral health care providers and the community organization staff—come together and talk really helps us troubleshoot," Tenenbaum reflected.
Screening for Non-Medical Social Needs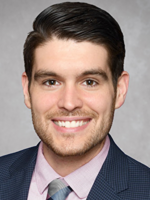 To prepare for an upcoming requirement by the Joint Commission on Accreditation of Healthcare Organizations that all patients be screened for non-medical social needs—such as access to food, stable housing and transportation—the department is piloting a screening process in behavioral health outpatient clinics as well as on the inpatient unit at Duke Behavioral Health North Durham. 
"We're going to need to have a system to address those needs when we identify them," Tenenbaum said, and NCCARE360 will be an integral part of that system. "In many cases, a patient's outcomes are attributable to these non-medical social needs. We can do all the medical intervention we want, but if that patient doesn't have access to food, for example, it's going to be really hard for them to implement those strategies."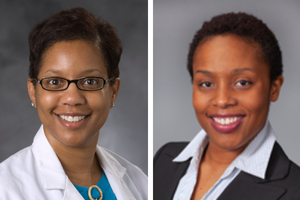 Tenenbaum is partnering with psychiatry resident Jonathan Nahmias, MD, to conduct the outpatient pilot. Leslie Bronner, MD, MPH, DrPH, assistant professor of psychiatry and behavioral sciences, is carrying out the inpatient pilot alongside Staplefoote-Boynton.
The Data We Need
Her work with NCCARE360 over the past year has shown Tenenbaum just how great the non-medical needs are in our community. "A platform like this gives us the data we need to be able to show how much need there really is, and eventually, how those needs are affecting our patients," she noted. "These efforts are helping us figure out, if we can make referrals to get a patient connected to better transportation, housing and food, or whatever their main stressors may be, will we see improved outcomes in their health?" That is the hope—and the goal.