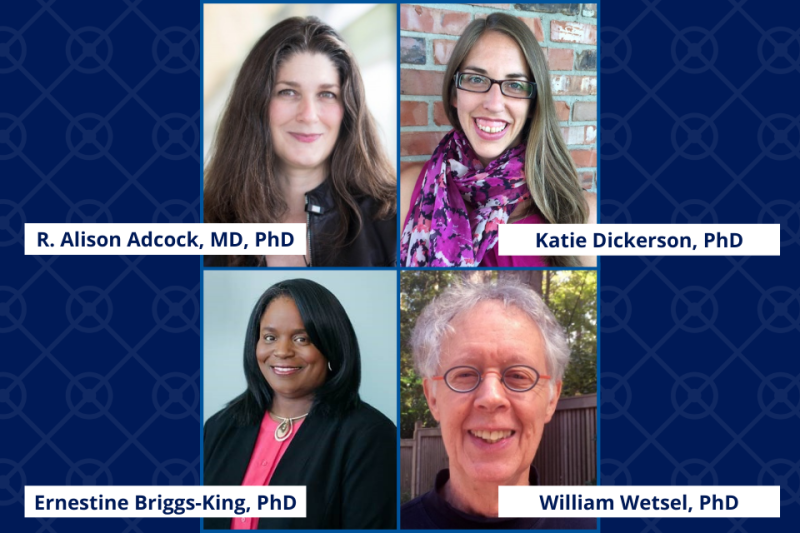 Four Duke Psychiatry & Behavioral Sciences faculty members recently received Incubator and Germinator Awards from the Duke Institute for Brain Sciences. The awards are given for collaborative, interdisciplinary projects that have great promise to generate significant advancement in our knowledge of brain science.
The Incubator Awards support interdisciplinary teams working on research on topics ranging from school-based strategies to cope with systemic racism to the way our brains process visual information. 
The Germinator Awards support individuals and smaller teams working on projects ranging from aggression in female lemurs to the role of the microbiome in Amyotrophic Lateral Sclerosis (ALS). Germinator Awards are available to graduate students, post-doctoral fellows, medical residents and faculty from any department, and must also make a significant contribution to the brain sciences. 
Incubator Awards Given to Psychiatry Faculty Members
Exploring Human Ventral Tegmental Area Response Under Altered Opioid States
Investigators: Alison Adcock, MD, PhD, and Kathryn Dickerson, PhD (Psychiatry), Katherine Martucci, PhD (Anesthesiology)
About 1 in every 3 people experiences chronic pain. Treatments are often not effective. Opioid medications can treat patients who have chronic pain, but come with risks of addiction and overdose. Therefore, new brain science research is needed to help doctors understand how brain activity changes in patients who take opioids for chronic pain. In this project we will use functional MRI (fMRI) scans to measure midbrain activity in patients with chronic pain who take opioids. Midbrain activity will be measured right after taking their opioid medication (when the drug is most effective) and right before they are due for their next opioid medication dose (when the drug is least effective or has worn off). Through this research, we hope to better understand how opioid medications change brain activity. Ultimately, this research will lead to new and effective treatments for chronic pain and addiction.
Structural Racism and Adolescent Mental Health: A Metacognition-Based Preventive Intervention
Investigators: Ann Brewster (SSRI), Ernestine Briggs-King, PhD (Psychiatry), Simon Davis, PhD (Neurology), Timothy Strauman, PhD (Psychology & Neuroscience)
It is well-known that systemic structural racism (SSR) increases risk for mental disorders such as depression and anxiety. This project takes an interdisciplinary, brain-focused approach to preventing these disorders among high school students who identify as Black, Indigenous, Latino/a, and Persons of Color (BIPOC), especially those who are "at risk" for dropping out of school.  In many school settings, interventions targeting "at-risk" students carry stigma and are perceived as irrelevant or punitive. In contrast, trauma-informed, culturally-relevant interventions that promote positive development in real-life situations can achieve prevention in ways that adolescents find engaging.
Through collaboration with Durham Public Schools, we have encouraging pilot data teaching "metacognitive strategies"—techniques to observe and evaluate one's mental processes and their consequences—to high school students who are deemed "at-risk" because they have received a long-term suspension. In this project, we will assess critical brain processes before and after teaching the metacognitive strategies. We hope to learn whether those skills can reduce distress, and prevent depression/anxiety, and promote retention in school.  Along the way, we hope to help these students gain greater control over their responses to experiences of structural racism.
Learn more about the Incubator Awards.
 
---
Germinator Award Given to a Psychiatry Faculty Member
Akkermansia Muciniphila in the Progression of Amyotrophic Lateral Sclerosis Disease
Investigators: Richard Bedlack, MD, PhD (Neurology), Maria Panzetta and Raphael Valdivia, PhD (Molecular Genetics & Microbiology) and William Wetsel, PhD (Psychiatry)
Trillions of microbes, collectively known as the microbiome, live in our gut. Perturbations to the gut microbiome can cause metabolic and inflammatory diseases. Transferring gut microbes from patients with obesity, autism, depression, and multiple sclerosis into mice often causes the same disease in the mice. Amyotrophic lateral sclerosis (ALS), is another illness that involves changes to the gut microbiome. We are interested in understanding how the microbiome influences ALS and identifying which bacteria impact the progression of the disease.
One of the "good bacteria" in the gut microbiome, Akkermansia muciniphila (Am), alleviates ALS symptoms in mice. Using advanced techniques in microbiology, genetics, and metabolomics, we will identify which natural strains of Am and other bacterial species are most beneficial.  We will also define how Am in the gut impacts the onset of ALS. Findings from this work could uncover novel bacterial strains that protect from ALS and support the design of microbiome-based interventions to help people with ALS improve their quality of life. 
Learn more about the Germinator Awards.