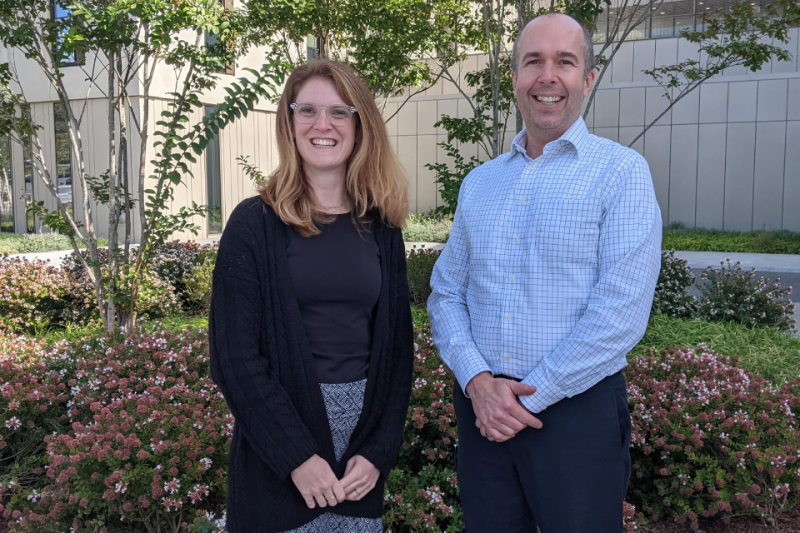 On a typical day at Duke Regional Hospital, you might find pharmacist Amber Kapuganti, PharmD, BCPP, rounding with the behavioral health inpatient team, consulting with psychiatric emergency department providers, answering trainees' medication questions, leading games to teach patients about medication safety and usage, and advocating for new medications to be added to the hospital's formulary.
"In my third year of pharmacy school [at Campbell University], I just fell in love with the psychiatry module, and I knew I wanted to pursue this field," Kapuganti reflected. After a two-year psychiatric pharmacy residency at UNC-Chapel Hill and seven years working at the Chillicothe Veterans Affairs Medical Center in Chillicothe, Ohio, Kapuganti joined the team at Duke Regional Hospital in July 2021 as Duke Regional's first dedicated behavioral health pharmacist.
According to Kapuganti, while other specialties, such as internal medicine, often have a specialized pharmacist embedded on the inpatient team, behavioral health pharmacists on hospital floors aren't yet as commonplace. 
"Having a psychiatric pharmacist on our team is a huge help for the psychiatry group, because prescribing can get quite complicated, especially when we have patients who aren't able to provide their medication history themselves."
— Jason Tatreau, MD
"Having a psychiatric pharmacist on our team is a huge help for the psychiatry group, because prescribing can get quite complicated, especially when we have patients who aren't able to provide their medication history themselves," said Jason Tatreau, MD, an assistant professor of psychiatry and behavioral sciences who works closely with Kapuganti. He notes that Kapuganti has also "done a tremendous job getting multiple medications approved and available to patients."
A More Humane Treatment for Opioid Use Disorder
One of the new pharmaceuticals Kapuganti has helped the team add to their repertoire of treatments is micro doses of buprenorphine, a medication used to help patients manage acute and chronic pain; it's also a first line treatment for opioid use disorder (OUD). 
Historically, when patients have been treated for OUD, they've had to stop taking their opioid medication—which thrusts them into a miserable withdrawal period—before being administered buprenorphine. New clinical protocols for buprenorphine allow providers to safely introduce the drug gradually in tiny doses while the patient continues to take their opioid medication, and then stop the opioid once an optimal therapeutic dosage of buprenorphine is reached.
According to Tatreau, a number of the patients on the inpatient unit struggle with pain issues and sometimes, relatedly, opioid use disorder. "We may be treating their underlying depressive disorder or trauma disorder or suicidality," he explained, "but their chronic pain is a major contributor to their distress and their functional impairment, and one of the things that makes it hard to get through life."
Providing treatment that enables patients to avoid withdrawal isn't only a more humane approach. Withdrawal symptoms can mimic other illnesses such as COVID or sepsis, and can lead to excessive testing and patients being transferred unnecessarily off of the inpatient unit. In addition, patients who are more comfortable as they transition off their opioid medication are less agitated and less likely to leave the unit against medical advice.
"It also gets more buy-in from the patient," said Kapuganti. "They start trusting their providers more—they know that we're trying to work with them and make them feel better and that we're really trying to understand what's going on for them."
Better Adherence through Long-Acting Injectables
Kapuganti has also led efforts to bring long-acting injectable forms of anti-psychotic medications into the Duke Regional Hospital formulary. These medicines are administered about once a month in lieu of daily pill doses, which helps increase the patient's adherence to the regimen and decrease risk for relapse and hospitalization.
While the long-acting injectables work well for patients who might otherwise forget to take their medications, there is a drawback: they're very expensive. To address this barrier, Kapuganti has had to think creatively about how to ensure access to these costly drugs.
 
"These medicines can be several thousand dollars each, so I've advocated for Duke Regional to be part of the drug manufacturer's free trial program," she explained. "Essentially, the drug company is giving us samples, which we can use to get patients started on a long-acting injectable without the pharmacy budget being impacted."
Typically, a psychiatrist administers the medication in pill form while the patient is hospitalized to ensure that the medication and dosage is therapeutic for the patient and that the patient tolerates it well. When it's time for the patient to be discharged, they receive a long-acting injectable dose of the medication and then follow up with their outpatient provider to receive the next injection when it's due.
"I'm a big advocate for these long-acting injectables for appropriate patients," said Kapuganti. "It's just better care for many of them." Eventually, Kapuganti hopes to assist Duke Regional Hospital in establishing long-acting injectable services within the outpatient behavioral health clinic.
A Huge Asset to Trainees
Kapuganti spends much of her time sharing her expertise with a broad range of trainees, from Duke medical students and psychiatry residents to pharmacy students and residents from other universities. She counsels trainees on topics such as mechanisms of action in drugs, interactions between medications, and how to safely transition patients on and off medications, and she often works with them to develop medication plans for specific patients. She also teaches a monthly didactic session for trainees; a recent one focused on selecting PRN, or as-needed, medications for patients.
"[Having Kapuganti on staff] is a huge asset to our residents and medical students, because learning the drugs is definitely a steep learning curve early on in their in their training experience," noted Tatreau. 
Kapuganti fully embraces the opportunity to help trainees—and any of her team members—anytime. "I'm always available to help out with any medication questions. They can find me around the unit, they can send me an EPIC chat message, or they can pop over to my office. I have an open door policy."
Photo caption: Amber Kapuganti, PharmD, BCPP, and Jason Tatreau, MD.