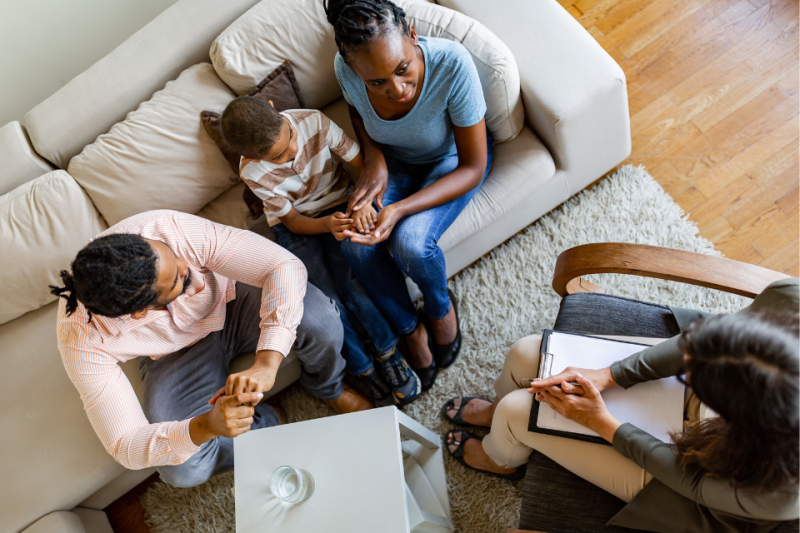 A team of clinicians at the Duke Sickle Cell Center provides comprehensive medical services—including acute management in the Sickle Cell Day Hospital, screening and testing—as well as social services. In addition, they conduct clinical research, offer educational programs, and engage in community outreach. 
The team has also long recognized the great need for non-pharmacological therapies to support sickle cell disease patients in managing their pain and to help those experiencing anxiety and depression, and other behavioral health challenges. But for most of the center's patients, these services have been largely inaccessible until a few years ago.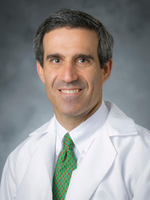 "More than half of the patients we see have Medicaid as their primary health insurance provider," noted John "J.J." Strouse, MD, PhD, director of the adult sickle cell program and associate professor of medicine and pediatrics. "Even for those with private insurance, behavioral health care is often entirely uncovered, or available only in a provider-specific network, meaning people may get surprised by extra fees due or blocked out of care due to the cost." Given these barriers, the team sought an innovative strategy to offer these needed services in a way that would be affordable to their patients.
In 2017, using grant funds from the North Carolina Department of Health and Human Services through the North Carolina Sickle Cell Program, the center began contracting with the Department of Psychiatry & Behavioral Sciences to embed behavioral health services as a part of the spectrum of care available to their patients. Under the contract, every patient who visits the clinic is offered free behavioral health services, regardless of their income level, insurance coverage, or network limits. 
About Sickle Cell Disease
Sickle cell disease is an inherited disorder that causes some red blood cells to bend into the shape of a crescent, or sickle. The cells are "sticky" and clog the blood vessels, preventing blood from circulating oxygen effectively and leading to early mortality from organ failure and stroke. People with the disease experience lifelong, chronic pain and pain "flares"—episodes when pain intensifies due to exertion, temperature changes, or other reasons—that often require opioid medications to treat. 
Pain flares are unpredictable and hard to control, and tend to increase in severity and frequency into adolescence and adulthood. Patients experience higher rates of hospitalization, as well an increased rates of depression and anxiety, than the general population. In the U.S., more than 100,000 people suffer from sickle cell disease, with a much higher incidence among Black Americans; the condition occurs among approximately one in every 365 Black or African American births.
"Lifelong chronic pain, which typically increases with age, is the number one challenge by far, leading to the most emergency department visits and most hospitalizations," explained Strouse. "Patients can feel isolated, anxious, and on-edge waiting for the next wave of pain or medical challenge that needs addressing. Historically, some in the medical field have been less likely to take Black patients seriously when it comes to pain. Add this to the stigma of seeking behavioral health that has been in place in the past, and you get a 'perfect storm' of need."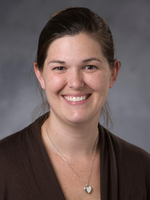 The disease is particularly hard on children and their families. "It can be very challenging for parents to have steady work. It can be difficult for children to attend school on routine basis. And when parents are caring for an ill child, it can affect siblings," said Jennifer Rothman, MD, director of the pediatric sickle cell program and professor of pediatrics. "Kids with sickle cell disease can look different, which can lead to bullying. It also has neurocognitive effects: children with sickle cell disease sometimes experience infarctions and strokes, which can lead to declines in school performance."
As a result, she notes, recognizing the need for behavioral health care early and normalizing it as part of the routine care for sickle cell disease—versus waiting until a crisis arises—is critical for both the individual and for the family.
Enter a Team of Psychologists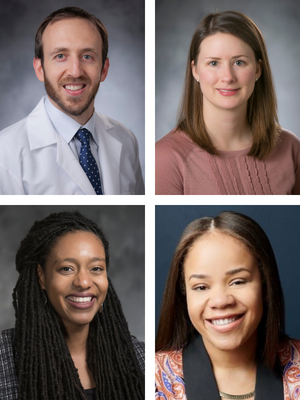 Psychologists Nathan Dankner, PhD, and Sarah O'Rourke, PhD, both assistant professors of psychiatry and behavioral sciences, began working in the clinic shortly after the behavioral health contract was established. Medical instructor Ashley Hill, PhD, joined the clinic's behavioral health team a few years later but is not currently involved with the program. More recently, clinical associate Breanna Beard, PhD, joined the team. Together, Dankner, O'Rourke, and Beard help patients manage stress, anxiety, insomnia, depression, and pain flares. Dankner and Beard see adult patients, while O'Rourke focuses on children and teens—many of whom also struggle with learning challenges and school performance issues. 
The team of psychologists offers psychological assessments and evidence-based behavioral health services such as cognitive behavioral therapy, guidance in mindfulness meditation and relaxation techniques, and other therapies. They also conduct routine depression screenings, and the center has a protocol to respond when someone screens positive or potentially at risk of harming themselves. 
"My goal is to teach them skills to help them manage their stress and anxiety, because we know that these conditions lead to worse pain and to more impairments in their life," said Dankner. "Sickle cell disease is very difficult to cope with. I want to give my patients behavior strategies and tools they can call upon when they need them so they can feel empowered to help improve their lives." 
O'Rourke appreciates being able to help care for the "whole child" and, importantly, reduce the burden on patients and families to navigate outside referrals for straightforward behavioral concerns that can be addressed at the center. When referrals to other specialists are necessary, O'Rourke takes on as much of the coordination as possible.
In addition to caring for her pediatric patients, O'Rourke provides behavioral health services to their parents and caregivers, such as engaging family members in how they can support their child in coping with pain effectively and helping them navigate the stressors of parenting a chronically ill child.
"One specific area where I think having psychologists as part of the patients' care team has made a big difference is in the management of chronic pain," explained O'Rourke. "We're able to address multiple factors that may contribute to chronic pain and provide a variety of coping strategies that may help to alleviate it."
O'Rourke and social worker Ashley Jones, another member of Duke's pediatric sickle cell program team, have also extended their behavioral health expertise beyond Duke Health and into the broader community, providing educational webinars to families across the region on topics such as chronic pain management and learning challenges. 
Access—and Openness—Are Key
Since the pandemic, Dankner sees all of his sickle cell patients virtually; O'Rourke cares for most of her patients in person but provides services via telehealth as needed. This new option has opened up the doors to access for many who live far from Durham, and for whom driving can be painful and travel expensive. Of the approximately 500 patients in the clinic, the majority embrace the opportunity to access mental health care services. 
"For most, our behavioral health services are not a tough sell," said Strouse. "It is true that historically in the Black community, mental health treatment services have been somewhat stigmatized, and once in a while, a patient can misinterpret our suggestion for behavioral health services as an indicator that we're not taking their pain seriously." 
The team is also working to ensure that providers reflect the diversity of the community they serve. "Most of our patients are of African American descent, or are the children of African immigrants, who identify as Black," explained Strouse. "We have worked to have a more diverse representation among our healthcare providers as well, with the goal of helping to eliminate some of the stigma that may be present in the Black community among those who seek professional psychiatric help." 
But for the most part, he says, their patients are open to trying new techniques to address their symptoms, and the team is eager to help them get the services they need. 
Rothman added, "Many sickle cell centers don't have a budget for behavioral health care to be embedded within the program—we're very fortunate to get support from a state grant to help us do this. We would love it if it became the norm, because I think it really is essential to the care of patients."