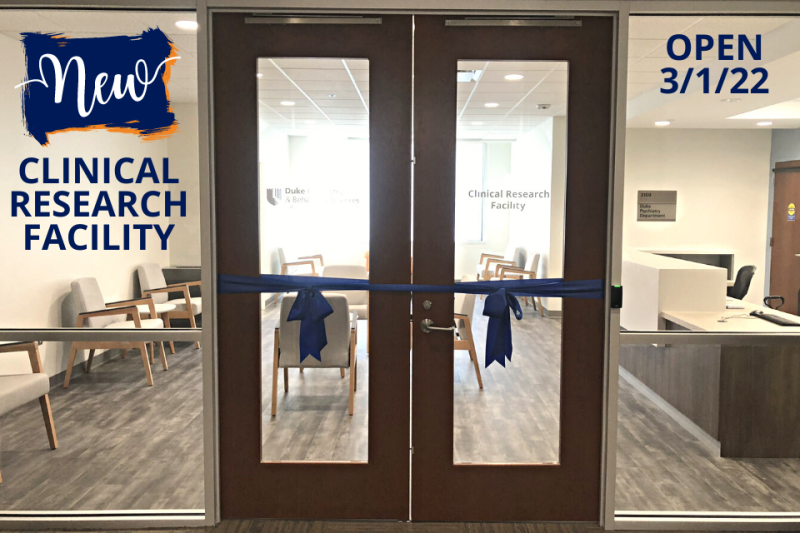 To advance our knowledge of the human brain and improve our ability to predict, prevent and address mental health challenges, it's essential for psychiatry and behavioral health researchers to work together across disciplines, says Jonathan Posner, MD, vice chair for research in Duke Psychiatry & Behavioral Sciences.
Facilitating this collaboration and synergy is one of the primary goals of the department's new 8,500 square foot clinical research facility. More than 100 faculty and staff members will conduct research in the new space, which opened on March 1, 2022, on the third floor of Duke North Pavilion.
Building a Multidisciplinary Intellectual Community
"The feature I'm most excited about is that it will bring investigators from many different disciplines within the department under one roof," says Posner. "This will enable us to build an intellectual community where people can have increased dialogue, learn from each other, and formulate and explore deeper and more impactful research questions."
Maggie Sweitzer, PhD, an assistant professor who will work in the facility, concurs. "I'm looking forward to the opportunities for collaboration that will likely emerge from psychiatry faculty being co-located within one shared space," she says. 
Research conducted at the facility will cut across the lifespan and will range from clinical trials exploring new treatments for reducing the risk of mental illness to studies investigating the biological mechanisms of psychiatric disorders.
The facility is comprised of more than 50 rooms for testing, assessments, exams and group therapy. Researchers will also have the equipment and space to collect and analyze biospecimens and conduct cardiovascular, respiratory and EEG testing, as well as other types of monitoring and testing.
Sweitzer—who researches the neurobehavioral mechanisms underlying risk for tobacco dependence and works to develop more effective smoking cessation interventions—plans to take advantage of many of these rooms. And beginning in May, Sweitzer and others in the department will have access to a specialized lab within the facility that includes ventilated smoking rooms designed to help researchers study the relationship between smoking and mental health.  
Enhancing the Participant Experience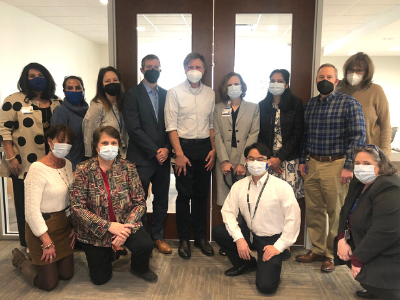 The new clinical research facility was also built with an eye toward creating a more streamlined and pleasant participant experience. 
"Having a 'one-stop shop' in a comfortable, professional setting where participants can have multiple assessments done will be a much more user-friendly experience," says Posner. "In the past, some participants have had to travel to different sites across campus, and in some cases, researchers have limited the assessments in their study to minimize the burden on participants." 
Posner also believes that the better the participant experience, the more motivated community members will be to participate in studies and help us move the scientific enterprise forward.
Investing in Collaboration & Hope
The facility was made possible by a $3.4 million investment by the School of Medicine and Duke University Health System, which reflects the priority the school places on collaboration and interdisciplinary scientific inquiry. 
"We are deeply grateful to the School of Medicine and Health System leadership for their generous investment in the future of our research," says Moira Rynn, MD, chair of Duke Psychiatry & Behavioral Sciences. "We look forward to taking advantage of the rich resources and exciting collaboration opportunities this new facility will afford our department members. Ultimately, we hope and expect that the research we conduct in this facility will help us advance behavioral health in our community and beyond."
Clinical Research Facility by the Numbers
This new research core provides access to a wide range of technologies, equipment, facilities and service resources to investigators engaged in clinical and behavioral health research, including:
21 interview rooms
10 testing rooms
10 assessment rooms
4 exam rooms
3 group therapy rooms
1 phlebotomy/EKG/urine sample room with cardiovascular and respiratory equipment
1 multipurpose room with EEG and sleep lab equipment
1 MRI mock scanner room
1 medication room
1 nourishment room
Coming soon: lab for smoking cessation studies